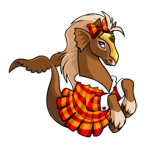 Fabulous Fashions - Dress for School Success!

by sk8brdrme

--------

Also by lily_evans11

Now that school is starting up again, it's time to think of some stylish pants, skirts, tops, and shoes, oh my! After all, we can't go to class in our pajamas and definitely not in last year's fashions. Yes, picking out the right outfit can be quite stressful especially for the first day. Don't fret, though, because by the end of this you'll be style savvy and putting your best foot out the door.

Tops

Whether you live in Terror Mountain or the Lost Desert, girls can't go wrong with the classic School Girl Shirt. This simple piece says you're ready for some serious learning. Conveniently for those colder months, there's the matching School Girl Jumper. What's that? You don't like the colour blue? Well, no worries, friend; there's a simple solution. Thankfully, the Neocash Mall has an alternative. Indeed, the Smart School Girl Shirt and matching skirt are rather nifty.

If your pets want to make a bolder statement with their garments, the vintage Darigan and Haunted Woods Altador Cup Jerseys come in bright yet stylish colours perfect for both genders. Remember, vintage never goes out of fashion! One of the most popular pieces for the fall is the tunic top. Techos, Bori, Acaras, Eyries, and Draiks can all indulge in these fun pieces. If your pet has a slightly edgier style, perhaps the Gothic Korbat Shirt is the right choice.

Lastly, for a more upper class style, pets should check out sweater vests like the Blue Uni Sweater Vest and Shirt, the Red Lenny Vest and Shirt or the Pretty Pink Bruce Sweater. For an all species alternative, the NC Mall has the lovely Green Argyle Sweater Vest and the very chic Black and Orange Sweater Vest. These snazzy collared tops paired with already pre-matched vests make sophistication a breeze.
Pants and Skirts

Mismatched tops and bottoms can be quite disastrous, so let's pay close attention here. To complete the school girl ensemble mentioned above, the Plaid School Girl Skirt is perfect. However, the Simple Black Skirt from the NC Mall is a terrific substitution or can be thrown in for some variety every once in a while. For female pets that love all things pink and sparkly, the Berry Zafara, Pink Ruffled Grarrl, and Pretty Pink Bruce skirts are ideal for their respective species. Once again, the NC Mall comes to the rescue with an all species alternative Flower Petal Skirt.

For both genders, the Khaki Trousers are a simple piece that's easy to match with a variety of tops. It's definitely best to stay away from loud garments that would clash with your outfit such as the Groovy Koi Workout Pants. For a pricier look, pets should take a gander at the Dapper Shoyru and Scorchio Scholar trousers. Patterns are definitely trendy right now, but one must be careful to not overdo it. For instance, something like the Plaid Gnorbu Trousers should only be worn with a neutral coloured top!

While the Silly Pink and Purple Lenny Trousers may seem like a cute idea, your pet will regret showing up to school like this. The same also applies for things like Blumaroo Jester and Clown Kacheek trousers. Although school sometimes seems like one big circus, let's not mix the fashions here! If you're looking for something flashier, invest in a pair of Moehog Poet Trousers with their simple yet noticeable pinstripe.
Dresses

Sometimes trying to find the right combination of pants and shirt can be exhausting! Thankfully, girls have a great alternative – dresses! Boutiques all over Neopia are filled with every type of dress you can imagine. How can one navigate this plethora of frill and tulle? Here we invoke some common sense. School is a place of learning, exploration, and discovery. Meaning, your pet needs to stay comfortable throughout their busy day. Avoid restricting pieces such as the Fancy Pink Kiko and JubJub Sailor dresses. These will certainly make it hard to run around outside during lunch break.

Another important issue is appropriateness. Unless you're shopping for a special event at your school, dresses should be elegant yet fairly simplistic and understated. Leave the Ogrin Purple Victorian and Techo Fancy dresses at home. Instead consider selections such as Plaid Peophin Dress, Red Plaid Kyrii Dress, or the Pretty Purple Lutari and Green Knit Poogle dresses. For extra flair and feminine charm, pets from underwater worlds such as Maraqua and Kiko Lake should take a peek at the multi-species Fanciful Seaweed Dress from the NC Mall.

Lastly, those of us that brave the scorching sun in the Lost Desert or chilly winds on Terror Mountain should also keep their outfits weather appropriate. For hotter climates, the Sunny Tuskaninny Sundress, Yellow Yurble and Hissi sundresses are a must. Yellow is definitely quite stylish this fall. On the other hand, for harsh winds and drifting snow, one can still stay trendy with the Snowy Xweetok dress or the lovely Prissy Miss Snowflake dress from the NC Mall.
Accessories
Scarves

Finally, our outfits are complete and we're ready to make the journey to school, right? Wrong. There is no better way to complete an ensemble than with some slick accessories. For girls, the Shoyru Pink Aviator and Berry Zafara Scarves come in fun shades of pink. Meanwhile, boys can check out the Ghostkerscarf and the Peophin Desperado Scarf for a tougher and edgier appearance.
Hats

Both girl and boy pets can rock the totally trendy Blue Newsboy hat this school year. Boys will totally dig the Daring Adventurer and the Gelert Spy hats for that mysterious yet rugged look. Girls looking to complete their uniform can top it off with the School Girl hat. Your pets can have lots of fun with the many hat choices out there, but make sure they don't get carried away. It's best to leave the Squid Hat and Slorg Hat at home this year. If you're looking for a classy cap, definitely invest in the Jaunty Plaid Hat or Black Fedora available with Neocash.
Shoes

As the popular phrase states, no shoes, no service! We can't leave the house barefoot regardless of what Jhuidah has been telling pets on Mystery Island. All species of female pets can enjoy the Smart School Girl Shoes that come in a gorgeous shade of red, while their male counterparts can look cool in the Daring Captain Shoes (both available with Neocash). With colder months quickly approaching Neopia, girls will need to stock up on boots such as Gnorbu Wool or Aisha Rain Boots. Both genders can be light years ahead of their classmates, well fashion-wise at least, with the awesome Draik, Kougra, or Xweetok Space Boots. Of course, let's not forget the Futuristic Lutari and Space Hero Wocky Boots – how edgy!
Watches and Jewelry

To finish off any outfit, watches and jewelry are a must. Boys will feel daring and smooth with the Flotsam Spy Watch. We all know that being on time for class can be more difficult than it looks. Pets that crave a little shimmer should purchase the very affordable Geb or Gormball necklaces. For a more girly effect, the Candy Heart Necklace is perfect. If your pet is old enough to have pierced ears, this season's must have item are the Xweetok Popstar Earrings. Of course, for a larger variety we can turn to the NC Mall's fabulous Shiny Shell Flower and the Lavender Chandelier Earrings.
Ties and Belts

Nothing says snazzy and professional like a slick tie! Boy can add to their collared shirts with a wide selection of pieces like the Satin Bow Tie and the Orange Plaid Bow Tie, both from the NC Mall. However, one must be careful with the latter, as plaid does not match well with other vibrant patterns. For this reason the Polka Dotted Magenta Bow Tie is not recommended. If you're a style savant then feel free to purchase this quirky accessory.

Both male and female pets can indulge in some fun belts. Popular options include the Belt of Fire and Sparkling Skull Belt each for only 125 NC. Ouch! That Belt of Fire is hot (literally). The latter comes in a fresh shade of purple accentuating the skull in the center – definitely an edgy piece. It's best to steer clear of the Flower Belt as we wouldn't want your pet to appear tacky. The coolest items in Neopia this season are most certainly the Ixi and Techo Bandit belts. Boys will love these tough looking accessories while at the same time preventing their pants from hanging around their knees. After all, sagging pants are very outdated and an absolute no-no.
Phew! We're all done. If you follow our style tips, be prepared for some major fashion success this school year. Trendy, comfortable, and affordable garments to take you through the action- packed year: check. So get plenty of rest, muster up lots of courage, and don't forget to smile on your first day.