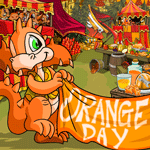 Orange-Tastic

by madkgoser

--------

Hey, people and neopets of Neopia! I am sending this in on behalf of my beloved Lutari, Annabella. So if you're going to thank someone for this Fab-u article, thank her. She worked long and hard on it, so I hope that if you're reading this, it made it in! I don't want to bore you to death by talking to much, so here's the article:

Now, Annabella and I went to every food shop we could think of in every place from Terror Mountain to Tyrannia. We were looking for a special food that not only tastes good, but LOOKS like it will taste good before you even put it in your mouth. We found one food that almost every store had in stock that matched those requirements. The Orange! So we have composed a list about all the best foods that contain Oranges. These aren't the most popular, or the most expensive. These are all actually very common. We just made a list of good Orange food that we like, that won't make your wallet scream and flee in terror. Roll The List!

1. Orange
Why start with the Orange? Well, here's why. This article is about Oranges! So it would just seem wrong not to make them the first on our list. Oranges are tangy, delicious and, quote, 'bursting with vitamin C.' What's not to love about them? They are in a spherical shape and are the color orange, hence the name. They are a vital ingredient in many of our favorite foods.

2. Small Orange Clove Smoothie
What can we say about this food? This smoothie, being its usual Orangey-smooth, creamy self, is perfect for any day. If everyone is tired of drinks with eggs in them, try to impress your family and friends on Christmas with this delicious little smoothie. Drink it in place of cake on birthdays, because it's just as sweet, or just drink it regularly after you get home from Neoschool. (Just don't forget to do your homework first.) Whether this is for a special occasion or just a normal day, it's sure to please.

3. Snorange
If you live on Terror Mountain, or just enjoy the cold weather, then this is the perfect orangey treat for you! Made completely of snow and ice, topped with a leaf to look like an orange, this will make any ice painted pet happy. Just don't try to feed it to a pet painted fire. It will melt on their tongue like cotton candy! Unless they like cotton candy, then that's a completely different story.

4. Orange Cloud Cookie
This delicious food article originates in Faerieland. With tangy, sweet cream in the middle, and light, airy fluff baked into a delectable cookie, this food will serve as a delicious light snack at parties. Even Fyora herself commented that this was the absolute best Orange food item she could think of. Because it's made of clouds, it doesn't fill you up, but it sure tastes good, so make sure you pick up a few of these the next time you take to the skies.

5. Florange
This is a tasty little fruit from Brightvale indeed. It has a warm glow about its smooth surface, and the light seems so tangible that you can almost touch it. Looks delicious, right? But as a bonus it will also make whoever so chooses to eat it smarter. Yay! Maybe even to challenge King Hagan with their wisdom! "That hasn't been proven!!" *voice from the background* Erm, anyways, moving on (please ignore the strange person in the back who questions my article). The Florange is very delicious and it also includes the tangy wonderfulness of Oranges!

6. Sand Orange
Next up, we have the Sand Orange! It's an excellent food because you don't even have to buy it! Just go to the Lost Desert, scoop up some sand, and shape it into a sphere. There you have it! A Sand Orange! Many people are turned away from this gritty fruit because, well, for obvious reasons, it's made up of sand. Some people don't like to eat sand. Shame on them for being so picky! (Just kidding here, people. Please don't hurt me.)

7. Orange Neodrops
Ok, let me start by saying thank you, Chocolate Factory, for making such a yummy flavored Neodrop! Many people are annoyed by this little candy because they are so sticky and hard to eat. They stick to your fingers and your mouth and any place else you touch them to. Well, people, this is just an extra bonus! We get to save some of this yummy candy for later! So they stick to things a lot... So what? That's no reason to hate them!

8. Orange Jelly Sandwich
Ok, this is one of my absolute favorites. It is a sandwich, made entirely of gelatin! It wiggles while you try to spoon it into your mouth and jiggles around if you bump the plate. It's like a toy and a food, all in one! Awesome! Need I explain more? Ok, for the picky people who have to have every detail, I WILL explain more. How to explain the taste? Well, have any of you had jelly before? It tastes just like that, only Orange flavored. That makes it seriously better than any of the other jellies, by far.

9. Orange Gelert Lollypop
Ok, I hate to exclude all the other neopets, so I tried not to choose anything species specific, but I just think this lollypop is really well done. The way its ears curl down the side of the stick, the way its tongue flops out of its mouth, the way its eyes stare at you intensely, saying, 'eat me!'. I personally think the artist who designed this lollypop knew exactly what they were doing!

10. Orange Chicken
Let's see... What to say about this chicken? It's little chunks of meat dipped into a Orange flavored sauce! Who doesn't love that? Ok, seriously now, this food is a very good food to have at parties because it's small little finger foods like this that make your parties popular and make people want to come back and be your friend. If you're a lonely person who sits in their house all day, this is perfect for you. Get out there and make some friends.
Ok, people, that's our list! All this talk about Orangey foods is making me crave Oranges. So, to conclude this article, I hope that this helped you when you want to go decide what kind of Orange food to eat. Oranges can taste Tangy, Spicy, Sweet, Sour, Light, Fluffy, gritty, cold, and all kinds of other wonderful flavors. There's no end to the different tastes you can make when you combine Orange with your favorite foods. (These foods are in no particular order. This list does NOT include all the Orange-flavored food in Neopia. If it did, you'd still be reading about some type of Orange.
Please note that no Oranges were harmed in the making of this article. *Burp* Ok, SOME Oranges were harmed in the making of this article.) Now, if you're still reading this article, that means you haven't taken my advice to heart and you're not out there buying Oranges. Go!