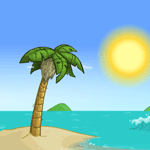 Sixteen Summer Avatars!

by tanyawebber

--------

With the sunshine waving its rays over the flower-filled horizon, and the white fluffy clouds excitedly bouncing around the sky, it's safe to say that the favoured season of summer is nearing Neopia. And what fun is summer without the beautiful decorations and the joyous celebrations roaming the land? Even if your Neopet is decked out in sunglasses and that dashing pink hat already, and your Neohome has a barbeque sizzling away on the porch: surely, you cannot feel truly complete without sporting your favourite from our Sixteen Summer Avatars?

That's right! When you and your Neofriends gather on the Neoboards to share your yummy Brucicle recipes for this year, or frolic in the scorching weather pretending to be Rohane and Mipsy, you shan't be seen without a sunny avatar by your side! This collection of sunny symbols has been carefully selected for your needs. Because, really: how can you go through the glorious months of summer without a bright and delightful addition by your side, in the form of a shiny square?

1. Spike It!
The season of summer calls for only one magnificent game: beach volleyball, of course! This avatar boasts physical and mental genius – being sought after by collectors across Neopia, it demands impeccable skill and patience. By sporting this avatar, you can let all your friends know that you're one mean, volleyball-punching machine!

2. Super Attack Pea!
What better way to enjoy the warmth of the summer air, than by grabbing your cape and flying through the skies? Even if you are not a super, flying, rather expensive pea, you can imagine you are with this heroic avatar soaring across the Neoboards.

3. A Day at the Beach
Here is the perfect choice for the summer fans who want to show their obvious love: a simple image of a tranquil beach. Why not bathe in the Neoboards with this tropically-themed avatar? With the beautiful scenery and the calm oceanic aura, your serenity will lap up your friends like a rippling wave.

4. Ice Cream Machine
Summer also calls for one icy dessert: the ice cream machines across Neopia to work into overdrive, and every baby Neopet screams in demand. Peach, Tigersquash, Vanilla Chocolate Swirl: the flavours are endless! Even the particularly bizarre flavour of Garlicky Bratwurst surely can't put you off this titillatingly tasty avatar!

5. Gloomy
Is today the miserable moment amidst the several weeks of splendid sunshine? Is your losing streak in Mynci Beach Volleyball getting you gloomier than the Esophagor waiting on a Snorkle Snout? Or do you just simply yearn for the dreary days of winter once more? Whatever your reason is, you can be sure to display your dismay with this depressing icon moping by your side.

6. Mmm, custard!
Along with ice cream, custard is a definite chilly treat for the summer season. There are plenty of ways to enjoy the sweet dessert: you could try it drizzled with strawberry sauce and fruit, or with biscuits crumbled over the top. There are so many recipes that even the Soup Faerie would go dizzy in the kitchen, so enjoy the creamy goodness with this soothingly delicious avatar.

7. Coconut JubJub
Did the Fountain Faerie bless you with a JubJub of tasty, milky proportions? Or did the Lab Scientist give you the lucky zap you've been begging him for all these years? Either way, if you're the owner of, or just simply adore, the Neopet that looks good enough to eat (and we're not still talking about the Custard variety!) you can roll around with this cheery-looking avatar.

8. Harris – Hi
With the sun rays slowly creating a red tinge on your skin, isn't it quite the relief when a sudden cool breeze sweeps over you? This Harris certainly agrees, so settle down with this sweeping avatar as the rare summer chill dances over your relaxed posture.

9. Angry Air Mote
However, when the sun hides away behind the sea of clouds, the lazy zephyrs that floated across the sky soon turn into harsh gales of wind. If the forceful gusts are proving a bit too much for your fragile self, hide behind this fierce avatar and the danger will be blown away in no time.

10. Tuskaninny - Relax
Picture the scene: your over-sized glasses themselves provide enough shade to keep that terrifying sunburn at bay. You've got the biggest grin constantly pasted on to your face, and people are becoming rather wary of your abnormally happy demeanour. If you read this and think, "Oh my! That is me!" then this avatar will gladly represent your sunny self.

11. Fire Paw
Make sure you smooth on plenty of sun-cream, otherwise it won't be long until you're sizzling like a sausage in the Lost Desert! If you've fallen victim to the sun's wrath, why not laugh it off with this fiery avatar? While your friends are giggling at your tingling tan, you can feel like the hottest avatar collector in town with this burning addition.

12. Kacheek Swim
Kacheeks generally have a wide variety of favourite pastimes. Do you find yourself searching behind anything and everything in a frenzy throughout the year, to find that taunting, hiding Kacheek? Or perhaps you've seen a few herding petpets away from a certain faerie-chomping Lupe? Summer offers them the wonderful opportunity to dive into the sparkling seas of Neopia, so join them for a quick swim with this splashing avatar.

13. Suteks Tomb
Lost Desert: the one land of Neopia that enjoys summer all year round; how envious we are! And with the addition of Sutek's Tomb, Tug-O-War, and even Pyramids, the desert is the fun-filled place to visit this year! If you're lucky enough to live in such a warm and sunny place, or have simply taken a fancy to its sandy charms, then this avatar will happily heat up by your side.

14. Uni Faboo
Summer is the perfect excuse to show off your passion for fashion! How could anyone want to waste such an opportunity? From flashy sunglasses to flowery sun hats, and shorts and shirts that beckon a well-needed tan, you can rely on the clothes shop to give you a whole new summer-themed wardrobe! So wear this snazzy avatar with your new outfit, and you'll be the best dressed Neopet for the whole season.

15. Altador Cup
The Altador Cup is the annual sporting event Neopia yearns for every June. Of course, you may choose an avatar that relates to your favoured team – how about 'Aisha Scalawag' for you Krawk Island supporters, or 'Rorru' for the followers of Mystery Island? But whether you're causing whirlpools from the depths of Maraqua, or stirring up a storm in the Faerieland fog, you can sport this unbiased avatar until your team can't Make Some Noise any more.

16. Island Quiggle
And last, but certainly not least, here is one more traditional summer avatar. With this wonderful Quiggle decked out in decorative Island attire, he sure is ready for the shimmering waves creeping onto the beaches, and the sweltering heat filling the air... so why aren't you?
And there you have it! Such a variety of summer-themed avatars, that you'll surely be spoilt for choice. Whether you enjoy summer for the sunshine, the food, or just the overall fun-filled happiness it brings, there's an avatar for every occasion. So select your sunny avatar today: summer awaits you!