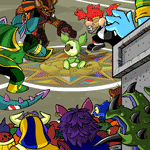 Altador Cup IV: Which Team is Right for You?

by niddyz

--------

We're almost to the big summertime event that shakes Neopia from its Yoo to its Yu! And if you didn't get that terrible joke, you must have been living underneath your Pet Rock, because I am of course talking about the Altador Cup! This year is the fourth year that the Cup is going to be held, and speculation abounds about what's going to be new this time around. Is there going to be a new team? Is everyone going to make it to the arena this year? What trades and acquisitions from the off-season are going to make the biggest differences? Will there even perhaps be new side events or a new Yooyu sprung on the players?

Unless you've got one of Jhudora's Crystal Balls (and you really shouldn't, because she's protective about those things!), the answers are up for grabs! But the one thing you can cement is which team you'd like to join. Read on if you don't have an old favorite, are new to the competition, feel like it's time for a change, or have indeed been living under your Pet Rock (which I was joking about, but if you really are, you might be getting contacted by the PPL, so heads up!).

There are lots of ways to figure out which team is best for you: quizzes (including the helpful one offered to confused players during sign-ups), spinning a wheel with a wedge for each time, closing your eyes and randomly pointing... you could do that. Or you could think about what's best for you.

Who are You?

You are you. (And that's a great thing to be.) And if you're reading this article, you probably like the Battledome, at least a little bit. That means you know how you play, how you compete. Do you like to play for fun? Are you super-competitive? Is it all about finding a great group of friends to challenge and chat with? Or are you just in it for the prizes? Whatever it is, that's AOK! The Cup provides for all of you equally, and there's a team for everyone. Puzzle that out with yourself. Figure out what you want.

And how exactly should I do that?

Why, I'm glad you asked, because I have a form! I know, I know, don't give me that glare. Forms can be fun... or at the very least, helpful? At any rate, just give it a shot, okay? Jot down the answers on a piece of scratch paper and keep them handy. You'll need them in a few moments.

1. What's your second favorite color?

2. Which style do you prefer in the Battledome:
Attack!
Defend!
Balanced between Attacking and Defending
Healing-Based
Theft-Based
Freeze first, ask questions later
Reflecting icons back on the opponent
3. What Battledome damage icon is your favorite:
Fire
Water
Air
Earth
Light
Dark
Physical
Okay, done. Now what?
Now you can look at the following team profiles to see what's right for you! They take into account your answers to the form and, of course, their playing style. If, for example, you picked "Orange", "Defend!", and "Physical", scan through the list of profiles to try and find the team that's closest. (In this case, it would be Altador or Kreludor.) You give each answer the amount of weight you want; if you think color is more important, base your decision upon that! If it's BD Style, make it so. The choice, after all, is yours.
Altador
Color: Orange
BD Style: Defend!
BD Icon: Light
Altador is grounded in tradition. They began this game. You can't outlast them in a grindout. They haven't done very well in the past, though, but they do have a lot of fun and are gracious hosts. Pick this team if you want a team-oriented, fun-loving experience.
Brightvale
Color: Green
BD Style: Theft-Based
BD Icon: Earth
Brightvale is small and relies on trickery, but it's all in the name of the game. They're confident but inconsistent. Sometimes you get away with it... sometimes you don't. Pick this team if you like to use your wits and your own dexterity to get the job done.
Darigan Citadel
Color: Purple
BD Style: Attack!
BD Icon: Dark
They're big. But they're not bad. Darigan is massive, and derives its strength primarily from that. Their weakness lies in their speed. Pick this team if you're interested in being competitive and like to go big or go home.
Faerieland
Color: Pink
BD Style: Healing-Based
BD Icon: Air
What Faerieland does best is... well, nobody really knows. But Faerieland is lovable, and they're eager to try out new techniques. Pick this team if you're an experimenter and consider yourself fairly unpredictable.
Haunted Woods
Color: Black
BD Style: Attack!
BD Icon: Dark
The Woods enjoy a talented, spirited game. Oftentimes they'll cut it a little too close or make a critical error, but they're always a challenge. Pick this team if you want a good game every time and like to give others a good sound reality check.
Kiko Lake
Color: Green
BD Style: Freeze first
BD Icon: Water
They were forced to sit out last year due to some unforeseen circumstances. Nobody's going to be surprised if they've revved up the practices to make up for it, despite Kiko Lake's previous poor performances. Pick this team if you live in the present... and aren't sure what's coming next.
Krawk Island
Color: Grey
BD Style: Theft-Based
BD Icon: Dark
Although they're an Island team, Krawk Island has none of the typical laidback nature of an Island team. They play fair but rough, and they're frightening. Pick this team if you're a serious competitor who thinks about nothing but the end result.
Kreludor
Color: Purple (well, and Orange)
BD Style: Balanced
BD Icon: Physical
They're lauded as having one of the smallest fanbases, and that's true; their ability in the side games is limited. But Kreludor is no joke, and is typically known for sportsmanship and hard work. Pick this team if you like to think of yourself as the underdog.
Lost Desert
Color: Brown
BD Style: Balanced
BD Icon: Light
Of course, if you're thinking about the real underdog, the Lost Desert team might just be it. They perform at a rock solid, consistently high level and yet everyone forgets about them until it's too late. Pick this team if you're a fan of a concentrated, regimented group effort.
Maraqua
Color: Blue
BD Style: Freeze first
BD Icon: Water
If you love the water, here's your team. But Maraqua is more than that. They play hard but have trouble translating their skills into a strong team-based effort. Pick this team if you want to be smart but an individual.
Meridell
Color: Red (and Blue)
BD Style: Reflecting
BD Icon: Physical
Meridell is a team on a positive slope of late. They're rising, hopeful, and clever... and to most people, that's a little unexpected. Of course, those who play for Meridell don't think it is. Pick this team if you're a believer in hard work that pays off big time.
Mystery Island
Color: Green
BD Style: Attack!
BD Icon: Earth
Every year Mystery Island is predicted to do well, and every year they don't quite live up to expectations. Make no mistake, though: Mystery Island is no pushover. Pick Mystery Island if you like to talk the talk and think you can walk the walk.
Roo Island
Color: Red (and Blue... and Yellow... and Green)
BD Style: Reflecting
BD Icon: Air
They're the typical island team in that they're laid-back, and the most successful to boot. They have fun, they're focused, although they might be prone to the Curse of the Champions and do a little worse this year. Pick this team if you like to have a good time, no matter the outcome.
Shenkuu
Color: Yellow
BD Style: Healing-Based
BD Icon: Fire
It's official; Shenkuu is for real. At first nobody knew what was up with Shenkuu, and even they weren't sure. Their performance in the season is typically topsy-turvy, but every time they rise to the top. Pick this team if you're a bit of a joker with a serious side.
Terror Mountain
Color: White
BD Style: Freeze first
BD Icon: Water
If Meridell's on an upward slope, Terror Mountain is falling down theirs. They still love the game, they're still passionate, and they're still the best out there with the Snow Yooyus... and that's saying a lot. Pick this team if you want a bunch of fan-mates and no pressure.
Tyrannia
Color: Brown
BD Style: Defend!
BD Icon: Physical
Last year, they became Slushie Slinging fiends. Guess you get thirsty in the Jungle? At any rate, Tyrannia is founded in tradition and consistency. Pick this team if you're not a fan of change and get told that you're a class act.
Virtupets
Color: Grey
BD Style: Reflecting
BD Icon: Air
They're a space team like Kreludor, have roughly the same size for a fanbase, but lack the experience on their team to do as well. What Virtupets does have, comparatively, is a stronger connection to a certain evil scientist... who won't be named. Pick them if you like a team with values and optimism.
And now... what?
Now we wait to sign up... unless of course the sign-ups open by the time this article is printed! If you're still not sure which team to choose, give the NeoBoards a shot. You should be able to find a chatboard for nearly every team somewhere across the Boards, and you'll be able to get a feel for the fans from that. And, if all else fails, you can close your eyes and point... or climb back underneath your Pet Rock! (Seriously, though, run that by your Pet Rock first.)