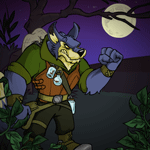 Teleported: Part Two

by crazy_4_sushi

--------

It had been almost an hour. Surely painting yourself wouldn't have taken this long. Trinity nervously waited, trying to balance herself on the chair with only three legs. How could someone live like this? All her life, Trinity was surrounded by the best things money could buy. Rich friends, rich lifestyle... what was she missing that made her less happy than the family she had encountered?

Then it hit her.

A family.

These pets were an actual family.

Sure, Trinity had a mom and a brother and sister. But all they cared about was being rich every moment of every second. It was their only goal, to be more wealthy than anyone in Neopia. Was this why Trinity felt like all along, she was missing something? Was it because she met an actual family and she was jealous? Money could buy a lot, but it couldn't buy everything.

"Trinity! Trinity, look at us!"

Not realizing that someone had entered the house, Trinity gazed up to see four completely transformed pets. A Lost Desert Ruki, Disco Bruce, Faerie Uni, and Island Blumaroo stood in front of her, admiring their new selves.

"Trinity! We can't thank you enough!" Charlie looked at his new retro reflection in the shattered mirror.

"Really, how can we repay you?" Miles hopped for joy, hugging Trinity at the same time.

"You guys don't owe me anything." Trinity beamed. "This was a gift from me to you."

"Can you believe it? All this time, I thought we'd never look this good." Rackquel grinned, but once his eyes settled on Trinity, he frowned. "Thanks."' With that, he brushed past her and headed into the kitchen.

"Ignore him." Jillian flapped her new wings. "Trinity, we're twins! This is so cool! Thank you! Thank you so, so much! Now all you need to do is teach me how to fly!"

Trinity stiffened. "Sorry, Jillian, but... I don't know how to fly."

"Oh..." Jillian looked sadly at the ground, but then back up. "That's ok! I'll just teach myself. Come on, let's go eat to celebrate!"

***

"When are we going to Neopia Central?" Christy asked as she followed Ivory down the stairwell of the Hidden Tower.

"FOR THE FIFTIETH TIME IN THREE MINUTES, TOMORROW!"

"What?! Why so late?"

"It's almost dark, and I'm tired. Deal with it," Ivory snapped.

"Wait!" Christy called out, waiting as Ivory groaned, turned, and timidly listened. "Where will you leave me?"

"Um... go rent a room at a hotel... I'll come by in the afternoon and get you."

"Afternoon?!"

"Would you like me to make it nighttime?"

"No..."

"Good," Ivory barked, strolling away. "The things I do for people..."

***

BANG!

Trinity abruptly sat up at the sudden noise. Rubbing her eyes, she tried to figure out what time it was. Judging from the sheer darkness, she figured it was around midnight. Then her memory started to return to her. Charlie, Jillian, and Miles offered for her to stay the night at their humble home in order to repay her for buying them the paint brushes, which Trinity happily accepted. With a tattered blanket, they made her a nice bed on the orange couch while Rackquel watched from afar, still not forgiving her entirely for "barging on into his house and being a brat". Trinity couldn't help but feel so grateful that people actually cared about total strangers and want them to feel at home.

Scratch, scratch.

"What was that?" Trinity murmured to no one in particular, yawning loudly and partially opening her eyes. She wouldn't want to wake up anyone over a faint noise. The scratching continued, and the Xweetok wearily followed it until she ended up at the window in the far corner of the den. She peered out, seeing only black. Was a tree scratching its branches against the glass? More than likely.

Just as Trinity was about to head back to the couch, she found herself looking past the glass and straight into the eyes of Balthazar.

"BALTHAZAR! HE'S HERE FOR ME! SOMEONE HELP!" Trinity scrambled to the other side of the den, jumping over the couch and landing behind the bookcase.

After a few seconds, lights turned on in the house. "Trinity! Trinity, are you all right?" Jillian ran into the room and immediately began looking everywhere for Trinity, relieved when she saw the Xweetok cowering near the bookcase.

"Balthazar's in the window! Don't go over there, Jillian! Please!"

"Balthazar?" Jillian became alert. She cautiously headed over to the window and quickly peered out. "...Trinity, I think you were just having a nightmare."

"NO!" Trinity protested. "No, he was IN THE WINDOW! I saw him!"

"You were just imagining it." Jillian sat next to Trinity and hugged her. "Your mind can play tricks on you. Honestly, how can Balthazar get all the way to Neopia Central from the Haunted Woods? That would take a few days."

Trinity didn't buy it.

"If anything else happens, just holler," Jillian insisted. "Goodnight."

"'Night, Jillian." Trinity waited for the lights to go off, and she slowly climbed back onto the couch. A sudden rush of thoughts washed over her. Where was her owner, Christy? Was she looking for her? Did she even know she was lost in a completely different part of Neopia? Did she even care? Trinity needed some fresh air to calm her nerves. She always did back home in Shenkuu. If she couldn't sleep, she would head outside for a few minutes, gaze up at the stars, and end up sleeping outside.

As quietly as possible, Trinity slipped out the door with the blanket around her shoulders, and snuck onto the rundown porch. Closing it behind her, she slowly breathed in the warm air that enveloped around her fur. It was so nice outside that she actually considered setting up the blanket on the porch. Trinity started to spread out the blanket.

Suddenly, her world went black.

***

"Fyora! You know I hate people! Why must I help a stupid Neopian?!" Ivory attempted to plead her case to the most powerful Faerie in all of Neopia. It wasn't working out so well.

"Ivory, her pet is in danger," Fyora whispered. "Balthazar has her."

Ivory opened her mouth and then closed it.

"You have to get to Neopia Central." Fyora got up from her throne and went over to one of the spacious windows that overlooked all of Faerieland. "Who knows what Balthazar has in mind!"

The dark faerie rubbed her temples in frustration. "I know exactly what he wants. Trinity snuck into his shack and snatched me when I was in a bottle. She barely got away from him. With his tracking skills, I'm not surprised that he managed to recognize her scent and follow her all the way to Neopia Central."

"She went into his shack all alone?" Fyora asked wide-eyed in amazement. "What a brave Xweetok."

Ivory huffed, briskly heading out of the throne room. "That was all she ever wanted to be known as. Now instead of being a legend, she'll be a forgotten hero if I don't get there in time."

***

"You stole something from me, so it's only fair that I do something in return, don't you agree?"

Balthazar was malicious over the release of merely one of his hundreds of bottled faeries. That was why Trinity did not deserve to be dangling over a twenty foot deep ditch by the scruff of her neck that the hunter gripped tightly with his claws. She wanted to scream, but the pain was so great that yelling would hurt her even more.

"Stop flinching!" Balthazar hissed.

"Let me go..." Trinity choked, flapping her wings in protest. "I... I can't breathe..."

"Hold on just a bit." He laughed at Trinity's pleas. "Now you realize that you stole from the wrong person, correct? How would you like to be dropped into this ditch?"

"I have... wings..." Trinity grunted.

"Oh, that doesn't mean you can fly out. I saw you running away, and why on earth would you not use your wings to escape? Is that right? That you can't fly?"

Trinity was silent, except for the rasping breaths that she tried to take in.

"You're pathetic," Balthazar seethed, squeezing his claws into Trinity's fur forcefully. "I have to go hunting, but I don't want you running away, so... make yourself at home.

He released his grip, and Trinity plunged to the bottom.

***

"Hey, Trinity?" A faint voice came from the entrance to the den. "Trinity, are you awake?"

When Miles didn't get a response, he shrugged to himself. Sure, it was still rather late, but he wanted to offer Trinity some cookies. A midnight snack always helped him when he would be frightened in the middle of the night. As Miles carried the tray of cookies into the room, he realized something.

Trinity wasn't anywhere in sight.

Curious, Miles set down the tray on the floor and headed for outside. Staring into the night, he looked down to see the blanket that he had given Trinity to keep warm for the night. Except it was clawed to shreds.

"If she didn't like it here, she could have just said so, instead of ruining the only blanket in the house," Miles grumbled, slamming the front door close.

To be continued...