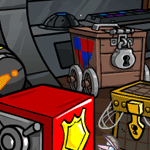 Top Ten Superpacks of All Time

by likeshshnia

--------

I see you have found your way to my article. What a fine, wise choice! You have clicked this article for either one of two reasons, and the first being is that you love the NC Mall so much that by seeing a picture of an item you could name it in half a second flat. On the other hand, you were browsing the Neopian Times and you read the word "Superpack" and uttered the words "super-what" deep inside your mind. For all you "super-what" people out there, here is a quick, brief summary or explanation on Superpacks from the NC Mall.

A Superpack is an item from the NC Mall that at first is way more expensive than the other items. Why is this? It's because when you open a Superpack, more than one item comes out, so when buying a Superpack, you aren't buying just one item. The point of this special is for people who want a whole outfit from the NC Mall, because all the items that come out of the Superpack match and have a certain theme. Usually, if you went out and bought all of the items separately from the mall, it would cost more than the Superpack itself, so a Superpack is sort of like getting a sale or deal. Your Neopet can't wear a Superpack; it wears what's inside. Also in Superpacks are rare exclusive items only available from the Superpack. This means that you cannot buy this item separately at the mall, making it a bit rarer. Now that you know the purpose of a Superpack, let's go through a blast from the past covering all of best Superpacks of the NC Mall's history! Get ready!

Number 10: Space Bounty Hunter Superpack
Cost: 700 NC
Status: Active
I'm sure we have all been apprehensive about space travel, but luckily this Superpack comes with a Space Bounty Hunter Oxygen Tank, so you're covered for hours of floating above Neopia. This Superpack features amazing colors and an amazing theme, and of course, it comes with an exclusive item, the Space Bounty Hunter Weapon, which, don't fear, is safe indoors too. Your Neopet can be defending Kreludor and the Virtupets Space Station for ever and ever with this amazing Superpack!

Number 9: Dark Princess Superpack
Cost: 650 NC
Status: Active
Sneaky Neopets everywhere were rejoicing at the release of this Superpack. Complete your sophisticated, dark, faerie side with this amazing Superpack, at a reasonable price! The dress inside is stunning, and comes with a special extra Superpack only surprise; the Dark Princess Fan. What ever color your pet is, this Superpack is sure to please the dark side within them.

Number 8: Gypsy Girl Superpack
Cost: 750 NC
Status: Active
What better way than buying this Superpack to remember your favorite plot! Remember all the mystery and suspense of the land of Neovia. This Superpack does come with a background, and two rare Superpack only items, Gypsy Girl Earrings and the Gypsy Girl Shawl. This Superpack will give your pet a drag, older look at a great price.

Number 7: Ceremonial Shenkuu Warrior Superpack
Cost: 800 NC
Status: Active
Altador Cup All-Star? Did you play for Shenkuu? If you answered "yes" to the both of those quick questions, there shouldn't be a doubt in your head if or not to buy this great Superpack. So you weren't an All-Star, but your still in love with Shenkuu, you should still be very interested. This Superpack comes with one of the most beautiful backgrounds, and has two amazing Superpack items only. These items are the Ceremonial Shenkuu Warrior Heraldic Banner, and the Ceremonial Shenkuu Warrior Shinai. This Superpack is ideal for any Battledome pet, because you will totally intimidate your opponent. The true Superpack of a winner!

Number 6: Smart School Girl Superpack
Cost: 700 NC
Status: Active
Have a prodigy Neopet on your hands? Is he or she always begging you for just one more book? If so, I have found your Superpack! This Superpack is great because it offers seven items for 700 NC; that's a sweet deal! The background features really great animation, and comes with one rare item, the School Books with Strap. It's especially neat because it has superb animation and also most Superpacks do not offer a trinket. I really like this Superpack's colors, and savings. When buying this Superpack, you will know that not all uniforms are hideous.

Number 5: Ski Time Superpack
Cost: 650 NC
Status: Active
This is one of the most perfect Superpacks that keeps them warm and looking cool at the same time. Along with the Smart School Girl Superpack, I find this Superpack an amazing deal of epic proportions. Seriously, it comes with seven items, three of which are valued at 200 NC. When doing the math, I found that this Superpack is worth 850 NC, and you pay 650 NC! I valued this Superpack's exclusive item, the Purple Skis at 100 NC because the NC Mall has a different set of Skis on sale, even though technically it has a tad bit more value for being Superpack only. Purchase this Superpack, and then hit the Slopes!

Number 4: Spyder Web Costume Pack
Cost: 500 NC
Status: Retired as of November 3rd, 2008
One of the most perfect Halloween outfits, and is just as amazing any other time of the year. The items within this Superpack are probably the most sought after retired NC items of all time. This ensemble is made by Neopia's best Spyders, and chances are, if you were able to purchase this Superpack before it retired, you are probably envied by the entire NC Mall board. Most of all, if you wear this to any costume party, you will be guaranteed first place!

Number 3: Regulation Meridellian Knight Superpack
Cost: 750 NC
Status: Active
It has been said to be one of the best active Superpacks of all time, and in my opinion, that statement is true. The Meridellian Superpack is truly a work of art, if you will. It features the brightest and greatest colour combinations, and two of the coolest bonus items. The items are the Regulation Meridellian Knight Lance and the Regulation Meridellian Shield, which go in both hands of your Neopet. This Superpack will make your Neopet feel important in no time!

Number 2: Neoquest Wizard Costume Pack
Cost: 500 NC
Status: Retired as of November 3rd, 2008
*pokes your trophy case* Neoquest fan? Well, I'm sure that if you have two gold trophies for NQ and NQII, you probably own this Superpack, or wish you did. The teal and white combination is sure to make your Neopet look like an authentic wizard. Since this Superpack was only available for less than one month, its special item is even rarer. That item is none other than the beloved Neoquest Wizard Wand! If you own one, please, consider yourself lucky! *zap zap*

Number 1: Nutcracker Superpack
Cost: 900 NC
Status: Retired as of January 5th, 2009
Drum roll please... Neopians have spoken, and their most favorite Superpack of all time is... The Nutcracker Superpack! Ok, at first you may think it's so expensive and not worth it, but think about what's inside! For starters, you get a background, always cool. For all you history buffs, this is the first Superpack with a soundtrack, to get you in the festive spirit, of course. There is head to toe 'gear', which is great. There are also gloves to keep those hands warm and face paint to keep you looking your best. Now for the most important of them all, the ultra-amazing-super-cool-exclusive item, the Nutcracker Toy Sword! It practically goes with any outfit, any style, and any gender. To me, what makes this Superpack stand out from all the rest is this; it goes with anything. Male or female pet, any color (and yes, it looks good on a basic pet too), and the most important, goes with any pet. You're also thinking it's seasonal; practically all these items can be used in other fashions too. The items could be added here to there during the un-seasonal themes, or if you like it that much, you're welcome to keep it up all year! Hats off to the Nutcracker Superpack!
Please Note: Prices and Activeness of items is from February 2009. Items that are retired can come back to the mall, and active items can retire. There is always a chance their prices can change too! Thanks.
Thanks for reading, you can feel free to mail me! A special thanks to my friend Trish (pmoake) for always encouraging me to keep going. Thanks to Whitney (ayame_23) for always telling me to keep trying with the Neopian Times, she is currently at 42 times champion. And Lacie (giggilogalmewmew) for helping me with some basic tips for the Times. Lastly, thank you TNT for accepting and always keeping me entertained with the NC Mall.