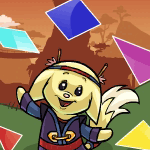 Put the Pieces Together

by iloenchen

--------

You may have noticed it when looking into the games room. Or maybe you stumbled upon it as you read the news, or heard about it from others on the Neoboards. A new game has been released.

Shenkuu Tangram.

What? You have no idea what I'm talking about? Well, take a look at the games room and you will find it under the new games.

Now you might say to yourself, 'there are already more than a hundred games on Neopets, so why should I play this one?'

The answer is easy. Because it is fun, it is not too difficult to learn and still interesting even after you have played it a few times.

What is Shenkuu Tangram?

Shenkuu Tangram is the Neopets version of Tangram. Have you ever played the puzzle game? You get pieces of different shapes that you have to place together to form a picture. Think of it like a mosaic. Each piece has a different place where it goes, and it is up to you to find out how to put them together.

Sounds complicated? Not really. Or maybe I just find it easy because I spent hours of my childhood sitting in a corner and playing Tangram. But even if you don't have that experience, you should get the hang of it easily.

How do I play?

If you've never played before, I recommend you to start in Zen Mode. Click on Start Game and then Zen Mode. You will now be taken to the game screen.

On the left side, you see a rectangle. Inside the rectangle, you will find pieces of different shapes and colours. Those are the ones you have to use for your picture.

The main part of the screen is taken up by the shape you have to fill with your pieces. A large cloud surrounds the orange figure. Place the small pieces from the left inside of it to complete the game.

But wait! Before you start pulling all pieces randomly to the right and then wonder why they don't fit, let me give you some advice.

First of all, you can turn pieces. This is very important in the game. Use the left and right arrow keys or hit the spacebar. If you want to flip the parallelogram (the light blue piece), you have to use the up arrow key. Should you have accidentally flipped it only to find out that you need to flip it back, you can do so by using the down arrow key.

When playing in Zen Mode, always start with the largest pieces. The red and purple triangles are usually easiest to place. They will fit into only a few places. Pull one of them into a position you think will work and see what happens.

If you got it right, you will hear a sound and the piece will turn transparent. You cannot move it anymore, but then again, why would you want to? It has found its correct place in the whole figure.

If nothing happens, you might want to try again to pull it into the position you think is correct. You have to be very precise; otherwise the game won't recognise the piece as being at the right place. Should it not turn transparent after a few tries, try a different position and see if it works.

After you have placed the large triangles, take a look at the remaining pieces to see which one you're going to use next. Maybe there's one that only fits into one position on the board. At times, this is the square, which you can easily place. In other shapes, you can place the smallest triangles immediately after the largest ones.

If you have no success with a piece, put it back to the left and try a different one. Maybe everything will get clearer once you've completed another piece of the puzzle.

What happens when I finish a puzzle?

First of all, you get to see a picture of the shape you just completed. Then, you can click on Continue to be taken to the next puzzle.

In normal and hard mode, you can see your level at the bottom of the screen. There are three levels, with five puzzles each, which makes a total of fifteen puzzles. After a few rounds, you will notice that those puzzles are always the same; they just appear in a different order within one level.

So how do Normal and Hard Mode work?

First of all, let me get this clear. If you are going for points, play normal mode. If you are looking for a challenge, try hard mode.

In normal mode, you will not see all pieces at once. Instead, they will show up one after another on the left. If you don't know where to place them, you can put them into the square at the left bottom first and use them later. There is a timer in the upper left corner. Keep an eye on it, as you only have two minutes to complete each puzzle.

In hard mode, things get even more complicated. Once again, you will only get one piece at the time. If you don't place it in the correct position though, you cannot put it to the side. Instead, you will lose a life and the piece will disappear. Don't worry, it will come back later, but the life you have lost is gone. Hurry up when playing, as new pieces appear rather quickly and once you've lost four lives, it's game over for you.

I want to score as many points as possible.

Believe it or not, the best way to get a high score is to practise. As I've already mentioned above, you will get more points for playing in normal mode than in hard mode. The faster you finish a level, the higher the number of points you get.

Here's an example for you. Let's say your goal is to score 3000 points. Playing all 15 puzzles, you will need to score an average of 200 points per puzzle. In order to get that many points, you need to finish in 23 seconds or less. It's fast, nearly impossibly fast and it took me a while to reach that score. Still, as the 15 puzzles are always the same, you will improve your speed with each game you play. Experience is the only thing that helps you to get faster. After a while, you will know where each piece goes and will get 3000 points easily.

There's a bug in the game; the light blue piece doesn't fit.

No, this is not a bug. As I've already mentioned above, you can flip the parallelogram (which is the light blue piece) by pressing the up arrow key. In order to flip it back, you have to use the down arrow key.

What puzzles are there to complete?

I'm not going to tell you. Where would be the fun in that? Why don't you go and find out yourself?