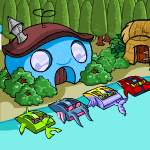 Plan Your Next Vacation to Kiko Lake: A Helpful Guide

by office_chick

--------

KIKO LAKE - Not looking forward to spending another noisy weekend in Neopia Central? Tired of those routine camp outs in the Haunted Woods and treasure hunting expeditions across the Lost Desert? Are you absolutely dreading riding the merry-go-round on Roo Island for the bazillionth time? Dread weekends no more! If you're wishing for a vacation that just screams of relaxation, fun and memories, then you need to keep reading, for I am about to tell you all about Kiko Lake and how you can have a great time!

Kiko Lake, a large expanse of clear blue water within the caldera of a dormant volcano, has long been a favorite destination for Neopets looking for serenity and beauty. Located just fifteen miles northeast of Neopia Central, Kiko Lake's weather remains sunny and calm all year round. This allows you to splash contentedly in the warm water, take up sun bathing and experience a Kiko Lake Glass Bottomed Boat Tour, regardless of the current season or weather around the rest of Neopia.

The only way to reach Kiko Lake is by Peopatra Ferry Service. The ferry, a large replica of Peopatra, is docked behind the Art Centre in Neopia Central and the fare is 5 Neopoints per Neopet. It is a thirty-minute ride from Neopia Central to Kiko Lake. Refreshments and souvenirs are sold onboard.

Upon arriving at the lake, guests planning to spend just the day are welcome to go off and find an activity of their choice. You can pick up information about activities, shops, contests and tour hours at the Kiko Lake Visitor's Centre.

For those who plan on staying for a while, it is suggested that you reserve a cabin at Korky McKiko's Cabin Village ahead of your arrival date, for 15 NP a night. These pleasant, little cabins are made of wood and coral and include two large bedrooms with cozy bunk beds, a bathroom with a sliding glass door shower and a small kitchen, complete with a mini bar fully stocked with yummy treats and various sodas. To ensure a pleasant stay at Kiko Lake, be sure to pack the following items: sun tan lotion, fluffy beach towels, bathing suit, cool shades, camera, NP and your favorite plushie. It really isn't much at all and it can all fit in one simple duffel bag. Always take along extra sun tan lotion and NP in case of emergencies.

There are many activities that tourists to Kiko Lake can try. Aside from swimming and sun bathing, you can also rent a beautiful pedalo from Pedalo Hire and spend a fun, breezy afternoon lazing around the lake. These pedaloes are crafted to look like four of the species of Neopet: Kiko, Peophin, flotsam and Acara.

Kiko Lake's sandy beach provides young Neopets with enough room to run around and toss Frisbees or chase after petpets. If you're into building sand castles, be sure to enter your creation in the Sand Castle Master Competition, hosted on the sandy beach every day at sundown.

Are you a water goer? If so, you can swim to the lake's depths and explore the beautiful underwater world filled with coral castles, homes and legendary sculptures. It is encouraged that you take your snorkeling or scuba-diving gear, along with an underwater camera for hours of exploration of the lake's fantastic nooks and crannies.

Not a swimmer, but still interested in sight-seeing and exploring? No problem! Jump aboard Old Bess, Kiko Lake's own little glass bottomed boat and take a tour of the most scenic parts of the lake. See the splendid coral beds and underwater homes, gardens and sculptures, while enjoying the gentle ride. A knowledgeable tour guide is onboard to answer all of your questions about the local landmarks, history, town folk and shops.

Kiko Lake is a fairly small town and its inhabitants are superbly friendly and enjoy posing for pictures with tourists and showing off their gorgeous homes and prize-winning seaweed gardens. You will surely fall in love with the lovely, well-tended gardens and sculptures that have been entered into countless competitions.

Love to shop? Up on the high street, tourists will find Coral Creations, a dainty shop full of amazing souvenirs all made out of–yeap, you guessed it: coral! Coral Creations also sells mini disposable cameras, t-shirts, maps, Kiko Lake plushies and postcards. You can also stop into Kiko Lake Carpentry and pick out a super cool chair or pillow for your Neohome. All Kiko Lake Carpentry pieces are carefully and beautifully crafted, and they are guaranteed to last you more than 100 years!

Grab a bite to eat at Kelp-n-Coral Castle, where burgers, hotdogs, soups and other lunch foods are served. In the mood for dessert? Head on over to the magnificent Kiko Treats sweet shop that sits right on the shore. Enjoy some of their famous cookies and other sweet confections while you sit on the warm sand and watch Old Bess make her rounds around the lake.

Can't sun bathe in peace? Kids driving you to the looney bin? Need some time alone with your mate or just with yourself? Parents can now make reservations for their young at the Kiko Lake Visitor's Centre for Kiko Lake's Kiddie Kamp. Young pets will enjoy great activities such Coral Arts and Crafts, scavenger hunts, Gormball competitions, snorkeling and rides on the pedaloes and Glass Bottomed Boat for five whole days. Night time activities include campfire songs, ghost stories and charades. As an added bonus, they also receive free t-shirts and camp souvenirs. This program allows wary parents a break from the everyday calamities of raising offspring.

Now that you've read all about it and are ready to go, remember to be polite to the good folks at Kiko Lake and to chew with your mouth closed during your stay. Have an awesome time and don't forget to send your Neofriends a couple of postcards. Oh, and don't let your petpets run into the seaweed gardens!