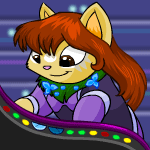 Farside Base: Part Three

by freefalldreams

--------

"Welcome to Farside Base!"

I nearly jumped out of my skin as I was spoken to by what I had thought was an ice statue incongruously dressed in a flight suit and plopped in the empty garage we had driven into. The statue – or rather, the Ice Bori – reached out an icy hoof to Kent. "Mr Devilaris's party?" it asked. "The Demon asked me to wait for you." Without waiting for an answer, the icy figure turned and walked out of the garage. Kent followed, and we followed him.

I wasn't sure what to look at first. The doors were astonishing enough, sliding silently open before us and shut after. But the rooms... I stared in shocked disbelief as we walked through a comfy-looking room with overstuffed sofas, a large piano being played (rather badly, it had to be said) by a small yellow Grundo, and a burbling fountain carved into the creamy gold rock of the wall and floor. Before I could process that this luxury was inside a hollowed-out mountain, we had entered an extremely noisy, crowded, and garishly lit lounge. Multi-coloured lights on the ceiling and walls, a video game in one corner noisily playing a demo despite the fact that everyone in the room was clustered around a loud game of Bilge Dice in the opposite corner, one of those screens I had barely gotten used to blaring unwatched, and a few small robots clustering around for good measure... none of that startled me as much as the fact that one whole wall seemed to be made of windows looking out onto the moonscape outside.

"The Demon's waiting for you in his quarters," a pretty starry Uni in a witch's hat called out to us from where she was watching the Bilge Dice game. I was just following Kent out of the room as the view outside the window-wall dissolved into static, and the Uni shouted, "Darn those stupid viewscreens; they're always on the blink!" I belatedly realized that the wall was one huge screen, but Karmapa yanked at my paw to hurry me out of the room.

After heading down more corridors than I wanted to count, we found ourselves in a large office. A small fountain was carved into one wall, soothing music was being piped in from somewhere, and the air was thick with the scent of incense. A Wheel of Monotony poster hung on a wall, and two viewscreens were showing a very clear view of the outside. A divider, beautifully painted with a scene of flying petpets, closed off one corner of the room from view... and from behind it stepped the oddest creature I had ever seen.

It bore some resemblance to a Shoyru, but the majority of its body seemed to be robotic. One half of its face was red and quite normal-looking, while the other was made of something that looked like brushed chrome. With a grotesque parody of a smile, the thing extended a scalpel-clawed metal paw. "I'm the director of Farside Base," it – he – said. "Most everyone calls me the Demon."

******

"I'm not saying I did anything," Geena shouted, startling me. "All I'm saying is that Kent is on our side. Not your side, you metal-headed numbskull, our side! Get that into your thick head, why don't you?" She delivered a hearty kick to the stove and headed for the door.

Furious, the Demon made a dive for her, but tripped over the bucket his foot was still in, and sprawled on the floor. Dropping to all fours, Geena took off at a gallop, and was out of sight before anyone else could get out the door.

The Demon's furious shouting seemed to come from far away. "You idiot, Crystal," he was yelling at Commander C, "you told me to go away until you froze up properly! Then that useless traitor cook-girl asked me to get a dishrag for her, and the next thing I know, that traitor spy's jumped out of the oven, kicked me in the back, and locked me in the closet, and you still in that freezer, not seeing a thing! Crystal, your kindness to your underlings is going to be your downfall!"

I wasn't listening to Commander C's orders for a search to start. "Farside Three, Five, I want you to check the command room... Farside Three! You're not heading for the stairs!"

In fact, I was heading for the stairs, but for the stairs down. I knew where Geena most likely was.

******

"We've been here a week, and already your brother's gotten us... what did he call it? Inserted?"

"Embedded, Geena," I said, trying not to sound too annoyed. "It means we're all taking jobs here and working here for two lunar days, while he writes his story."

"I know that!" Geena said, sounding annoyed herself. "I wonder if he's passed his physical yet?" She batted a grape tendril out of her mane. "I wish Commander C would have interviewed us all at once."

"It might mean she's more interested in us and wants to get rid of him," I said, leaning against a pipe. We were, for want of a better place to fidget, in the vine gallery of Farside Base's food factory. It was quite peaceful to stand among the spreading leaves of grapes and tomatoes, and the muffled gurgling of hydroponic fluid was slightly calming.

Not for long. Into the room below danced Karmapa, dressed in the violet flight suit of Farside Patrol. "Guess who passed?" Geena muttered out of the side of her mouth. I was more interested in the fact that Karmapa was being followed by Commander C, and that she was heading straight for the stairs to the gallery.

I hurried forward to meet her, but she continued upwards, into the experimental crops gallery. "Mr Devilaris, could you please stay behind?" she called down to Karmapa. "I want to speak to these wannabe space cadets in private."

I felt my claws sliding out at the slight, but it seemed to go right over Geena's head. When we got up to the upper gallery, she quickly said, "So, are we in, Commander?"

"Perhaps," Commander C said with a shrug. "I could certainly do without that imbecile Lolo, and Mikey will never be in my good books again after he ran over that Zafara from the ground crew's paw... poor thing, she's stuck at a desk typing. The best cybernetic nerve implants just aren't fast enough for running around a hanger, and besides, she's scared silly of the fighters now." She sat down in a large tray of grass that was being tested for its oxygen-making capacity. "I would have handed him the sack then, but I can't spare even a half-decent pilot. With the three of you, I can ditch them both and still have a backup pilot, which I like. Except..." She tapped her icy hoofs together. "How do I say this? Ok, I'll be blunt. Of the twelve members of Farside Patrol, ten are male. One of the girls is me, and the other is Farside Twelve, and nobody cares who number twelve is. I assume that at least one of you should be a better flyer than Lolo or Mikey... but if I give you a number you deserve, I'll have to bump a guy down. They won't like that..."

"So are you saying you won't take us because we're girls?" Geena asked, acid dripping from her voice.

"You are a girl too, aren't you?" I asked, trying to make my voice just as acidic.

"Yes, but... ok, fine, I'll take you if you pass the tests. I'm just warning you, there'll be a lot of flack from this one, and it'll all be on your heads!"

******

"Geena! Geena, where have you gotten to?" I knew it was stupid to call out to her, but I was hoping Geena would trust me enough to reveal herself. I had been sure she was in the food factory, as it was her favourite place besides the kitchen...

Still, I couldn't see a sign of her. I felt strange, like I wasn't really there, as I wandered out of the food factory, away from the muted gurgle of hydroponics and through the corridors of Farside Base. I wanted to ask Geena what she had to do with Kent and why. I wanted to go to the pilot's quarters and stay in bed forever. I did not want to go fight a battle. As if I had a choice!

I didn't really notice that I had walked into the pool room. I noticed it enough that I didn't fall in the pool, but I just stood at the edge and stared into the water. A quartet of inflatable orange cushions bobbed around, perhaps the remains of a get-together that had been interrupted by Farside going on high alert. My eyes drifted up to the sculpted Quiggle from whose mouth water gushed into the pool.

******

"You passed your swim test, space cadets," Commander C said. "Now lug yourselves out of the pool."

I stuck my head under the water pouring from the Quiggle's mouth. Not only was it very possible to get overheated while swimming in full uniform, but the pool water was warm. Voicing my thoughts, Geena gasped, "Why didn't you melt when you did this?"

Commander C smirked and smoothed her flight suit, but didn't answer. Instead she pointed at the door and watched us drag ourselves up the narrow stairs out of the pool. I had adjusted to the lower gravity by now, and my flight suit felt very heavy.

We got out of the pool, were told to go to our quarters to get dried and changed into civilian clothes, and were abandoned to our own devices. For myself, I could use a shower and a change of clothes... I had no idea I should dress to impress.

I didn't like my bathroom. It had a shower, tub, sink, and toilet, but it was miniscule. I had gotten used to Farside's large and lavish public areas and tiny, plain private quarters, but I didn't like the size difference. In fact, I quite loathed my tiny room! So, despite the fact that my hair was still wet and I had a toothbrush in my mouth, I had no intention of letting Geena make my room feel any smaller when she knocked.

"Coming!" I yelled, rinsing my mouth and grabbing a pair of socks and a large orange scarf to wrap my hair in. I stepped into the corridor...

"Nice to see you two so ready to meet the Demon!" Commander C called out cheerfully from the end of the corridor. "You've passed all your tests; now you have to pass him!"

******

I came back to myself rather suddenly. A feeling of impending doom settled on my shoulders like a cloak as I realized where I was. Sure I would never get to see Geena again, I trudged out of the pool room to rejoin my comrades upstairs. Let the doomed cheer each other up...

I froze. There, in the corner by the stairs, was a grouping of brightly coloured armchairs. And there, curled up in the gaudiest of them, was Geena, her entire body shaking with sobs. I thought of calling out, but was afraid she'd run away, so I walked toward her as quietly as I could.

"Geena," I said, putting my paw on her shoulder, "I know you did the right thing. Whatever it was, I know it was the right thing, because you wouldn't ever do anything wrong." Not looking up, she sobbed harder, so I said something I didn't mean. "I know everything's going to work out fine because of you. I know it."

Geena laughed and sat up. "You and I both know that's not true," she said. "Things aren't going to work out fine; it's too late for that. I just wish..." She shook her head and reached into her pocket. "Sweet?" she asked, pulling out a handful of lollypops.

"You're hooked on those things," I said, selecting an orange one.

"There are worse addictions," Geena said solemnly, unwrapping a bright green one and licking it with a flourish. "Like danger, perhaps?"

I gave my lollypop a long suck before answering. "I didn't know anything like this was going to happen, you know," I said. "As far as any of us knew..."

"I don't mean taking the job," Geena said. "I meant actually managing to get it."

To be continued...