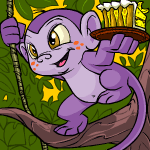 The Steps to Adopting

by kaitlinlovespuppies

--------

You've been thinking about it for so long. "Should I adopt a neopet? Can I adopt a neopet?" Well, most likely, the answer is "YESSS!"

Adopting a neopet should not be hard at all. There are a few simple steps, first of all. Here they are:

PART 1: DECISION

1. DO YOU HAVE ENOUGH MONEY?

Not only do you have to think about the adoption fee, if you do decide to go to the pound, but you must consider the cost of food, clothes, toys, etc.! Depending on your personality, this may add up to 10,000 NP a week. To some, this is a small fee, to others, a huge feat! You have to be up to the challenge.

2. DO YOU HAVE THE TIME FOR ATTENTION?

If you visit Neopets only once a week, you shouldn't get another pet. New AND old pets REQUIRE ATTENTION! If it's too much, I understand. But please, dear friend, remember that uncared for neopets run away. Besides, what would be the point of adopting a pet that runs away a day later?

3. CAN YOU CARE FOR IT?

This is also time-and-money related. You need enough money to but it needed items, above all food, and you need the time to play games with him/her, feed him/her, and groom him/her. If the answer is no, then you shouldn't adopt. But if the answer is yes... Then it's time for...

4. WHAT PET WILL YOU ADOPT (TYPE)?

To find the answer, think about all the types of pets there are. If you don't know of many pets, feel free to explore. Personally, my FAVORITE type of pets are Eyries and Kougras. Your favorite types of pets may be different. Maybe you like Grundos, or Wockies, or Blumaroos. Acaras! Korbats! Lupes! Ahem. To choose, you should figure out which category is yours (for appearance):

A) CUTE!

B) Creeeepyyy

C) Handsome (wink)!

D) Ugly

E) Plain

Ok, make your choice! If it's none of the above, then come up with your own category!

5. PERSONALITY?

Either opposites attract or alikeness is golden. It's up to you.

6. ADOPT OR CREATE?

If you want a pet you can't find in the pound, go ahead and create. I urge, though, that you adopt. Think of all the lonely neopets wishing for a home in the pound! The least you could do is adopt just ONE!

PART 2: PREPARATION

Ok, before you adopt/create, you should be prepared for a new pet. I have a few tips:

1.RACK UP THE POINTS!

Money? Of course! Before you adopt, make sure you have the money. I know I already said this, but it's important. Get about 12,000 neopoints to start. This should cover food, toys, clothes, and the adoption fee. Like I said before, a pet can cost up to 10,000 neopoints a week, if it is a well cared for pet. Make sure you can cover that.

2. PRE-BUY.

Now buy some food. You can also buy toys and clothes for your neopet.

3. ERRR, GET MORE MONEY.

Heh-heh. Since you probably already spent all your money, you're going to have to make MORE money. Oh, well. Altador wasn't built in a day (At least I think. And hope).

4. DID I MENTION TO BUY SOME FURNITURE?

Oh, yeah, I forgot, make sure to buy some furniture for your pet, too. Oops.

5. BE PREPARED FOR THE RESPONSIBILITY

This step requires no neocash, neopoints, or any sort of money. Just consider it. You are adopting another neopet. Are you ready? Only you can decide this. Take a deep breath. Count to three. Imagine what life would be like with a new pet. It may cost too much money or responsibility. Adopting a pet is one huge step, so be ready, my friend.

Be ready.

PART 3: HAVE YOU FOLLOWED MY STEPS?

Okay, my friend, we are almost done, we are. Yes, it is all coming together. Let's take a break, shall we? Review time. Have you followed my steps? Make sure you've 1) decided which pet you are going to get, 2) prepared, and 3) accepted the responsibility. Okay, we are almost done! Now, you are ready to adopt!

PART 4: THE ADOPTION!

Ok, 1: FINDING THE ADOPTION CENTER

You can find the adoption center by going to "Pet Central" at the top of the screen and waiting for the little screen to come up. Click on the "Neopian Pound" section. It should take you to a place with three doors. Click either the "Adopt" door or "Transfer" door to get a new pet. Be warned, though, if you pick the "Transfer" door, then you may have to transfer one of your old neopets to get a new one.

2. BROWSING

Now you have to browse between cages till you find your new pet. This may take while. It took me a pretty long time to find my dream pet. Don't worry, though, pets are abandoned every second. It's sad, but pets are also adopted every second, too. Once you have found the perfect pet, click the "Adopt" button you will find underneath the pets.

PART 5: YOU HAVE ADOPTED A PET!

Congratulations! You have adopted a pet! Now that you have your pet, what are you going to do? Here is what you might want to do:

1. INTRODUCE YOUR PET

Now it is time to introduce your pet to your family! Get everyone accustomed. "Cherry, this is Orange. Orange, meet Cherry and Kiwi!" Once everyone is introduced, move on to...

2. CHECK YOUR PET'S STATS!

What level is your pet on? What is its intelligence? What is its strength? What is its speed?

3. GET TO KNOW YOUR PET!

Play with your pet. Talk with your pet. Get to know its favorite color, game, toy, and everything in between.

4. GO HAVE SOME FUN!

Now you have got a new pet! BE EXCITED! Go play some games! Go on a shopping spree! Read the Neopian Times! Submit an article or comic or something! Customize your pet! Groom your pet! Feed your pet!

CONGRATULATIONS!

You have a happy family, even bigger than before! I'm so happy for you!

I'll be back with more tips later!

Yay! I'm finally in the Times!