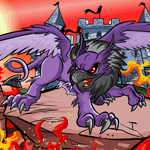 Falling Rain: Part Three

by mutedsanity

--------

"Well, when you're right you're right, eh?"

"Unfortunately." Arrihaz stood over a rickety wooden table under a flimsy canvas covering that whistled feverishly in the low wind.

The ropes securing it to the gravelly ground creaked. A map of Meridell was spread across the tabletop, and the three of them stared hard at it.

Captain Firieq was sitting beside Arrihaz, his paws clawing impatiently at the ground. "So much for that Court Dancer, hm?" he continued sarcastically.

"This is no time for jesting, Sir," Major Mahlou snorted. He sat stiffly across from the nonchalant Shadow Lupe, his own dark eyes fixed on the map before him as though he were trying to burn a hole through it. "The king has somehow foiled Lord Kass's efforts to keep him at bay and has retaliated. Meridell has more soldiers and command now against ours and--"

"And NOW things are getting interesting."

"And NOW, Sir, we struggle," the Wocky huffed.

"Well, the Lieutenant Colonel here has the big-shot troops, and with my division and the meager handful of soldiers under your command... well, our little tea party here won't be for nothing." Firieq smirked. "So you've got us all, Arrihaz. I'm all ears. What's the plan?"

The Darigan Eyrie sighed and tapped the map. "Skarl's troops have branched off from here and here. Ours are in scatterings here, here, and here. Captain, if you move yours in here, and mine from there, we can jump Meridell's soldiers gathered over there and push them away from the Citadel. We still have the upper hand. Let's keep it that way."

Mahlou watched him point the various places on the map as he spoke. "A direct attack, Sir?" he inquired dubiously.

"You got a better idea, old man?" Firieq quirked a brow.

The Major frowned. "I'm afraid not."

"Then we press on," Arrihaz responded flatly.

"Before Aradour marches over and has her say in things." The Lupe snickered. "Then we'd have more to lose than our pride out here."

"The Brigadier General and our Lord Kass are overseeing from the Citadel." Mahlou sniffed and stood up with his nose in the air. "If we do not recapture our lead in this war soon, they will be very displeased."

"Piece of cake," he replied languidly.

"Go now," Arrihaz said. "And try to be useful this time."

| | | | | |

The clashing of swords rang through the air. Cold metal-on-metal, scuffling, panting, shouting, and small explosions reverberated through the open plains. The battle was intense. And although Arrihaz's division had ambushed these Meridell troops, there was no sign of either side backing down.

Arrihaz and Mahlou crouched on a low rock cleft, gazing down at the battle roiling beneath them. Growling low in his throat, the Wocky was fumbling to ignite a P-Bomb to drop on the cluster of Meridell troops within range. But Arrihaz didn't move a muscle, his unblinking stare fixed on the scene unfolding.

These were his men and women. His responsibility. All he had at his side right now were his sword and the Major. Needless to say, the sword often proved to be better company, but all those people down there were fighting for him now too. And the enemy was quite mistaken if they thought he would sit on the sidelines and just watch his troops battle for their lives like this.

Mahlou swore under his breath and threw his flint on the ground angrily. "It won't light! And this blasted thing is supposed to be state-of-the-art."

"The art in this case was probably finger-paints," Arrihaz replied dryly.

"Sir, I'm trying— if you have a better idea--"

"Brai?" He sat bolt upright and squinted as he saw the distant figure of the Fire Zafara enveloped by a crowd of opposite colors.

She often kept to the sidelines and gained her advantage from a safe distance. It wasn't particularly encouraging to be within arms-length of eight-foot-tall Grarrls with fists the size of her head, after all. Call her crazy, but she liked to stand back on the basis that unconscious bodies littering the ground did not equate a tremendous good time.

She had taken a lightning gun and charged in, but had soon figured out that its power wouldn't even suffice to cook broccoli.

"That weak little coward!" Mahlou growled as he saw Brai trying to outrun a huge Scorchio with every intention of grinding Brai's bones to make his bread.

"She's unarmed," Arrihaz snapped. "Get down there and fight!"

He leapt onto his feet, shoved the Wocky into a baffled jog down to the battlefield, and took the shortcut himself. With a galloping leap, his forepaws left the stone and his powerful wings swept his hind paws after them, and he dove like an arrow into the confusion.

| | | | | |

"You idiot! How could you just rush into battle like that, unarmed?!" Mahlou howled, nursing an arm in a splint and brandishing a roll of medical tape at Brai.

"I told you, my weapon wasn't working!" she squealed defensively.

"Funny, the Major had a similar problem with his bomb." Arrihaz shot the Wocky a look that clearly stated there was, in fact, nothing funny about it.

Mahlou was flustered. "Please, Sir, it's constant careless actions like this that make the Corporal need saving!"

"With all due respect, Major, I saved your life in yesterday's battle," Brai stated.

"Twice," Arrihaz contributed blandly.

"Imagine if we all fought like her!" Mahlou spat, clinging desperately to any verbal ammunition he could find. "Why don't we just march over to Skarl and say we're so sorry for not playing nicely with his soldiers, but would he please surrender to our dictator?! You're absurd!"

"Not all of us are so well-equipped with the capacity to hurt innocent people," Brai retorted with a flare of anger. Clenching her jaw, she stormed out of the medical tent with a snap of her cloak.

Mahlou stared after her, agape with indignation. "How DARE she speak to a superior in such a fashion! Sir, I don't know why you humor her— if it were anyone but you, she would be long gone!"

"It's a good thing it's me, then," he mumbled with a testing glance. "Look, let ME worry about MY soldiers. You just worry about your... arm." He waved a paw dismissively at the injury, and without waiting for a response, strode out of the tent. It was clean and white, full of cots and nurses caring for the wounded— which, luckily, they had very few of in comparison to other units.

He ran into a few scouts with updates, a solider with inventory on the wounded, and found Brai half an hour later sitting alone on the edge of their camp. Wandering through the hastily-picketed tents and bread-eating soldiers, he sat down on his haunches beside the Zafara without looking at her, his thin tail curling around his paws. He stared out at a dreary sky with uncertain crimson eyes.

Brai hugged her legs, her chin propped on her knees. "Thanks for helping me," she mumbled eventually.

"Major Mahlou should have a good look for that conscience he seems to have misplaced."

She almost smiled. Almost. "He's right, you know... I'm always messing up."

His voice groped unsuccessfully for a paternal tone. "No, he's not. He should be retired by now. He just can't accept that a young Corporal could outrun and outsmart him."

"It's just that I..." She hesitated, biting her bottom lip. "Well... I don't understand it. This war. It's even more pointless than the first one. I don't know why I'm fighting for a leader I don't even support. It's his war, not ours... but if we don't fight, we'll die. It's just this vicious cycle of hurting people. It just doesn't make any sense that I seem to be the only one who sees it for what it really is."

She suddenly winced and looked away. She must have realized she had just insulted the leader Arrihaz was very closely under, as far as ranking was concerned. "I'm sorry. That was out of line," she sighed. "I shouldn't even be saying that sort of thing to you, Sir."

"You know, treason and desertion aren't taken lightly in this army." Arrihaz smirked slightly at the stricken look on her face. "...Even if you're right."

Brai looked sharply up at him, her eyes wide with surprise. "Sir...?"

"I fought in the first war because I had someone to protect," he said softly. "Now it's... nowhere near the same."

Slowly, she smiled at him, as if it had been a very long time since she had smiled and she had almost, but not quite, forgotten how. She stood up, arms folded, and gazed out across the wind-tousled fields flanking the camp. "Even if they lose... we don't win," she murmured. "Nobody really wins in a war."

Arrihaz jerked his shoulders as if shaking away flies, frowning behind them as someone called for him. "It can't last forever," he replied distractedly as he stood up. He started back toward the tents, and Brai half-heartedly saluted him as he moved away.

"I'll never understand what we're trying to prove," he heard her mumble. "Hate takes no effort other than to look around. It's compassion that's worth fighting for."

| | | | | |

He remembered that day more vividly than any other of his life. It had seemed ages since he had joined Darigan's army, partly to fight for a cause that he felt was justifiable, and even more so because Lara wanted him to. An avid Darigan supporter, she had painted her two pets in coats displaying their loyalty, and deemed that all of Arrihaz's training had finally paid off.

Even more importantly, Arrihaz wanted to protect them. He wanted to keep Meridell out of his Citadel, away from his family, safe and untouchable where they belonged. Although taught to the point of violence by Lara to blindly follow their leader, Nolim was always where his loyalties truly lied. It was her. He fought to protect her.

That day he had come to visit for the all-too-brief time that he could. And when he was called away not an hour later due to an emergency situation, Lara had told him that she was proud of how strong he was and how his courage pulled him up through the ranks so quickly. His little sister had followed him as he was walking out the door.

"Arri," she whispered urgently. "Please be careful."

"I'll be fine, Nol. Don't worry."

She shook her head weakly. His heart ached as he was all-too aware of just how she had become even more thin and frail as time went by. She was always sick. The last thing she needed was to be exhausted with worry about him, out there fighting for her. "Really." He lowered his voice to a gentle, gravelly growl. "You just have to trust me."

Nolim squeezed his paw. She swallowed hard and managed a single nod. He thought he saw tears shimmering in her eyes.

Arrihaz pulled her against him in an embrace. A warm wave passed through him. He touched his forehead to hers and closed his eyes, sure that he never truly understood love until she was born.

He had always felt theirs was a story just as tragic and unjust as anyone else's. Arrihaz and Nolim, two siblings born in Meridell and orphaned at a very young age due to disease. Nolim didn't even remember their parents, and Arrihaz liked to forget. They had then been adopted by an avid anti-Skarl human, Lara, who blamed the loss of their parents on the king's negligence. She taught them, trained them, lived with them on the Citadel and made them hate Meridell too.

Lara was kind, but she made them bitter. Nolim had always been sickly, and Arrihaz all the more protective because of it. Always close. Always afraid that he would lose her in the same way they lost their parents. Always fighting to defend her.

And as he walked out into the bitter night, he left Nolim clinging to the doorway with tears in her eyes. That seemed so long ago now.

"Arrihaz!" she had cried. "Come home safe!"

And he bowed his head against the cold. There was sort of a nice feeling... having someone call your name.

"Arrihaz!"

He paused at the sound of Brai's voice.

Looking back over his shoulder, he found her standing where he had left her, her face set in hard lines.

"I know you'll do the right thing," she said softly.

To be continued...