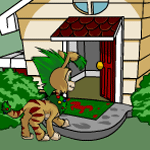 The Neopian Pound

by gabs5524

--------

There are so many rumours about the Neopian Pound, it's hard to uncover the truth behind it. Some people portray the pound as a barren, desolate place where pets are packed tightly in unsanitary cages and rarely fed, left to waste away for months and months. Almost everyone is familiar with that image. But what is the truth? It may surprise you- it certainly surprised me.

The Neopian Pound is where you can abandon your Neopet and leave him with Dr_Death *shudder* or happily adopt a Neopet! People just call this place the Pound. One day the Pound was down for maintenance! Nobody knew why.

To find out, I performed an inspection on the Neopian Pound. I have published the results to dispel some of the rumors that haunt the pound and the people who work there.

First of all, some of you may remember the horrible way Ms. Worley, the former pound manager, was depicted. After she was forced to resign over it, the employees decided to remain anonymous. The Techo you see isn't really cruel; he looks mean because he's trying to discourage people from abandoning their pets.

The facilities in the pound were up to standards. The cages were occupied by two or three Neopets, but never more than three. And no Neopets were wanting for food. Neopets come out of the pound with the same hunger level that they went in with. The cages were clean and although the animals appeared depressed, they weren't cruelly treated.

That said, the pound is highly unorganised. The number of pets for adoption is rarely correct. Vicious Lupes are caged with innocent Chias. The pound should be more adopter-friendly, allowing people to search pets by species and color, and post an accurate number of pets for adoption.

To find out exactly what kind of pets are in the adoption center, I randomly sampled 266 pets in the pound. I took down their name and species, and compiled some interesting data. First of all, although Grundos account for only 1.79% of Neopia's population, 7.5% of pets in the pound are Grundos, and they are the most abandoned pet. Conversely, in my sampling there were no Poogles, Cybunnies, and Flotsams, most likely because those are all limited edition pets. Another myth about the pound is that pets sit for weeks and months without being adopted. But that just isn't true. Out of the 266 random pets that I followed, over 99% were adopted within five hours. After twenty-four hours, 100% were adopted. I did not advertise any of them at all. And these were pets with all sorts of names. All have found wonderful new homes.

That will probably shock people who believe abandoned pets are one of Neopia's biggest problems. But the truth is, although many people do create and abandon pets, just as many people are waiting to adopt them. So, when people adopt pets temporarily to find homes for them, they are actually not helping the pets find permanent homes! Only two of the pets in my study were adopted by someone trying to do this, and if they'd been left in the pound, I'm sure they would have found homes just like the rest. I suggest that if you adopt pets like this, you should instead just write down their names instead of adopting them immediately, and wait a few hours before you look them up again. If they're still in the pound, then adopt them and try to find them a home! But most likely they will have already found a permanent home. The pound has a 100% success rate with helping abandoned pets, and that's hard to beat. If you really want to help, try painting the pet. Painted pets only remain in the pound for about five minutes.

So the truth about the Neopian Pound is that all the people who have been promoting adoption are making a huge difference. There aren't more pets in Neopia than there are loving people to care for them, and it shows. Adoption is still a worthy cause to support, but the truth is, things are in great shape already. To gain further insight, I decided to carry out a poll in order to get more of an idea of people's general opinions of the pound. The poll was this:

Q: What is your opinion on the Pound?

a) I love the Pound, I surf and adopt! 49%

b) I like the Pound, I surf but don't adopt 34%

c) I HATE the Pound, earn your own pets 17%

d) The Pound? What? Who? No one told me! 0%

The new layout offers something for everyone. First and foremost, there's the 'adopt' option, where you might just be fortunate enough to find the pet of a lifetime, whether it's a limited Edition pet, a painted pet, or simply one with the highest Battledome stats.

Or you could choose to 'transfer', perhaps to a friend who wants to adopt your pink pet for the avatar, or maybe you just think it's high time for a change and you want to give one lucky person the chance to adopt a lovely, well looked after pet.

Then, of course, there are the ill-fated Neopets who are left to fend for themselves when they are regrettably 'abandoned.' However, it's not all doom and gloom, as some owners are kind enough to check their pets into the Neolodge to keep them properly fed and watered, making their pound stay a little more pleasurable. And you know what they say, 'one man's trash is another man's treasure' and hopefully sooner rather than later, a new and loving owner will come along and give each Neopet the loving home they truly deserve. It seems that some Neopians have found dislike in the pound. Some say that it is unfair that whilst one person saves and 'earns' a fabulous pet, another can simply wander into the pound and 'snipe' the pet of their dreams.