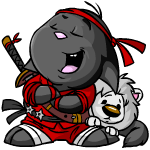 Personality on the Neoboards

by sw33t_simplicity

--------

What is the perfect avatar?

A question that runs constantly through my mind and yours too!

So without further ado, let's minimize our options.

Are you sick and tired of switching avatars twenty times in a single day? Imagine the stress of constantly changing your 'font' and 'avatar'. It's like debating on what to wear on the first day of neoschool, throwing twenty pieces of clothing on the corner of your room. The same goes with being unsure of which avatar to use - it gets really, really messy!

Some people switch their avatars to fit their current mood while others intend on taunting their peers by only selecting quite a handful on their list. You'd probably only select the difficult flash game avatar or the 'took a million neopoints to get this' avatar. Whatever the reason, it's best to stick to one. Yes, a single avatar and font. It may sound like a difficult task, but really, aren't you tired of the confusion?

"Hey Tommy, how're you today?" says Lilly.

(30 minutes later...)

"Hey Phillip, have you heard any news from Tommy?" says Lilly.

"Uh, this is Tommy!"

"Oh! Well, your new font and avatar are what Phil usually uses."

Bummer! Your friend called you by someone else's name.

This is why you should consider your avatars like a personality trait. Wouldn't it be neat to go through months of using the same avatar and font? Maybe not, but remember that you're trying to quit the habit of constantly switching your neoboard avatar or your neoboard look.

Your friends tell you how 'groovy' you are all the time! Yet, you refuse to believe them because you know that you're so much more than just 'groovy'. You find yourself staring at the "Groovy Chomby" avatar, slowly observing the Chomby's rapid head movement. You take one closer look at the avatar and finally say to yourself that it's just not going to work out for you. Well, what will work out for you?

Personalities aren't easy to differentiate. If you actually take the time to sit down and think of all the personalities that you've come across, you'd probably wish you'd never started to even do such a thing! (Don't get any ideas now.)

You're in luck, because this task would only have to deal with a single person, and that's you! Of course, switching avatars every now and then is like changing clothing outfits on a daily basis. Unlike clothing, avatars aren't a must. It's simply a choice. It's up to you to be able to agree on such a thing, but wouldn't you prefer expressing your most admirable personality trait? Indeed you would if you've managed to read this far.

As uninteresting as it may sound, your main goal here is to untangle yourself from that plain, dull, boring ball of yarn. You know that you're much more than just a single colored piece of thread. On the neoboards, you're practically the same color as everyone else if you've got on the same thing. What if you got on something that represents you? You'll come across someone else using that same avatar, but the question is... Who represents the 50x50 pixel better?

Use the customization options to create a whole new look. Change your neosignature to something you'd say or something that you do. Add vibrant colors that complement your avatar. Place your name or nickname somewhere visible – big enough and bold. Now you're getting closer to exposing who you really are by telling a story with your avatar.

You've probably noticed the NeoTitle option. Now this is the fun part, selecting a phrase that fits you! Are you "Usuki Crazy" or a "Shopaholic"? With over a hundred selectable titles to choose from, you're bound to find a suitable phrase that fits you.

Action Hero, Adventure Writer, Kiko Ninja, Emo Usuki, Taunting Pteri, Dung Collector, Random Silliness, and so much more. There are even smiley titles that are simply straight to the point such as ":[" or titles that explain you in a single sentence like "I chat too much" or "Creator of my own little world". Take these titles to the advantage and let everyone know who you really are!

Although NeoTitles explain your personality in words, you'd want to provide the picture as well. This is the part where you find that animated graphic that truly suits your personality. Your NeoTitle tells your story, but your avatar provides the footage.

Here are some personality traits that may suit you:

The Baby – You get anything you want at the snap of your fingers. You cause headaches as a hobby and love attention.

The Battler – You're well-known for your fierceness and bravery.

The Collector – You find patience in an exhilarating hobby! You love collecting and collecting loves you.

The Einstein – Your avatar shows your most admired trait – your intelligence.

The Gamer – You're a daredevil. You take risks and have a cabinet full of shiny trophies! That tough game avatar you have on shows that you're not one to mess with in the gaming area.

The Holiday Celebrator – You love paying tribute to every neopian holiday! If tomorrow's Sloth Appreciation Day, we already know what you'll have on!

The Music Junkie – You live life by the lyrics and the beat of a song. You're thoughtful and full of life.

The Mystery Man – You love being unidentified and giving people a challenge.

The Ninja – You conceal yourself in an outfit that only reveals your eyes. You're swift and courageous!

The Pirate – Yarr! You're adventurous and bold!

The Rebel – You are your own person. You're serious and... rebellious.

The Warrior – Your name says it all. You've got all the qualities that are present in a leader.

Petpet Obsession – Your pet is not the only one in love with his/her little companion. You are too!

Pretty In Pink –You're spontaneous and girly and look pretty in pink!

If you found what truly represents you, give yourself a hand shake. It's a tough job to narrow your options down but you'll eventually find what suits you.

Now that you have a clear idea on how to explain yourself by something as simple as a neoboard appearance, you're ready to create something you've never thought of before! Show your true self and be creative.