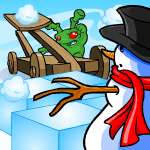 Snow Wars 2 Guide

by ohguesswhat

--------



TERROR MOUNTAIN - When I first got my Third Place Snow Wars 2 trophy, all my neofriends bombarded me with questions. Everyone kept asking me, "How did you do it? How do you get that many points?" Nearly everyone told me that they could barely get 150 points, at the maximum. So I've put together a simple guide with some tips that will help you master the game, and maybe even get you a trophy or avatar in the process.

In a quick overview of the game there are only four things you have to do: build, catapult, repair, and trap. You build walls making almost fortresses, then you place your catapults inside of them. Then you fire your catapults at the invading Lupes and snowbeasts. Lastly you repair your walls, and if a Lupe gets too close for comfort, you can trap them by surrounding them completely with walls and then they will disappear. So it's not a complicated game, compared to some others where I have had to keep re-reading the rules over and over again. I find that rather annoying, and I also find that it takes a lot of the fun out of a game.

In the beginning, it's all about getting the right battlefield setup. You want there to be no snowmen near the outskirts or the edge of the battlefield. There should be a distance of two or three cubes at least from each snowman to the edge. If not, then keep restarting until you have a satisfactory setup.

After that, you have 30 seconds to place the blocks QUICKLY around the snowmen. When the inner area you're trying to surround turns blue it means that you've successfully and completely surrounded the snowman. You should leave as much room around the snowmen as possible because you are going to be placing your catapults there afterwards. There are two different strategies you can use here depending on the original placement of the snowmen.

Strategy 1: Surround all of the snowmen in one go. Try to leave a lot of space in-between each one, so later you can divide it up so you have backup setups. If you do this, your snowmen should have been placed relatively close to each other, or else you're going to run out of the time needed to place the walls.

Strategy 2: Surround two or three snowmen in the beginning and reinforce it. Then the next time you have to fix up your walls keep adding more walls to make separate enclosures for the remaining snowmen. Make sure you try to enclose the snowmen closest to the Lupes and snowbeasts, because if the Lupes invade your snowmen, then your snowmen are no longer "active". Then later in the game if that snowman is the only one you have surrounded completely it doesn't count, and you would get a game over.

Next you have 15 seconds to place your catapults inside your walls. Only so many are allowed for how many snowmen are enclosed in that area. Try to avoid placing your catapults right next to your walls, because later you want there to be space there so it is easier to plug your gaps and missing sections. You also don't want to place too many catapults because you can only fire a certain amount at the same time anyway, and like before, you want to leave room for fixing your walls.

Now you have 15 seconds to fire at the enemy Lupes and snowbeasts. The snowbeasts are carrying catapults of their own, which will destroy your walls. Because of this, you want to aim at the snowbeasts first so the minimum amount of damage occurs to your walls. Try to aim a little bit in front of them, and try to destroy as many as possible.

With another 15 seconds you need to completely surround at least one snowman to continue. You need to be really fast now, and even faster as the levels continue. Every gap and hole that occurred from the enemy's catapults needs to be plugged by the new pieces of walls. If you start to repair your walls and run out of time, this is when it's handy to have a backup section you can use for the time being. If that's the case, then the next repair time you can try to fix the main section. However, if you repair your walls with time to spare, you can either reinforce your walls to make them thicker and stronger, or start surrounding one of your other snowman. It's nice if you can connect, but still separate, some of your snowmen's boundaries.

The cycles then continue to repeat, as the levels grow faster, harder, and you have more enemies to destroy. If you can beat level one, then you have the basics I've explained down and all it takes is practice. Like they always say, practice makes perfect, and that does apply for this game. This game is very easy to earn 1000 neopoints for every play so when you're playing and practicing you can make 3,000 neopoints very easily every day, and maybe more if Snow Wars 2 is the featured game. Having a fast computer does come into play, as well as a good mouse towards the end, because sometimes you have a lot to do concerning repairing sections in a short amount of time.

Reminders/Tips:
Always have a backup area with room for catapults because sometimes you have to abandon your larger section.
Turn off the sound; it's only distracting, like with most of the games.
Don't get flustered when you lose a section. It's inevitable; when I got my high score, my main section was completely destroyed and invaded, and I was playing with my two back-ups.
Once again: Practice!! Do you think that the people on the high scores lists got that on their first try at the game? Everyone starts off learning the game and not so good, unless you have a really good natural talent and are very lucky. Just play your best and try to improve; remember, you're competing against your own score, so you don't need to worry about how other people are doing at it.
Have fun! I saved the most important tip for last, because if you're not enjoying yourself, or having fun, you've lost the entire point of a game. If you decide this game is not for you, then don't bore yourself.
Good Luck!