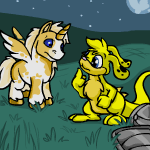 To Ride a Uni: Companion and Steed - Part Two

by smallpox__plum

--------

"Hey," said an unfamiliar voice in her ear as something pushed gently on her shoulder, "Hey, Kanine!"

The spotted Uni awoke with a start, scrambling onto her hooves and looking in fright at the strange yellow creature beside her.

"Hey, I'm sorry to wake you, I wanted to let you sleep, but it's already late morning."

Kanine was confused until yesterday's events came flooding back: Tatch's grounding, Mare Lilian, the royal Cybunny, the midnight gathering—Daze!

"Daze?" she asked blearily.

"There you go!" said Daze, clapping her on the shoulder. "That's me. Glad we've got that straightened out."

"Good morning," said Kanine politely, suddenly feeling embarrassed for sleeping in, and quite shy. She berated herself, she wasn't being very professional at all!

"Good morning," returned Daze, "but it will be a better morning if we can get to training. You have a lot to teach me."

"I do?" Kanine tried to think what she could possibly teach to a real warrior, and if Lilian or Delion had mentioned anything about this.

"I'm here because I can't ride. You have to teach me to ride."

"Oh! Of course!" Kanine was feeling more and more flustered by the minute. She decided, in the interest of not appearing totally useless, not to mention that she had never had a rider before and didn't know anything about it.

Daze nodded. Kanine could see she was beginning to look skeptical about her new mount's capability.

"Tell me what you know already," she said, thinking fast. That sounded like a professional place to start. "And, if you wouldn't mind, might you tell me what you are?" Oh, that sounded all wrong and ignorant! But, she figured, she had to ask sometime, it was really beginning to bother her.

"My apologies," said Daze. "I come from a city where there are all kinds of pets. I didn't know my species was unknown in the countryside. I am a Zafara. As for my experience, I was told to mount on the left, how to hold the reins, and how to put on a bridle and saddle. All technical things, nothing more."

"It's good to know that, though. I certainly didn't," admitted Kanine.

"I didn't expect you would have," said Daze. Kanine almost flinched at the thought that her inexperience was showing again, but Daze seemed genuinely unconcerned with her lack of knowledge of bridles and saddles and reins. Kanine pushed bravely on.

"So, come over here to my left side," she instructed, "And let's think of a way to get you on besides me kneeling down."

"Good idea," said Daze, coming over to her and looking at Kanine's broad back, coming up to a little below her shoulders.

This part of the training took a lot longer than either of them expected. Daze seemed to have no trouble heaving herself up partway by placing her hands flat on Kanine's back, but found her short Uni fur too slippery to clamber over. After nearly half an hour of failed attempts, Kanine had had enough.

"I hate to halt your efforts," said Kanine, "but you keep kneeing me in the side!"

"I'm sorry!" said Daze, panting, and clearly trying to keep her frustration under control. "I didn't know it would be this hard!"

It was the first time Kanine had seen her less than collected.

"Try lifting your leg only after you jump, so you're not jumping into me, but climbing over me."

"Gotcha," said Daze, who looked relieved that someone had a suggestion for this difficult business.

After two tries, it worked!

"Phew!" said Daze. "Thank you! Man, that took a while."

Kanine was silent. This was the first time anyone had ever been on her back, and she was getting used to the feeling. She felt a bit heavier, and when she took a step, it felt like she was balancing a precarious weight on her back.

"Hey!" said Daze in alarm. "Don't move yet, please!"

Kanine stopped, and meanwhile thought about the other Unis she had seen ride off. She took another step, just to feel Daze wobble.

"I said stop, please!" said Daze, and while Kanine couldn't see the Zafara too well now, she sounded a bit apprehensive.

"You're unsteady because you're sitting too far back," said Kanine. "Come up more toward my shoulders."

"You've got wings there," said Daze.

"I know; put your legs over them, and sit a little behind my shoulders. Yeah, right there. Better?"

"...Yes," said Daze after a moment. She didn't complain when Kanine took a few more steps.

"Right, then!" Daze sounded confident again. "Now, on my way over here, I thought of a plan to speed this process up a bit. Hear me out. When I was training, I always mastered the hardest skill first, so all the rest after it were easy. That's why I'm choosing not to learn with a saddle. What I want you to do is run, as fast as you can, across this field. If I can stay on after that, I can stay on for anything."

"I don't know if it will be that easy," said Kanine skeptically.

"Exactly, it won't be easy! But if I can stay on, I can do this!"

"Well, all right..." said Kanine, and promptly sped off.

Daze lasted all of one stride before falling straight off. Kanine had to slow down and come back. She couldn't help but look smug. Daze looked a bit angry at herself, but determined. She scrambled on again, and Kanine ran again. Daze didn't last any longer than before.

After an hour of stops and starts, where Daze made no progress but got a lot of bruises from falling on the ground so much, she was forced to reconsider her plan, albeit in a bad mood by now.

"All right, talk to me; what do YOU think we should do, hmm?"

"I think you should get back on, and let's go for a walk."

"A walk?"

"A walk."

"Can't you go a bit faster than a walk?"

"No."

"Fine!"

Daze got back on—she was very good at it now—and Kanine started off for a pleasant walk around the field.

"For what it's worth, I thought your idea was pretty good," she said as they went along, "And I understand your need to master everything quickly, but every Uni knows that a foal has to stand before it can walk. You have a lot of talent, but you still need instruction sometimes."

Daze sighed and relaxed her body. Kanine was surprised to find she could read Daze's body language very easily. The spotted Uni felt more calm, too, and less self-conscious now that she had contributed a good idea. It was reaching high noon, the sun was warm and clouds were white and scattered. The pleasant weather almost belied the fact that a war was beginning not a few miles away.

"It's nice out here," said Daze as they were turning around the edge of the field. "No clutter, like in the cities. It's so simple."

"Thank you," said Kanine. "It's a beautiful place to live, but I haven't known anything else. I always thought Meridell would be exciting."

"If you think potato fields and hordes of ignorant people are exciting."

"Do you not like it?"

"I've just... had my fill of rotten people, is all."

"I'm sorry," said Kanine, for lack of a better sentiment.

"Nothing to worry about," said Daze, cheerfully. "Everyone has their troubles in life, you know?"

"What are yours?"

"You're very forward, aren't you?" Kanine could feel Daze looking down at the back of her head, and felt her face flush. There she went, showing how ignorant she was of how to be proper! "I like that in a person. There's not much to say for me. My parents didn't know how to parent, so I got fed up and left. I joined King Skarl's court as a squire and worked my way up to a knight despite some prejudice against my gender. I have siblings, but they turned out like my parents and we don't get along. I've got friends and they are my family now. And that's my life."

"Sounds interesting," said Kanine. Daze laughed and agreed.

"No one's ever put it quite that way, though. You're pretty funny."

Kanine smiled. "Want to go faster now?"

"You bet!"

They spent the rest of the day working through trotting, the next fastest pace for Unis, and the bounciest. Daze was a quick learner, and Kanine had to admire her for that, even if she overestimated her readiness for the next step every time. She could understand Daze's eagerness to master everything, though, and did her best to meet her efforts hour to hour, even though she realized neither of them had eaten.

At nightfall they both collapsed, exhausted, but pleased with the progress. Daze chatted to Kanine about Meridell at her insistence while she ate and the Uni grazed. Kanine promised to be up earlier the next morning, and the two fell asleep side by side under the cool moon.

----------

In the morning, Daze was just as alert and eager as ever. She was on Kanine's back before the Uni had quite shaken the sleep from her limbs. They walked and trotted around to warm up, and then moved on to faster and faster runs. They went to sleep feeling accomplished once more. Kanine could honestly say she was enjoying herself. Spending day in and out with one person to train was very rewarding, and she found she completely trusted the earnest Zafara.

----------

On the third day, the pair ventured into the woods to experience rougher terrain. It was a workout for Kanine, too, figuring out how to keep Daze as secure as possible on her back up and down hills. By early evening she was running through the forest with Daze keeping her balance perfectly, and guiding her wordlessly with her legs.

"I never knew the woods out here were so extensive," said Daze as they entered yet another small clearing in the trees at the base of the hills.

"Oh, they go for miles," said Kanine, "I only know my way so far because I grew up playing here."

"Do you know what's in there?" Daze pointed to a low-lying cave going back into the hill.

Kanine looked at the entrance of the cave and noted the stones around it were smooth. "No, but clearly something does live there. We're told not to go poking in caves, if we don't want to be poked with claws. There are a lot of nocturnal predators in the woods, so bothering them during the day is inadvisable."

"Let's go closer," said Daze. Kanine took a few steps closer so Daze could see how deep and dark it was.

"Satisfied?"

"No, let's go in."

"Didn't you listen to me? Do you want to get eaten?"

"Kanine," said Daze, and her voice was low and serious, "we are going to be facing enemies far more dangerous than lurking woodland predators."

"That doesn't mean we should provoke something into attacking us."

"I'm not saying to provoke anything. I'm saying that you should have the courage to at least walk into the entrance of that cave!"

"You're crazy!" said Kanine, suddenly alarmed. She once again could not see the Zafara's face, but she could feel how serious she was from the way her paws gripped her mane. "There's a difference between bravery and foolishness. This is not a battlefield."

"But it will be!" snarled Daze. "Are you going to back out on me in the heat of the fight?" She gave Kanine's sides a kick to go forward. "Do you even know what's at stake?"

Kanine whinnied in rage and began to take mincing steps backwards in defiance, rocking Daze from side to side atop her back, "You think we Unis don't have something to lose if Meridell can't fight just because we live so far out? I have family!"

"My friends are my family, and I will fight to protect them! If you have so much to lose, too, why don't you cooperate!" Daze shoved her hard in one side to push her toward the yawning entrance of the cave.

"Because my opinion is worth more than a dismissive snort from some high and mighty knight!"

"There can only be one person in command, Kanine!"

But Kanine had had it! She kicked her back legs up, throwing Daze forward and putting her off balance, and with a quick twist to the left, let her slip unceremoniously over her side onto the ground. Daze rolled gracefully onto her own feet, facing Kanine squarely.

"A steed that would throw her rider, hunh?" Daze crossed her arms and looked at Kanine coldly, "And I counted you as one of my friends."

"A knight who would run her own self and steed into unnecessary peril, hunh? I would never call you a friend!"

Kanine turned on her heels and launched into flight, sailing above Daze's reach. With a few strong wingbeats she was above the treetops, and in a few more she was out of sight.

Daze sat down on a rock, furious and hurt.

And lost.

To be continued...