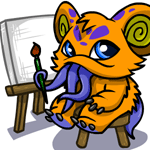 The Nedler Painting

by cpmtiger

--------

"What is that?"

Fiery sighed, hoisting her load higher. "It's a Nedler," the human explained.

Forest the rainbow Kougra raised an eyebrow, watching the thing... the "Nedler." It was a freakish-little monster, and Forest had very high standards for "freakish". It looked like it might be vaguely similar in built to something like a Kougra, but with hooves more like a Tonu's. Its skin was orange, except for the purple spots on its face... and the purple, furless, stubby tail... and the purple tentacles.

The tentacles were what made the thing intolerable. Three tentacles, long, purple, slimy, and all under the Nedler's control. Now, one was draped over Fiery's arm, dribbling semi-transparent, green-tinged drool onto the floor. It had big blue eyes, and the creature's tentacle-filled mouth was curved into a grin. The Nedler was watching Forest with this cheerful expression.

It would have been cute on a Meowclops, or an Altachuck, or a Tasu, Forest's most-desired petpet... even a canine petpet, an Anubis or Doglefox, would have been absolutely adorable. But on this thing... it was just weird.

"Where'd you find it?" Forest asked. "Or do these Needle-things run around Neopia Central."

"Nedler," Fiery corrected. "He followed me home from Kreludor... I passed by that meteor, and he just came charging toward me."

Forest closed his eyes. He knew his owner quite well, after almost four years spent together, and could picture her, strolling along Neopia's moon, and finding a rampant tentacled beast. He could easily picture her scratching the thing behind its ears, then carting it home, probably hidden in the satchel usually used for groceries.

"Look," Fiery said, "If you don't like him, what d'you think his chances of being adopted are?"

Forest frowned. "Probably not really good."

"Exactly. And I'd give him to one of your siblings... but Howler and Draco are always gone, and even if Orange Mane didn't already have Vlad... I wouldn't trust him not to do experiments on him or something."

Well, that was true. Orange Mane was a particularly nasty mutant Tonu, with a fascination with evil, dangerous potions. The only reason that Vlad was still around was the Blurgah's ability to charge Orange Mane hard enough to knock potion vials out of his hoof.

Fiery set the Nedler down on a chair, where it promptly plopped down, bob-tail twitching, tentacles waving. "C'mon, Forest; at least give him a try. I know you wanted a Tasu... and maybe, when we have the money, we can still get you one."

Forest met the Nedler's big blue eyes, though his gaze quickly strayed to the tentacles. This thing was going to be big trouble. Huge trouble. Trouble even Orange Mane would be impressed by.

But he had no choice. Fiery certainly wasn't leaving him one.

"All right," Forest said, flicking his tail and trying to smile. "I'll give it a shot."

"Here we are... my room." Forest turned the knob of a wooden door, and brought the Nedler into a room full of color.

After being painted rainbow, Forest had gained an affinity for color, and become especially interested in art. He expressed this fascination through painting, and his room was almost a shrine to the art form.

There were three easels in the room, two currently covered with the beginnings of projects. The final easel was empty, waiting for Forest's inspiration to bring an image to its white surface. Several shelves held the Kougra's vast paint supply, with all the colors of the rainbow, and all of its many shades. Several empty Neocola cans with the tops cut out held his paintbrushes, sorted by the size of the brush and its bristles. A dirty smock lay draped over a wooden stool, smeared with paint stains.

The walls were filled with art, some of it Forest's own, and others purchased from the furniture shop. All were carefully framed, the glass and wood kept clean and polished.

The only things untouched by paint were Forest's bed, with a green blanket clashing monstrously with a rainbow pillow, and a wooden bookshelf that also served as a nightstand.

Forest hesitantly set the Nedler down; it promptly leapt onto the bed, its blue eyes wide as it looked around. Seeing drool starting to pool around the tips of its tentacles, Forest hurried to the kitchen for some paper towels.

When he returned, however, the Nedler wasn't on the bed. It was on the stool, tilting its head at one of the paint-smeared canvases. Forest yelped, afraid that the thing was going to get its tentacle-drool on the painting.

The Nedler made a noise that sounded like a robot's gears whirring, and leapt back onto the bed. To Forest's surprise, it covered the distance, and sat calmly, staring at Forest with an innocent expression.

Forest stepped forward, ready to wipe the drool from the tentacles. To his surprise, and relief (he wasn't sure he would have been able to get his paw close to the tentacles), the drool had vanished. Maybe the Nedler controlled the drool... or maybe there was a new puddle on Forest's bedspread.

Scowling, Forest set the paper towels on his nightstand, and said firmly, "Stay away from my paintings!"

The Nedler made a clanking noise.

"What are you?" Forest demanded. "What's with the robot noises?"

The Nedler just blinked.

Forest let out an exasperated breath through his nose, scowling. Why was it that he was the only innocent pet who actually lived here? Why hadn't he tried to find an occupation that took him somewhere else?

He shook his head. Too late for that now; he was here, he was stuck with the Nedler, and he might as well get used to it.

Sitting down, curling his tail around his paws, he grimly started wondering what to name it. But what did you name an alien beast from Kreludor? Something like the alien Aishas? Like the Grundos? It sounded like a robot; maybe a "model" name?

Forest picked the Nedler up, using the paper towels to shield his fur from the tentacles. "I think I need some help on this one," he said, flicking off the light with his tail as he left the room.

"A Nedler! What a find!"

"You wouldn't be saying that if you had to live with it," Forest grumbled.

Cedarfur looked up from the Nedler, ruffling his wings and looking annoyed. Cedarfur was a Darigan Eyrie, with a hooked beak and massive claws. But this fierce appearance was only a result of his painted color; Cedarfur really had no penchant or desire for viciousness.

Instead, he was a bookworm and an intellect with a deep hunger for new knowledge... apparently, in whatever form it came.

"Actually," he said, "Nedlers are rather fascinating creatures. So little is known about them... .why they make the robot noises you mentioned, and how they can be so agile with such a short, stubby build. Their biology must be incredible; how can they eat with no visible throat?"

"I'm gonna have him for a while," Forest said. "I can bring him over here sometimes if you want. But right now, I just need your help with a name."

Cedarfur tapped his tail thoughtfully, studying the Nedler as he simultaneously ran through his catalog of a mind. Forest waited, occasionally glancing at the Nedler to make sure it wasn't getting into any trouble. This would be a bad place for drooling; this was the library of the home Cedarfur and his small family lived in.

The Nedler was actually behaving quite well, with his tentacles dry, and sitting, with his stump-tail wobbling.

At last, Cedarfur spoke. "How about... Kraken?"

"...What?"

"Kraken," Cedarfur repeated. "It's a sea monster Tiger told me about." Tiger was Cedarfur's owner; the human had started the Eyrie's crusade for knowledge, and continued it by supplementing him with information that couldn't be found anywhere else. "You know Titanic Giant Squids?"

Forest nodded. He'd seen pictures, taken by pets who'd gotten lucky at the Underground Cavern in Maraqua; they were enormous.

"Well," Cedarfur said, "According to Tiger, the Kraken is even bigger."

Forest stared at Cedarfur for a moment, trying to picture something that large. Titanic Giant Squids were hard enough; imagining something even larger was nearly impossible!

"Why would that be a good name for that, though?" Forest asked, jabbing a paw at the Nedler.

"The tentacles," Cedarfur said. "The Kraken has tentacles too."

"So do squid. We could just call him that."

"You could, but 'Squid' sounds so..." the Darigan Eyrie hesitated, as if unable to find the correct word... or more likely, was unwilling to say the one he had found.

"Sounds so what?" Forest asked.

"...Stupid," Cedarfur admitted. "I'm sorry, but it's the truth. Kraken has such a foreign ring to it... and an illustrious history!"

Forest sighed, resisting the urge to roll his green eyes. "Okay, okay... 'Kraken' it is, then."

Cedarfur ruffled his wings, looking pleased for a moment, then turned to Forest, looking concerned. "The drool you said appears on his tentacles... that hasn't touched any of your paintings, right?"

"Not yet," Forest said. "Although, when I left my room and came back, he was sitting on the stool looking at one."

"It looks like you'll need to keep an eye on this one then. Unless, of course, he knows to keep his tentacles off."

Forest sighed. "I guess we'll have to see. C'mon, Kraken, Fiery wants us back by dinner."

Forest hadn't expected the petpet to respond, and was actually coming to get him. But the Nedler bounced up, flicking its jelly-roll ears, and looked at Forest as if waiting for the rainbow Kougra to lead the way.

"He seems quite intelligent," Cedarfur remarked. "It took me weeks to teach Griffin to recognize his name." From one of the library tables, Cedarfur's Gobbler squawked in response.

For the next few days, things went well. Forest made sure that Kraken wasn't left in his room alone for even a single moment. This was actually easier than Forest had expected it to be, as the Nedler came the moment he heard his new name, and seemed content to stay wherever Forest was. Usually, this meant that Kraken was asleep.

The only place where this wasn't true was in Forest's room. Forest set Kraken down on the floor, worried about the drool despite the fact that, since the first day, the Nedler hadn't made puddles anywhere. Slowly but surely, Kraken would make his way toward the stool, and the moment Forest's green eyes were averted, pounced onto the chair with a robot-like "beep!", and tilted his head to study the paintings.

At the end of the week, Draco returned from her latest venture at sea. She was actually Forest's younger sister, an Island Zafara with a knack for locating old treasures hidden long ago by ancient pirates. She was coming home for a few days, before setting sail once again.

"...Wow," Draco said when she saw the Nedler. "He's... unusual."

Forest nodded. "To say the least. His name's Kraken."

Draco grinned. Of course, she would know sea-monster legends. "Did you find that name on your own?" she asked.

"No, Cedarfur suggested it."

Nodding, Draco reached out and pet Kraken's head with one finger. "He's kind of cute... "

"He's not a Tasu," Forest said flatly.

Draco frowned. "No... but maybe he isn't that bad. You didn't want to be rainbow until you got painted that way, remember?"

Forest nodded. The rainbow paint brush had been a gift from one of his owner's friends. But even then, his siblings had known what colors they wanted to be, and they did not include rainbow. Only Forest was uncertain what color he wanted to be, and so decided to give it a try. Now, of course, he loved being Rainbow.

But that was a paint brush color, not a petpet that jeopardized his art! Besides, this time, Forest had wanted a specific petpet. A Tasu. Not a Nedler, a Tasu.

But Fiery already knew that. Maybe she was saving for one now, maybe she was even looking for someone who would take the alien-petpet in. That had to be it.

Forest had already taken on a color he hadn't especially wanted. To be denied the petpet of his dreams while everyone else got their ideal color and petpet would be more unfairness than Forest could take.

Dinner went on for an extra two hours that night, as Draco recounted her latest voyage, and the family reconnected... except for Orange Mane, who predictably lumbered off to his room within a few minutes of finishing his meal. When the group finally finished eating and doing the dishes, Forest turned to take Kraken to his room- only to find that the Nedler had vanished.

Forest did a quick search of the kitchen- Kraken wasn't under the table, on any of the chairs, or slurping up the puddle of soda Orange Mane had spilled onto the floor. Forest hadn't really expected the Nedler to still be nearby however; he knew where Kraken must have gone.

Moving in a multi-colored blur, Forest raced into his room. The door was open just a crack, but Forest knew that petpets could wriggle into the tiniest of openings. Sure enough, there was Kraken, sitting on the stool.

And this time, he was rearing onto his hind legs, tilting his head at the painting, the tips of his tentacles twitching in the same slow way Forest's tail did when he was thinking.

"What're you doing?" he shouted.

Kraken turned toward the Kougra, head still tilted, and settled back onto all fours. It looked puzzled.

"Get away from my paintings!" Forest yelled, his claws springing from their sheaths. "How many times to I have to drag you away from there before you get it, you little monster!"

Kraken blinked a few times, round ears drooping. It let out a soft "bloop?" but seeing no sympathy in the rainbow Kougra's face, jumped off of the stool and scuttled under the bed. Even in the shadows, Forest could see the Nedler's eyes glowing, and its tentacles shimmering.

With a growl, Forest slammed his door, aware of the dead silence outside. Moments before, Fiery and Draco had been talking, making jokes and laughing... but they must have heard Forest's outbursts, and were probably giving each other the silent "uh-oh" look.

Forest lay down on his bed, seizing a small, green-covered book from his bookshelf and grabbing a sketching pencil from one of the neocola cans on his painting shelf. Opening the book to a blank page, he furiously began sketching. It became a landscape; Altador, covered by dark clouds and rain, the trees bare and the wood dark with moisture. It might have been a good sketch, except that the lines were shaky, the shading uneven, and some of the architectural details were left out, replaced by hasty scrawls and lines.

At this point, Forest didn't much care about the quality of his work.

Several hours later, when Forest had slowed down and was repairing some of his work, Kraken came out from under the bed, his ears still low, and stubby-legged gait cautious. The Nedler's tentacles probed the air before it, as if testing for danger before it moved.

After several minutes, Kraken leapt onto the bed. His weight hardly wobbled the fabric, but Forest's keen ears heard the soft thump. He jerked his head up, and snorted. "Fine. Don't drool on anything." He went back to his drawing, trying to ignore the Nedler.

Kraken sat down, watching the Kougra's every movement. Forest found this watchfulness hard to ignore, and felt a little guilty. It was as if the Nedler expected Forest to suddenly throw the pen at it like an assassin's knife.

Sighing, Forest set down the pencil, and began flipping through the pages of the sketchbook. The Nedler tilted his head, taking a single, slow step forward to see what was going on.

Forest stopped at a page almost black with pencil lines. Removing the piece of cereal box cardboard he'd used to mark the page, Forest tilted the drawing toward the Nedler. "Don't drool on it... but see this? This's what I'm trying to paint over there."

The Nedler's eyes turned to the picture, and it studied the landscape. It was simple enough, a Neopia Central side street, near the harbor. Several Neopets were walking along a cobblestone path between the backs of shops and the piers, the sun sparkling off of fur, scales, and the water. Some of the pets engaged in cheerful-looking conversation.

"But... something's missing. Fiery says it's a great painting... Draco says there's nothing wrong with it... but they don't paint like I do... they don't understand. Something's missing."

The Nedler, who'd been watching as Forest as he talked, now turned back to the drawing. He seemed to actually be studying it, looking from conversing group to conversing group, from the ships to the sun... and suddenly wriggled his tentacles all at once.

Kraken turned away from the sketchbook, and balancing on the edge of the bed, reached out with one hoof-paw toward a can of paintbrushes. After a moment, the Nedler realized that he couldn't reach. Before Forest could move to stop him, Kraken had reared up, and stretched out a tentacle. The tentacle wrapped around the paintbrush, and Kraken trotted back to Forest, setting the brush down.

Forest picked the brush up with only two digits, expecting the surface to be wet and sticky. But it was actually dry, as if the Nedler had managed to reach it with his hoof-paw after all.

The brush was the same one Forest had been using on the painting Kraken had been studying... the same painting sketched on the open page of the drawing book. Forest looked from the brush to the Nedler. Kraken was looking from the brush to the Rainbow Kougra, his tentacles jabbing emphatically.

With a sigh, Forest stood up. "All right... I guess I'll do some painting." He put on the smock, and began gathering paints. He didn't notice the Nedler stretch out with a tentacle, and take another paintbrush, this one smaller, with thinner bristles.

Forest put globs of paint on his wooden palette, and turned toward the painting- and found Kraken, holding the brush in one tentacle, the tip lightly dipped in brown paint, adding something to the painting.

Forest was too startled to do anything; he just stared as the Nedler slowly, with tiny movements of the brush, added a strange brown shape to the center of the sidewalk. After a moment, he dipped the brush into a glass of water Forest had nearby, just for cleaning brushes, and reached for a bottle of white paint from the shelf. He unscrewed the lid, set the jar on the stool beside him, removed the brush from the cup, and after tapping the brush against the edge of the cup, dipped it into the white paint. The Nedler then added to his gray shape.

This process was repeated several times, with different colors, until Forest slowly realized what was going on. Kraken was painting... and it wasn't just a blob, it was a petpet- a Doglefox!

Adding the final eye, the Nedler leaned back slightly, as if to study his work. With a soft "bloop!", Kraken set the brush in the water, and turned to look at Forest.

Forest stepped forward, still holding the brush and pallet. He studied the Doglefox; it had a startled, almost panicked expression on its canine face, its ears and tail lowered, and in a crouched position.

Forest glanced at Kraken. The Nedler tilted his head, as if to say, "Well?"

Forest dipped his brush into some blue paint, blending it with the white on the pallet until it turned a lighter shade. Slowly, he added a new figure to the canvas. Light blue, darker blue, cream, then black... and a blue Kyrii was heading toward the lost Doglefox, looking happy and relieved to have found its petpet.

Stepping back, the rainbow Kougra looked at the painting in its entirety. His eyes immediately jumped to the Kyrii and Doglefox, while before, they'd roamed aimlessly over the landscape. Focus! That was what he had been missing!

"How'd you know?" Forest asked Kraken.

The Nedler closed its eyes, grinned, and made a loud clanking noise.

The End

Forest (forest_pad_paws) is a real pet- he lives on my side account fiery_dragon300.