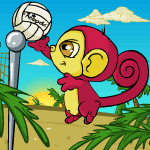 A Mynci's Guide to Beach Volleyball

by sweetie_me274

--------

Hello. I'm Karina. I'm not one for stereotypes, but I'm a red Mynci and I play Mynci Beach Volleyball. I'm not non-stop volleyball, like some Myncies I know. I, personally, would prefer a nice book, but I've played my fair share of games. And, as my sisters all reminded me, I am pretty good.

So. That's why we're here. Or that's why I'm here, anyway.

Sometimes I watch other games, so I am pretty experienced. And the one thing I know most – bring sunscreen. You'll need it.

I suggest warming up for a few moments, since games can get pretty intense. The best matches always seem to start just at noon, when the sun is unbearably hot. Wear some loose clothes, and I recommend wearing no shoes at all. Ready? Let's begin.

You are the blue Mynci. You'll play against this champion red Mynci, but you and a friend can also grab a net if you're lucky. There are 6 rounds, and to win a round you must get 12 points. Except, not if the opponent has 11 points. Then you need 13. And if they have 12, you need 14.

Don't look at me like that. It's not that hard.

How's this: to win a round, you need at least 12 points, and you need to beat your opponent by at least 2 points.

So if they have 0, and you get 12 points, you win. If they have 10 points, and you get 12, you win. But, if they have 11 points, and you get 12 points, you still need another point so you can beat them by 2 points.

See? Not that hard at all.

To run up and down the court, press the right and left arrow keys. Right is forwards, left is backwards. To hit or serve the ball, press the up arrow key. If the ball lands on your head, it'll bounce up, and depending on the angle, either go over the net or come back and hit you on the head. And once you've played long enough, bouncing it off your head doesn't even hurt.

Okay. Take a moment to stretch now. Here we go.

You start with the ball. I recommend getting a nice feel on how full of air it is. And do try to make friends. You'll be getting to know this ball quite a lot.

And take a moment to whip that sweat from your brow. You're not going to get another chance.

Everyone serves differently, but my favorite strategy to run at the net as hard as possible by pressing the right arrow. Then, just before you hit the net, press up. You're going to need to practice this, because if you wait too long, the ball will hit the net and bounce back to your side. If you do it right, though, the ball can soar over your opponent's head and land on their side.

Let me just say this now: attitude is everything with this game. Momentum can definitely help and hurt you. If you get into a nice pattern – run, serve, score – the round will pass by instantly. But, if you let your opponent score a bunch, you'll get your hopes down... and the sun will seem hotter... and you'll just stop right there and give up. So don't do that.

Now, back to game play. Hopefully, you'll be able to master a serve that you can score on almost every time, but even if you do, it's possible that that skilled Mynci will be able to hit back. That's okay. Run forward or backward accordingly, with the left and right arrow keys, until you're under the ball. Then, you can let it bounce off your head or you can hit it. I recommend variety, because both ways can hurt if you don't mix it up.

That's the basic outline of the game. You hit the ball over the net. As your game goes on, the sun lowers, and that stakes get even higher. Simple, right?

Well, it would be if not for the stupid Pawkeet.

Okay, I know that's rude, but this really aggravates me. We'll be having a nice game and everything, and then this little Pawkeet appears above the game? And it doesn't just block your view – it makes weird things happen. I guess I should explain a bit more.

If you hit the ball and it touches the Pawkeet, you'll get a "power up" of sorts. The same happens for your opponent if they hit the Pawkeet. And here they are:

Giant ball – This one is pretty self-explanatory. It makes the ball giant. It's hard to adjust to, after hitting the regular ball so much. This power up affects you and your opponent, regardless of who hits the Pawkeet. I don't like this one much.

Big net – This is a lot like giant ball, except it makes the net bigger, not the ball. This one also affects both players and is very annoying. You have to aim the ball extra high to make sure that it doesn't hit the net. Your opponent has the same problem too, though.

Small net – This power up is a lot nicer. The net gets smaller, so it's less likely that you'll accidentally hit it with the ball. Compared to the other ones, this power up is okay. And this is the last power up that affects both players.

Super speed – I suppose all the power ups are pretty much self-explanatory. This one actually kind of tickles, but then you're able to go really fast. I don't really like it, though, because I'm not used to it so I always end up sliding around in the sand. It takes a while to figure out how far you can go with just one step (or press of an arrow key). Your opponent seems to have mastered this, though, because he just looks really spazzy and his feet are constantly moving.

Super jump – This power up is AWFUL! I'm sorry, but it is. Be very careful if you get it, because if you do, every time you press the up arrow key to hit the ball, you go fly straight up in the air. And when you're up there, there's nothing you can do. This is really easy for your opponent to take advantage of, and can really mess you up if you accidentally fumble the ball or something. So, try to let the ball just bounce on your head instead of pressing the up arrow. But the good thing is that red Mynci can't do this either! You can definitely score a lot of points when he's careless and has super jump.

Super size – Finally, a good power up! If super speed tickles, than this one definitely tingles. For a moment, you'll feel kind of dizzy and then POOF! You're huge! It is hard to get used to, but you're so much bigger that it won't matter. You can probably stand still and return the ball half the time. What is really interesting, though, is when you and your opponent both have super size at the same time.

Watch the Turdle – What is up with petpets interfering with our game? If you get this power up, a Turdle will appear on your opponent's side and keep them stuck for a few seconds. Try to get a least one point while they do this. Don't waste time by stopping and laughing – the same thing can happen to you! If your opponent gets this power up, try to wait until it's your serve or they're wasting time or something and get trapped by the Turdle on purpose. Hopefully, the annoying little petpet will free you before it's too hate.

And that's it for power ups.

Other than that, game play is simple. You just need to be patient. You need to develop a pattern and stay focused, no matter how tired you are. But playing is worth it. If you do really well, you might even get some Neopoints or an avatar! And, if you get really good, I hear they give out trophies.

Sure, you'll get some blisters and sores on your paws, but I don't even notice them anymore. You're head will hurt, but it will pass.

Just be extra careful if it's really hot out. Don't burn your toes in the sand!