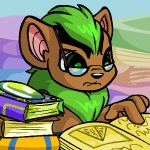 Test Preparation Using Neopets: It's Not Impossible!

by kittyshootingstar

--------

So, it's the night before that big real-world test and you don't know what to do. You want to study, but the test-taking tips that have been shoved down your throat for the past few weeks say that you should take it easy the night before the test. What do you do? Go on Neopets, of course! But wait, how can a virtual pet website help me ace this hugely important test? Shouldn't I be doing actual studying? It's actually very easy to do some last-minute test prep on Neopets; just follow this guide!

First of all, what are you aiming to achieve in your pre-test night on Neo? Are you looking to get a little last-minute cramming in, or do you just want to relieve some of that stress that's eating away at you? There's plenty of different ways to utilize the various games and features on the site for simple, effective test preparation.

1. Spelling

If there's one thing that's not lacking on Neopets, it's spelling games. For example: Spell or Starve, Word Pyramid, and Imperial Exam, to name just a few. Here are some strategies for using them to your advantage on a spelling test.

Most spelling tests require you to identify an incorrectly spelled word, or choose the correct spelling from a list of variations on one word. If you know you've got one of these coming up, play Imperial Exam on Medium or Hard mode. For those who don't know, all you need to do when the game starts is to press the up arrow key to let a pet with a correctly spelled word in the thought bubble above their head go through, and the down key to shoo away one with an incorrectly spelled word. You need to do this quickly, however, as you need to get a set number of correct words within a time limit. This game should help you to recognize the correct spellings of common words and improve your awareness of misspellings. I can't even begin to describe how helpful it is if you're working on a test and come across a word that you encountered in this game.

Okay, now Imperial Exam is all well and good, but what if you're already comfortable with your knowledge of spelling? Simple. Go for Spell or Starve or Word Pyramid. The games differ a bit in storyline and game play, but both basically involve making words (Both real and Neopian) from a screen full of letter tiles. The more letters in a word, the more points you get. And, to make things more challenging, you can only choose letters that are next to the previous tile you chose. There are multiple levels in Spell or Starve, but Word Pyramid just lets you play for as long as you can before the timer runs out. It's very good mental exercise to pick out these words from a big jumble like that. Use these games to help improve your focus and get your brain thinking about spelling, not stress.

If you don't want to cram, but also don't want your brain to idle before your spelling quiz, try Word Poker or The Castle of Eliv Thade. Word Poker requires you to make as many words from the given letters within a time limit as you can, and Eliv Thade simply needs you to unscramble a few anagrams. Both will keep your brain working, and make you have letters on the brain tomorrow, so you won't feel all lazy just sitting around playing on the computer the night before the big test.

2. Maths

Ah, Maths (or just Math, depending on where you live). Everyone's favorite subject. Whether you're solving for x in a complex quadrilateral equation or just doing long division, it's always good to have this stuff at the front of your brain. There's not as many math games on Neopets as there are spelling ones, but there's still a good enough assortment to get those math muscles moving.

The staple of the Neopian Maths "diet" is, of course, Maths Nightmare. It recently underwent an update, but the premise of both versions is the same: Solve the math problems on the Babaas (or bubbles) before they wake up the sleeping Aisha, who is ironically, also stressing about her upcoming test (though how that's possible when NeoSchool doesn't exist yet is beyond me, but again, that's beside the point). There are several levels, and four different types of problems to solve, so if you know you're a bit problematic in, say, division, you can play a few rounds in that operation until you're more comfortable with it. The old version is also worth a visit to the Game Graveyard, if you need a slower pace. Solving these problems quickly and accurately will help you solve them quicker on the test; if you've gone through 9x7 four or five times in the course of a few rounds, you won't even have to think twice if it's on your paper. You can just choose the right answer quickly and move on, saving your time and effort for harder problems. Being quick with the basics will also help you solve the larger problems faster.

Other than Maths Nightmare, there's really not many number games on Neo. Roodoku is one of the newer additions, but it's more of a puzzle than Maths, but you never know, it could improve your concentration. You could also try some of the card games like Go! Go! Go! Since they involve numbers and strategy, they should wake up some of those idle brain cells. I'd only go with the card games if you're already familiar with the rules, though, as you don't need that shoving your Maths knowledge right out of your brain. Personally, I stick with Maths Nightmare, but it's your choice.

3. Test-taking strategies

It's time to drag out "process of elimination" and all of those other tips that have been thrown at you in "preparation" for your test! Believe it or not, they actually come in handy sometimes (no really, they do!). The featured game for this section is: *drum roll* The Search for Princess Lunara! Now, before you get all confused, I know it's a Neopets- related game, and on the outside seems to have no bearing on real-world test-taking. But, if you dig a little deeper, you will see why this is an essential tool in your test prep. Since it makes use of multiple choice questions, similar to what you will find on most tests, Princess Lunara is the best way to practice all of those strategies you've been forced to learn. Make sure you choose to play through 12 questions! Choose a category you don't know much about; it will help you make use of those strategies you've been learning. If you don't know the answer, but you know for sure it's not answer 1 or answer 3, you can make an educated guess between 2 and 4 and have a higher chance of getting it right. If you can do this with problematic questions on the actual test, your final score might just get a little boost!

4. General brain stimulation

Got an all-inclusive test? Or do you just want to keep your mind active while you wait for bedtime? Try Kou-Jong, Typing Terror, Shapeshifter, Time Tunnel, Sewage Surfer, or pretty much any game from the Puzzles section. These may not help you prepare for a specific subject, but it will keep your brain working so that you're not totally idle. However, don't just pick a random game from the puzzles. Don't choose one with too much repetition, such as Snowmuncher, as this will be counterproductive and encourage your brain to shut down. Don't choose something incredibly difficult, either, or you'll just get frustrated and go to bed with a bad attitude. Find a happy medium, and go use the games room to your advantage!

5. Stress-relievers

So, now what? With all of this math and spelling and multiple-choice questions, you're more nervous than ever! Never fear, stress-relief is here! Start off with a game like Kass Basher or TNT Staff Smasher (I'd recommend pretending some of the staff in the game are your least favorite teachers). These may not exercise your brain as much, but it will give you a positive outlet for some of that stress. Want more of a challenge? Whack-A-Ghost or Neverending Boss Battle are good choices. Too much action? Go blow up some boulders in Destruct-O-Match II. None of these games appealing to you? Just go and choose one that you really like. The ones that work best for me tend to involve smashing, bashing, and general destruction (purposely creating unstable compounds in Chemistry for Beginners, anyone?), but it may be different for you. Finish up with something calming, like Faerie Bubbles, so that you'll be relaxed and calm when it's time for bed.

Final notes

Well, there you have it, five ways to utilize Neopets games to help you on your test! Hopefully, you'll have a little more smarts packed in your already bulging brain (and, if you sent your scores as you went along, a few extra Neopoints in the bank). However, I do feel the need to add a little disclaimer: Playing Word Pyramid and Maths Nightmare may be fun, but that's no substitute for actual studying! Don't just play games to prepare for a test; use your textbooks too! Following this guide and playing around all day will not automatically get you a good score. All these are are a few ways to productively use your time the night before a test, nothing more. Even better test prep than this is: Get a good night's sleep, eat a good breakfast, and if necessary during the test, flash back to when you saw that one tough word in Imperial Exam... But please don't zone out!