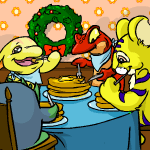 Hey! I'm Starving Here!

by duckylover221

--------

After countless Neopian mornings of running out of the house on an empty stomach, your neopets tugging at your ankles, begging for a snack to get them through the day, you're wondering, "What are some things for breakfast that will get these pets off my back?!" Well, I am here to solve this problem. Welcome, my friend, to this special Edition of: Hey! I'm Starving Here!

All of these items I judged based on creativity, presentation, and overall taste. So, to kick off the list, we start off with an all-time Neopian favorite:

10. A Strawberry Fruit Cup!
To start, we have this simple, healthy, fruit strawberry cup, made from milk, cold, and strawberries. Fast to eat, you can grab this right out of the refrigerator and eat it on the way to school, the arcade, the gym, or your aerobics class. No presentation, low creativity, but still delicious. Starting off our list as number ten.

9. A Melted Cheese Crumpet
This cheesy crumpet is simple, cheesy, and overall delicious. When this was made it was made with care, but it highly lacks in both presentation and creativity, though it is eaten every day. Why? We do not know, but it was highly favored and therefore has earned its place at number nine on this list.

8. Fig Muffin!
Yes! A delicious Fig Muffin! Fluffy and sweet, this muffin is a delicious light snack that is a favorite to all muffin lovers. Although this deliciously prepared muffin is both beautiful and delicious, it lacks creativity, and could have had so much more dazzle then simplicity in its nature. In my opinion, though, the sweet sauce and candied fig is simply scrumptious.

7. A Breakfast Croissant!
This is available at almost every single bagel, supermarket, food shop store you go to. A fast way to stop that grumbling in your irritable tummy. Filled with crispy, professionally cut bacon, and fresh, ripe sliced negg from a rare neggery up high in the Altadorian Mountains, this very well made flaky breakfast bread descendent has the potential to be at number one, but its low creativity and presentation levels were so low that it was placed at the sad rank of number seven, but a still proud rank nonetheless.

6. Maple Koi Waffles!
Yes! Of course! The delicious sit-down breakfast of waffles. Most would ask, "What's so special about these scrumptious waffles?" Well, first off, the presentation is beautiful! An unique syrup of maple is what made this delicacy a favorite of many. Also a favorite of many to come. On a list of side dishes, a perfect beverage would be none other than…

A delicious glass of Kau Kau Farm Milk!
Now, maybe you need something a bit more light? Something you can grab and go with? We here at the Delicious Foods For Your Food Deprived and Otherwise Dying Neopet (DFFYFDODN) have come up with the perfect thing.

5. A Meerca Cinnamon Bun!
Gooey, cinnamonny, delicious and cheap, this sweet morning pastry will get your tired little pets up, into their clothes, and out of bed! I personally have one of these every morning, but seeing as it's a little fattening and only covers one section of the food pyramid, why not add something a bit more healthy to the diet? Some people may just grab an orange or apple and say they're fine, but for the more complicated, wanting pets, the perfect side-dish exists!

Golden Tangerines!
Juicy, golden, fresh and delicious, this healthy fruit combo will get any pet up and going in the morning! Now you have waffles, fruit, milk, and gooey stuff, but what about getting back to the basics? If you're that classic kind of owner, try this flavorful combo:


4. Enchanting Strawberry Cereal and Orange Juice!
Your average cereal and beverage combo totally redone and remade to be glamorous! A loved oldie, but a delicious goodie! It's not a mystery this is eaten everywhere every day! Now getting back to that waffle, toaster theme, a delicious, vicious, sweet and buttery item comes to my mind, a decadent syrup sweet known as:

3. Apple Fruit Pancakes!
Fruit, butter, fluffiness, and flour all sitting right on your plate. As of always, Kau Kau Farm milk is needed to wash it down, but of course, who doesn't love a delicious fluffy treat to look forward to in the toiling morning stress? Of course you need some crispiness, toasted delight as well, so...:


2. French Toast and Sketch Eggs!
A quick, easy to make breakfast classic that's sweet, light, easy to prepare and delicious all at the same time. So when you're running out with your coat flapping and your shoes half off, you can enjoy this light, buttery and sweet delight on your trip to the arcade. Then when you come to that never ending traffic line, pick up some eggs and enjoy this creatively prepared pan-made special.
Sketch eggs just doesn't cover it sometimes, does it? Too light for your aching tummy? Want some more eggs? Fear not! This continental breakfast is made with great care, and many eggs is what everyone needs to get them through the day. This all time favorite, and absolutely deserving of the number one award on our list, this comes down to the most favorite breakfast of neopets, owners, and petpets all around, this breakfast item is:

1. Altador Omelette!
Yes! This wonderfully presented, omelette is from Altador, a mystic, historic landmark full of interesting petpets and mouth watering delicacies, including this colorful, well made, five layered pan fried breakfast item. Made of fresh eggs, layered on potato pancake, and a cheese omelette. Fast to make, easy to prepare, foreign and delicious, this countdown ends at number one, with this delicious item.
So now, your babies' stomachs are full to bursting, your toddlers' tummies are filled to full, your children's chow-mouths are satisfied, and your grandpas gobble-eater is gorged. Your thoughts aren't cluttered by "I'M HUNGRY!!!!" and "LOOK AT MY HUNGER STATUS! I'M STAAAARVIIINNNGGGG!!!" and whatnot. So now, there's only one last thing to think about:
"What are they eating for lunch?"
This was fun to make. Very fun xD My first article -insert random I MADE IT FAN GIRL SQWEE here-