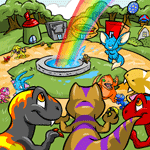 The Hidden Wonders of Neopia Central

by alma_jean

--------

If you've ever had any trouble keeping your beloved pets "delighted", then you, like so many others in Neopia, should look into the many exhilarating things to do in Neopia Central. Are your pets bored with their broken toys, tired of the same old sausage omelettes, and fed up with life in dreary Fleapit Motel? If you answered yes to even one of these questions, it's obvious your pets are in desperate need of a change.

When you step into Neopia Central, the sun shining brightly, you may feel a sudden urge for a spot of food. Well, you're in luck--because, it being Neopia Central--there's plenty! Before you make a charge for the stands, however, you have to pay a visit to the Bank, where you can extract some neopoints before carrying on. (This proves very useful in Neopia Central, where you may find yourself quickly spending your savings for that baby paintbrush.)

If you crave something sugary and sweet, just waltz on over to the Neopian Bazaar, where you can nibble on anything from chocolate spaghetti to green gummy quiggles in the Chocolate Factory. (And I've heard tell that the owner has never stepped outside--you know it's got to be interesting and educational to meet him!)

However, for some of us this may not be the case--if you don't possess as much of a sweet tooth as others, you may want to pop by the Heath Food store, where you can find that the owner always has plenty of stock! (Perhaps that's because no one buys much...) But moving on! If you're not one that munches on celery or sweets, just grab a bite at Hubert's Hot Dogs, Fresh Smoothies, The Bakery, or Pizzaroo!

Now that we've covered food, we'll move on to attire. It's important to dress comfortably when visiting Neopia Central, for there's plenty of walking in store! If you've just spilled your Mega Splime Smoothie all over that favorite Wizarding Apprentice Robe, look no further than the NC Mall! Find the greatest fashions on the shelves, simply swipe your Neocash card, and take off! It's as simple as all that, and it's fun! If you're short on a bit of Neocash, just buy a simple something from Uni's Clothing, where you can pick up a pair of Denim Coveralls for just 580 neopoints.

Next comes the Petpet Shop, Post Office, and Money Tree. The Petpet Shop will instantly resolve any troubles with loneliness while you're away and your pets must stay home. There are plenty of petpets to choose from--this includes a wide array of snorkles, miamice, puppyblews, poppits, warfs, and more. Our second stop is the Post Office, absolutely perfect for the pets that aspire to become collectors. Every stamp from the Neopian Collection is sure to turn up there, and the prices aren't bad either! Be sure to pick up a Fetch!, Rainbow Slushie, Mr. Irgo, and Dice-a-roo stamp while you're at it!

Nearly last comes the Money Tree. If you've ever wondered where your donated pile of dung went, well, just visit the Money Tree to find out! Simply scavenge around if you're a bit short of items or neopoints, click on the item you would like to obtain, and voila! You are now the proud (or perhaps not-so-proud--I mean, after all, you're visiting the Money Tree) owner of a bargain item or a sack of neopoints.

With the pitiful remains of your neopoints rattling in your pocket, it may be a smart idea to reload on the cash before setting out for the Toy Shop, where you can find toys galore for your pet. A Warf Yoyo will cheer any pet up, along with a Wooden Pull-along Nimmo and a trend-setting Yellow Wocky Keyring to chain to your backpack.

Wait a moment, how could we forget? School is an important part of your neopets' lives, so remember to stop by the Book Shop for a few good reads on some cold winter nights, and the School Supplies store, where you can sharpen your minds with a Green Lined Notebook, make perfectly straight (and slimy) lines with a Sloth Ruler, and erase any annoying mistakes with that Tigersquash Eraser of yours.

Just a few more stops to go! Perfect picture opportunities await at the Art Centre, where you can view creative concoctions in the Art Gallery, enter a poem yourself for the Poetry Contest, or sit around a warm fire and swap exciting stories. Don't forget to grab a cool swig of Lemon Iced Tea with a Tigersquash Swirly Cake to refresh and energize before you head over to the well-known Auction House. Just step right up and start bidding and haggling to reach an agreed amount of neopoints on that Bri Codestone you've been looking for, while your neopet kindly auctions off a pair of fuzzy slippers... hey, aren't those your slippers? Oh well, after a venture to Fine Furniture, the rift will heal. Here you can find everything from the Mutant Doormat (take caution when considering this mat; it may scare away visitors) to a few Pretty Pink Pillows and the comfortable Green Bean Bag Chair (perfect with a bag of popcorn and movie).

To slowly conclude your perfect day in Neopia Central, give things a rest for a while at Gifts Galore. Find and purchase the perfect gift for a friend, like get-well-soon cards or fun wrapped presents. After all this, be sure to pretty your neopet up with Super Strong Hair Gel, Kougra Shining Soap, and some Factor 15 Sun Tan Lotion (the sun is blazing out there after all) at the Grooming Parlour. (They'll thank you in time.)

Last, but not least, as you're exiting Neopia Central to return to your (no-longer dreary) neohome, make it a point to stop at the Wishing Well, where you can make a kind donation and wish for another trip back to Neopia Central, where you can do it all again!

I hope this article helps to make both your days and your neopet's online more exciting and less dreary, and perhaps even squeezes in a bit of bonding time. Good luck and remember to have fun!