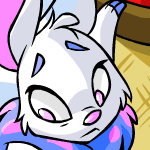 Safety Deposit Woes

by kittybutterscotch

--------

I sighed deeply before attempting to open the front door with my hands filled with pizza boxes. Why my pets can't open the front door is beyond me but I wished they would attempt to try it at least. I rang the door bell a couple more times, and with no reaction, I reached into my pocket delicately to pull out my key and, using perfect balance, I managed to open the front door without dropping a single pizza box. "Girls, I'm home!" I yelled up the stairs, making my way to the kitchen and with that, my pets flew down from their rooms and almost bashed into me. Well, one of them flew; the other one just hopped down the stairs. My pets, Auroriss, a Faerie Shoyru and Maddiedaylay (but Maddie for short), a blue Cybunny, ran (and flew) into the kitchen.

"What did you get from restocking, Mom?" Auroriss asked quickly after spying the pizza boxes.

"Ya, Mom, whatja get at Pizzaroo?" Maddie pestered.

"I found some good finds," I said slowly, "and I also brought home a pizza for all of us to share!"

"Wow..." my pets said together in breathless awe. We never really eat out because I'm a stickler for family-made meals, but tonight was an exception. I had scored a great deal at Pizzaroo that day and the pizza was brought in celebration. But that's not how my pets took it.

"Here you go," I said as I handed a Whole Cheese Pizza, plates, and napkins to the girls. Both of their faces fell. "What?" I said, bewildered about their sudden mood change.

"Well... I thought you were going to give us a Jelly Bean Pizza," responded Maddie.

"And I kinda thought you were going to bring us a Fresh Garden Pizza..." Auroriss also responded.

"I cannot believe I am hearing this," I said in disbelief. "The one night I bring home food, you girls are complaining about it. You know what, I think I'll go and put this pizza in my shop and I'll bring back the Dung Pizza that's been sitting in our shop for the last two weeks? How about that?" I asked. The girls quickly looked at each other and then ran to their chairs and started to eat the pizza. Of course I wasn't going to feed them Dung Pizza, but I just don't think it's fair when my efforts aren't appreciated. I mean, we NEVER have take out. I started to hum to myself when I heard Auroriss's voice.

"So, why are we having pizza again?" Auroriss asked before taking a big bite of pizza.

"Well..." I said with a sly grin, "I found... this!" I pulled out a pizza box and opened it. Inside sat a Whole Mushroom Pizza. Auroriss and Maddie stared at the pizza, unimpressed. "Girls, do you know what I am holding?" I asked. Maddie and Auroriss both shook their heads. "I looked this pizza up in the shop wizard after I bought it and there is no record of it being sold anywhere." Now, Maddie and Auroriss looked impressed. If you couldn't find an item anywhere in the Shop Wizard, then that meant it was higher than 99,999 NP. "I don't want to sell it yet," I told my pets, "But I think I'm going to drop it off at the Safety Deposit Box tonight." At this, Maddie practically jumped off the chair (but that should be easy for her since she's a Cybunny).

"Oh my gosh! I totally forgot!" yelled Maddie as she ran out of the kitchen and into the living room. I was still recovering from the shock of something just bursting out at you, but as I was calming down, Maddie ran into the room and dropped a neomail at my feet. Curious, I picked it up and opened it.

"I just remembered that a neomail came for you today and the subject is 'Safety Deposit Box,'" Maddie told me as I read the neomail.

"Hmmmm..." I responded, lost in thought.

"What's wrong, Mom?" Auroriss said, her voice becoming serious.

"Nothing," I replied. "It's just a neomail from the bank informing me that our Safety Deposit Box is beginning to smell." I giggled a little before adding, "They want us to come clean it in two weeks or they're going to have to take "precautions" against it."

"Noooooo..." groaned Auroriss and Maddie together.

"Yep," I replied, "We have to go clean it up soon or the Bank might throw our stuff out. Come on girls, it's just one Saturday and then we won't have to worry about it anymore."

"But Swabby invited me over to play games this Saturday!" exclaimed Maddie.

"And Princess wants to go to Faerieland with me!" Auroriss almost shouted.

"Girls, come on! You can't expect me to clean out that Safety Deposit Box all by myself! I haven't even stepped into the SDB since I got the Packrat Avatar! Now that I think about it, I did throw in some rotten things I forgot to take out..." I muttered to myself. "Besides, I bet we could go and sell some of the extra stuff to buy more food around the house," I said encouragingly. My pets didn't even look at me. "And maybe we could get some more toys around here," I continued to talk but I saw their ears perk up. "And maybe someone could get painted Royal a lot sooner and someone could get that Faellie that they've always wanted too."

At this both of my pets jumped up and screamed "I'll help! I'll help!"

"Okay, it's decided. Next Saturday we are going to clean up the Safety Deposit Box!" I replied and than sat down to eat some pizza with my girls.

*

It was a cold Saturday as my pets and I stood in front of the National Neopian Bank. We were toting bags to throw junk items in and baskets to take things back with us to sell or keep at the house that we found in our SDB worth value.

"I am so tired," Auroriss said as she leaned against a basket to keep her from falling onto the ground.

"Come on, girls! It's only 8:00 in the morning!" I replied as I looked at Maddie lying on the ground with her eyes closed.

"We know," Maddie whispered, "but you usually don't even come to see us until noon on Saturdays. I guess we're just used to sleeping in." I sighed as I picked Maddie up off the ground and we walked through the revolving doors to the bank.

"Good Morning, Madam. What can I do for you?" a giant Green Skeith asked.

"Yes, I'm here to clean out my Safety Deposit Box. I was sent a neomail saying it was starting to... smell?"

"Ah yes, Madam. You must be the owner of Safety Deposit Box 261035, are you not?"

"Umm, yes I am," I replied hesitantly. "Is it really that bad?"

"Madam, I will let you be the judge of that. Borris?" called the Green Skeith. A small Red JubJub appeared at his side instantly. "Can you take this young lady and her pets to their Safety Deposit Box? It is Safety Deposit Box 261035." At this, Borris began to smile. Wow, the smell must be really bad if it was an inside joke to everyone.

"This way, madam," Borris stated as he lead us down a long hallway, away from the main lobby. As we walked through the halls, a peculiar smell started to weave its way to our noses until we had to cover them with our hands (or paws). It smelled like... everything. Like dung left out in the sun on a hot day, like a field of Baggus that was too ripe, like the sickly sweet taste of a melted Grape Snow Puff, mixed together.

"Here we are, madam, anything else?" Borris asked. I really felt sorry for Borris because the smell was just so terrible and he really couldn't cover his nose, but than I started to wonder, do JubJubs even have noses?

"No, that will be all. Thank you," I said in a snuffed up voice as I was pinching my nose to try to get me from not smelling anything. Auroriss and Maddie were doing the same thing.

"Very well, have a nice day, madam," Borris said with a snicker in his voice but he was running down the hall before I had a chance to stop him.

"Okay, girls. We have to find the source of the smell first and then we need to air out the SDB afterwards, okay?" I said in my snort voice still as I entered the pin to open the door to our SDB. "Be prepared," I said as the door slowly opened. And then it hit us. The blast of air was unbelievably strong and it was just horrible! We all stumbled back a little as the blast went over us and I could hear moans from other hallways as owners and pets alike were covering their noses to escape the smell. We had a job to do or the Bank was going to go out of business because of us. I ran into the SDB with my pets following me closely behind and we began to search the vault for the smell. We threw a lot of stuff around and we eventually found the sources of the smell. A lot of dung was thrown into the junk bags, as was rotting food, rotting omelettes, and stinky Tiki Tack items. The bags were quickly tied off and taken to the Money Tree or given to passing junk collectors who wanted it.

"Okay, Mom," Maddie said as she came up to me with her paw over her nose, "I think that's the last of the items. Do you think it's safe to breathe now?"

"I'll check," I replied and after taking a solemn breath, took my hand away from my nose, and took in a deep breath. The smell wasn't all gone but it was weak enough to breathe comfortably and talk as well. "It's okay, Maddie. You can breathe now," I told her and watched her take her paw away from her nose and saw she could also breathe comfortably.

"Auroriss, it's okay to breathe now!" I called over to her. I thought she was somewhere in the toy area but her head popped up in the petpet area.

"Okay, Mom, thanks!" was her quick reply before disappearing again.

"I wonder what's going on over there," I said hastily as I quickly walked over to the petpet area of the SDB. I found Auroriss playing with all the petpets I had been storing here. "Auroriss, what are you doing?" I asked as I saw her cuddle a Miamouse.

"Oh Mom, can't we just take all these petpets home? Think of the stench they have had to live with for the past weeks." She then looked at me with big, watery eyes and I wanted to take the petpets home so much, but I knew we couldn't.

"No sweetheart, we can't take them home. We don't have room, you already have a petpet, and I was going to sell those petpets for neopoints later. Don't you want a Faellie anyway?" At the mention of her dream pet, Auroriss dropped the Miamouse and ran over to the food section. "Your right mom, I do want a Faellie! So we need to start working now!" I turned back to see Maddie playing and cuddling with a Harris.

"Wow, Mom! You have a lot of Faerie Petpets here! Where did you get them all?" Maddie asked innocently.

"I like to restock a lot at the Faerie Petpet Shop in Faerieland," I replied, turning back to watch Auroriss in the food area and then walking over to her.

"Wow, Mom. You have a lot of Faerie items, where did you get them all?" Auroriss asked with a bewildered expression on her face.

"I REALLY like to go to Faerieland," I said with a laugh. It was true; there was everything faerie in my Safety Deposit Box. I had books, food, furniture, weapons and petpets that I had gotten in Faerieland and had just forgotten about. "Well, let's get started!" I called to Maddie. The next hour we sorted through all the food that was there. We took some of the omelettes home with us and others we through in the junk pile to give to less fortunate Neopians.

"Okay, I think we're making good progress!" I said as we through the last of the burnt desert food into the junk bags.

"Mom, it's noon and Maddie and I are getting really hungry. Do you think we could eat some of the food here now?" Auroriss asked.

"Sure, why don't you go and eat some of the omelettes we decided to take back home?" I replied.

"Well, the thing is, we really want to eat some Faerie Food, please?" Auroriss and Maddie begged. I sighed but said yes. Auroriss and Maddie started to jump up and down at my answer but I cut their celebration short. "You can only have one item, though, so choose wisely!" I said and then turned back to the toys I was handling. I heard a lot of whispering between the two on what they wanted to get, but finally I heard Auroriss call my name.

"Okay, Mom!" Maddie and Auroriss shouted and I turned back around to find Auroriss holding a Pigalicious Ham Sandwich and Auroriss holding a Ham and Cheese Wingwich. "Wow, good choices," I said happily, before I turned back around to the Faerie Harris Plushie I had been holding and decided to keep it before putting it down. I thought it was cute and I wanted to keep it to play with later.

"Okay, girls! I want to head over to the book section and see what we've got there," I said over my shoulder and with muffled yeses, we walked over to the book area of the SDB. "Okay, I just want to get one thing straight before we look at the books," I said sternly to Maddie and Auroriss, "I do not want you to read any of these books, okay? I just want to see what's around, okay?" Maddie and Auroriss looked at each other and then nodded in my direction. My girls are really big book readers but if they wanted to get their dream items, then they needed to keep their paws off the books. We stepped into the book section, which was covered in shelves and stacks of books lying around. We literally stepped into a home-made library and Auroriss and Maddie couldn't help themselves. They practically jumped into the air and than started to run around the area looking at different books.

"No way, we have the Soup Faerie Book?!"

"Sweet, I just found Wishing On A Star!"

"Cool, The Water Mote!"

"Aha! I found you..." I muttered to myself. I had been looking around the shelves for a particular book while Maddie and Auroriss were going crazy about everything else and I found it. I threw How To Catch A Cybunny into one of the baskets to take home. That might get useful when I tell Maddie it's time to go to bed and she does her little quick escape routine. "Girls, I hope you're not reading any of those books!" I called over my shoulder. I suddenly heard rustling of paper and books slamming shut. I quickly turned around to see Maddie and Auroriss standing innocently in the middle of the area.

"What, Mom? We're not doing anything wrong!" Auroriss and Maddie said together. I snorted but turned back to the shelves of books. I was satisfied with all the books I had collected and I was done with the book section.

"Come on, girls! We need to go see what's in the Neohome section!" I called. Maddie and Auroriss both looked up from their different books and walked behind me as we made our way to the Neohome area of the SDB. There we found a lot of old furniture I never had time to get rid of and some I couldn't part with.

"Wow, Mom, what's this?" Auroriss asked slowly. She was pointing to a Luxury Cloud Cot in the middle of the area.

"Oh, that..." I responded thoughtfully, "That was your crib when you were a Baby Kiko. I just couldn't part with it because of all the memories I have with it and with you."

"Okay, I guess that also explains all the Babaa furniture as well." Auroriss said jokingly. I nodded my head as I laughed to myself. I had been a little overprotective of Auroriss when she was a Baby Kiko and had made a full proof house before I had even brought her home. Her room had been made of Cloud and Babaa furniture was everywhere, along with anything made out of cloud and faerie items. When I transformed Auroriss into a teenager, I knew I would have to move her out of the nursery and had put all her baby stuff in the Safety Deposit Box for later.

"Okay guys, anything else we need to take home?" I asked as I saw Maddie pick up a Moehawk Poster. She was not going to put that into her room if I had anything to say about it.

"No, Mom, I think that about wraps it up!" Maddie said as we walked out of the SDB. The smell was totally gone now but people still smiled as they walked by us. Man, that joke was never going to go away, was it? We walked all the way to the main lobby before the giant Green Skeith stopped us in our tracks.

"Hello there, madam. Did everything go well?" the Green Skeith asked.

"Yes, all the smell is gone and I think you won't go out of business!" I responded happily, while shifting a basket from one arm to the other. The Skeith looked a little confused as he tried to make out what I had said but before he had a chance, I just muttered, "Never mind..."

We started to walk out the door as the Green Skeith yelled "Thank you for coming to the National Neopian Bank, madam!" after us. Maddie then looked up with big, sweet eyes and said, "You know, Mom, I bet you're really tired and don't have any energy to cook tonight. Do you think we could go out and eat at Pizzaroo?" she asked in a high, sweet voice.

"I would love to!" I shouted and as a family, Maddie, Auroriss, and I walked down the street with a Harris peeking out of the basket Maddie was carrying. But I guess that's a surprise for later...

The End

Author's Note: Yes, I know Auroriss is not really a Faerie Shoyru and Maddiedaylay, a Blue Cybunny but that's the way I wanted them in the story and I want (and trying to get) in the Neopets world. Happy Reading!