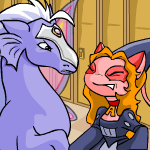 Tales of Cadmium, Athena, and Saffron: The Fight - Part Three

by rainpaint

--------

"So, Saffron, Brett tells me the two of you are doing a psychology project together. I didn't know they covered that in the eighth grade," Marcie, Brett's owner and Elspeth's best friend, teased. The petite blonde placed a plate of Kyrii crackers and cheese on the table in front of the two of them. Gray eyes dancing, she folded her arms and looked at them.

"Yes, well, see, about that..." Brett's voice trailed off as he glanced at Saffron.

The Yellow Xweetok suppressed a laugh at the desperation in his eyes. "It's a kind of special project," she supplied. Saffron stuffed a cracker in her mouth and smiled innocently, hoping to ward off any other questions from Marcie.

Seemingly satisfied, Marcie nodded and turned to leave the kitchen. "Well, you two have fun. Call me if you need anything, and Brett," she paused to address her pet, "remember, Bob the Meepit is watching."

Brett threw a poorly-aimed cracker at his owner's retreating back. She dodged it easily and ran upstairs, her laughter floating down the hall.

Saffron and Brett looked at each other for a moment, feeling uncomfortable. The Yellow Xweetok glanced over at the Faerie Meepit who, sure enough, sat in his cage and watched them with his beady little eyes. They ate in silence until the last piece of cheese was devoured. Then Brett broke the silence. "She's kidding about Bob. I mean, it's not like he can talk and report what we're doing. When Marcie first told Misty that, she freaked out!" Brett said, referring to his slightly older Maraquan Uni sister and Athena's other friend. "She spent hours talking nonsense to Bob and then seeing if he repeated any of it. All he ever says is, well, 'meep.'"

As if demonstrating his impressive vocabulary, Bob burped and uttered an indignant, "MEEP!"

"Oh! I wasn't even worried about that. It just kind of weirded me out. I mean, I always knew Bob was there, watching, but I never really thought about it before." Blinking, Saffron changed the subject. "Anyway, let's get back to our 'psychology homework.'" Rummaging around in her backpack, she pulled out a few sheets of paper and two pencils. Seeing Brett's confused look, she explained, "We told Marcie we're doing homework, and I'm not about to lie to your owner. Do your homework, and we'll figure out what to do while we work."

Nodding in agreement, Brett took out his "Mathematics In Space" book and began tackling the first problem. "So, did Cadmium go over to Elyse's house after school today?" he asked, his brow furrowing in concentration.

Saffron yanked her "Grammar on the Go" book out of her backpack and replied, "Yeah, you should have seen the look on Athena's face when she saw Cadmium walk with Elyse and her crew. I know she says she doesn't care, but I can't imagine how hurt she must be."

"So, we have two, um, predicaments to work through," Brett stated, passing Saffron a scrap sheet of paper for her rough draft of an English paper.

"Right," Saffron agreed. "We need to figure out how to stop the rumor, and we need to stop this stupid argument between Cadmium and Saffron. I had an idea for the first one, but it's kind of silly."

"As long as it doesn't involve one of us dressing up as a baby Bruce!" Brett teased.

Saffron paused in her erasing. "Um, well, actually, it does." Upon seeing the skeptical - and slightly horrified - expression on Brett's face, she held up her hand. "Now wait, don't look like that. This is a good idea!"

Brett sighed. "All right, let's hear it." Eyebrows raised in expectation, he crossed his arms and leaned back in his chair only to topple over. Unhurt, Brett righted his chair and sat back down, chuckling sheepishly.

Sticking her tongue out at him, Saffron laughed, "If we're done with theatrics, let me tell you my idea. It's quite simple, really. All we have to do is get a Boochi costume from the costume store, and then one of us dresses up as him, sneaks over to Elyse's house at night, and scares her! Then she'll be telling the whole school that Boochi was at her house, instead of gossiping about Athena." Brett had been extremely quiet during her whole explanation, and she glanced up at him to gauge his reaction.

"I just don't think this is going to work. Doesn't Elyse have a fancy security system or something?" Brett asked, his black eyes troubled. "If the one of us disguised as Boochi activates the alarm, rogue Meepits could come out and attack us!"

"Rogue Meepits?" Saffron looked at him, one eyebrow cocked. "Anyway, I've already checked. She's got Electro-Secure," Saffron explained, referring to the next-to-highest level of security a Neohome could have. "We just have to be careful," the Yellow Xweetok continued. "If we touch it, then zap! Fried Xweetok and Singed Shoyru."

"Oh, that makes me feel better." Brett laughed ruefully. He then tried every possible excuse to dissuade her of the idea, but in the end he had to admit defeat. For every problem he thought up, Saffron had a solution. So finally, he agreed to go along with her plan. The two of them went to the costume store and bought a Boochi costume. Then came the time they were secretly dreading - time to decide who would be the lucky one to dress up as the Baby Bruce.

"How about we play 'rock, paper, scissors'?" Brett asked as the two of them stood outside Saffron's house, purchases in hand. The Silver Shoyru had insisted on walking Saffron home, even though the store was closer to his house. The Yellow Xweetok nodded in agreement, and three spirited rounds ensued. Saffron won the first round, and Brett was victorious in the second.

"Rock..." Saffron chanted, squinting in concentration.

"Paper!" Brett exclaimed.

"Scissors!" they chorused.

The two of them stuck out their hands. Saffron's paw was flat, and Brett's hand was clenched in a fist. "Paper covers rock," Saffron said, somewhat sympathetically. She laid her paw on top of his hand, and he grasped it.

"So I guess that means I get to dress up as the little pink terror. You won fair and square, Saffy. Congratulations." He shook her paw and let go, then asked, "When should we meet up? And where?"

"Um, how about we meet at the bench at 10:30? Elspeth should be sound asleep by then, and Athena and Cadmium will still be distracted so they won't notice if I sneak out." A shiver went down her back as she realized what she was saying. "I hope we don't get caught."

"We just have to be sure not to get caught together," Brett said sensibly.

Saffron nodded as Brett glanced at his watch. "I'd better get home for dinner. See you later, Saffy!" He threw a smile her way as he flew down the street toward his house.

Saffron nearly skipped into the house until her brain caught up with her.

Don't be too gleeful! Your sisters are fighting, and Elspeth's bound to have found out about it by now, her brain chided.

But I had the best afternoon with Brett! And we're going on a secret mission tonight! Saffron contradicted her brain.

Right. He's going to dress up as a Baby Bruce with a ray gun and scare a sissy Kyrii. Big mission, her brain drawled.

Shut up, brain. Saffron shook her head as she grudgingly headed toward the kitchen to what was bound to be a very tense dinner.

*********************

"Saffron, could you pass me the butter?" Refusing to even acknowledge her Faerie Peophin sister's presence, Cadmium addressed her plate of mashed potatoes, meatloaf, and green beans.

Absorbed in her thoughts of that night, Saffron silently slid the butter plate to Cadmium. Her imagination had gone wild, and she'd dreamed up all the possible scenarios. Best-case, Brett would fly up, scare Elyse, fly down, and they'd go home. Then the next day, Elyse would be talking all about her "terrifying" experience, and all gossip about Athena's embarrassing dream would stop. Worst-case, Brett would fly up, accidentally trigger the alarm, and they'd run away but get caught (and get deeply in trouble). Then there would be no hope of ever reconciling her sisters, Saffron thought miserably.

"So, girls, how was your day?" Elspeth, still oblivious to the strife between her two oldest pets, asked as she brought the bowl of gravy to the table.

"Fine." Athena shoved a bite of meat loaf in her mouth to discourage any further questions. She chewed mechanically, not really tasting the meat loaf. It took enormous effort to swallow the tender meat.

"Well, I had a great day. Elyse invited me to sit with her at lunch, and we had such fun at her house after school. She really helped me improve that dance move. And she gave me an official invitation to the celebration party at her house after we win!" Cadmium beamed, still averting her gaze from Athena.

"That's just great, Cadmium, just great. I'm really happy you've finally found true friends," Athena spat. Her harsh tone surprised everyone but Cadmium. Elspeth looked up from her plate, but before she could say anything, Cadmium cut in.

"Yes, friends who don't take things too seriously," Cadmium said pointedly. The Royal Aisha's green eyes glinted as she took a sip of her chocolate milk. She chanced a quick glance at Elspeth's face. Their owner looked completely shocked, and Cadmium felt a slight pang of guilt.

"I-I can't believe you!" Athena leaped up from her chair, accidentally tipping her apple juice right onto Cadmium's plate. Her blue eyes narrowed as she took in the amber puddle quickly soaking all of Cadmium's food. "You deserved that." She grabbed her plate - nobody in his or her right mind threw away or didn't eat one of Elspeth's dinners - and stalked upstairs, slamming the bedroom door behind her.

Thoughts racing through her head, Cadmium calmly scraped her food into the trash can, got another plate, and cut herself a smaller piece of meat loaf. "I told you she takes things too seriously," she quipped nervously. Now she was worried. Her owner knew something was going on, and she would have to be the one to explain it.

"I don't even want to know. You just get up there and work things out with your sister." Elspeth's tone could have cut straight through Terror Mountain.

Thankful to have escaped a lecture for now, Cadmium shoved the whole piece of meatloaf - I'm going to need all the energy I can get for this, she thought - in her mouth and raced up the stairs and to the girls' room. Jiggling the doorknob, she discovered that Athena had locked it. She hastily swallowed the meatloaf and began her tirade. "Let me in, Athena! Elspeth sent me up so that we could work things out," the Royal Aisha hollered. She repeatedly shook the handle and banged on the door.

"What's there to work out? You have new friends now, friends who think you're better than I am. Why would you want to work things out with me if I'm simply just 'taking things too seriously'?" Behind the closed door, Athena sat with her back firmly against the light pink wood. She was surrounded by wadded-up tissues, but she had managed to finish her dinner between blowing her nose. Now her eyes were puffy from crying, and her arms were tightly folded against her chest.

"Fine! Be that way! But open this door and let me in to my room, or so help me, I'll -" Cadmuim's threat was cut off by the pattering of feet on the stairs.

Irritated by the continuous banging and yelling, Elspeth and Saffron had come upstairs. "Athena! Cadmium! Stop this nonsense at once," Elspeth ordered. "This is definitely not working things out. Now I do want to know exactly what's going on. Athena, honey, open the door and tell me what happened," their owner coaxed.

Cadmium rolled her eyes in irritation. Athena, honey? Pfft. It's her fault, not mine, the Royal Aisha thought.

Athena eased open the door just a crack, but Cadmium quickly shut it again. Despite Athena's shout of protest, Cadmium declared, "I'll tell you what really happened. She-"

Athena interrupted from inside her room, trying to push the door open. "No! Don't let her tell you. She'll lie and say it's my fault. I'll come out and give you the story-"

"GIRLS! How about I let Saffron tell me the whole story -" This time Elspeth was interrupted by a loud, insistent knock on the front door. "This isn't over," she said sternly as she walked down the stairs to see who it was. Athena, who had managed to open the door when Cadmium was distracted by the knocking, and Cadmium, who had been knocked over when Athena opened the door, stood glowering at each other, but Saffron strained to hear the conversation going on in the downstairs hallway. All she could make out were the sounds of two hushed voices in urgent conversation.

"Thanks for telling me. I'll be right there," Elspeth said as she gave the mystery visitor a hug and walked him/her/it to the door. Saffron tried without success to run down the hallway in time to see who it was. Then Elspeth climbed back up the stairs, a slightly panicked look in her eyes. "That was my sister-"

"You mean the one who came for Easter and called us 'adorable little creatures' and pinched our cheeks practically nonstop?" Temporarily distracted from her argument with Cadmium, Athena bristled slightly at the memory.

"Yes, that one." Elspeth gave a noncommittal nod. "Well, apparently my grandma's sick. She's going to be all right," she assured her pets, seeing the worried looks on their faces. "But Grandma wants her family near by while she recovers. I have to pack right away and go. You'll be all right for a couple of days or so, right?" Not waiting for an answer, Elspeth scurried down the hall to pack her things. The three of them walked hesitantly to Elspeth's room.

"Is... is there anything we can do, El?" Saffron asked, taking in her normally calm owner's flying around the room and throwing things into her suitcase.

"Nothing out of the ordinary. Just be good while I'm gone, and I should be back by next Monday." She snapped her suitcase shut, gave them all hasty hugs, and ran out the door. The echoing slam interrupted an otherwise awkward silence. Cadmium and Athena swapped glances that said, Truce. Just until we get the kitchen clean.

Recognizing the look, Saffron let out a shuddering sigh. The Yellow Xweetok hadn't realized how tense she was until now. But she knew the peace was only temporary. Following her sisters into the kitchen, Saffron thought, Brett and I have to fix this...

To be continued...