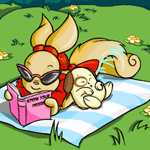 Neopia's Most Spoiled Inhabitants

by puppyluv64

--------

Your neopets tear through the house, screaming, kicking and jumping. They bite people when they hold the door for them, scream that they want ice-cream in the middle of Kelp (and proceed to throw a hissy fit), and during an INTENSE Battledome match, they yell "Mommy, I gotta go to the potty!" Sounds familiar? If so, read on...

First of all, why are your beloved neopets misbehaving? The most common reason is because they are too spoiled. That means that they get whatever they want exactly when they want it. The typical characteristics of a spoiled neopet are:

• Chubby and round, because they only get fed junk food (they dump anything else on the floor, no matter how hard their owner worked to prepare it)

• Fancy, wearable clothes

• Painted

• Carrying something that they already own to much of

Yes, spoiled neopets appear joyful, because they always get their way, but believe me, they quickly crumble! The minute anyone tells them "no", they tend to fall onto the ground, shriek, sob, throw things, and threaten to punch anybody who comes near them. Have no fear, though, because this can be handled! You just might wanna wear a yooyuball mask and shin guards, but you hopefully won't need the mouth guard as well. Anyway, what you do is actually quite simple. From a safe distance, point out something of great value or beauty. They will quit screaming to go and view the object. While your pet is busy staring at it, swiftly grab them and toss them outside.

If this tactic fails, there are many more. You could always attempt the "No More Toys" strategy. This works well, often! All that there is to it is that you have to tell them "no" for anything they ask for. The first time, they will scream and writhe as if in physical pain, but just IGNORE it. Eventually, they will quit crying, and get up to leave. After about a week of this, they will probably just stop asking for things.

Now, there are different forms of spoiled neopets. Included in this list are:

• The Food Junkie: as described earlier, these brats throw health food to the floor. Then, they beg for jelly from *cough cough* Jelly World, which, for sure doesn't exist...

• Usuki: these neopets, mostly girls, have every Usuki in Neopia. They also have every outfit and accessory. Typically painted "Usuki", they never pass up an opportunity to gain for of these dolls.

• Clothes-Uni: neopets like this live for clothing! They have every single wearable item, and are always the first at the NeoCash Mall when something new is scheduled to be released.

• The Star: these pets have done something special to earn star-like status, be it winning a million Battledome matches, belonging on the winning Altador Cup team (next year it will be Mystery Island, you'll see!!!!!!) or just plain landing on the high-score table for Potato Counter. The owners of these pets find any way to make their little pookie-pies a "living-miracle". Bleccch.

• The Limited Edition: LE pets are extremely rare. Some people use that as a huge excuse for spoiling the Neopia out of them! LE pets usually are a mix of all of the previous issues.

So you see, owners can inadvertently (or advertently) ruin their pets' behavior. Read the following to find a way to treat your spoiled neopet just right for his/her "spoilhood" and a way to still give them nice things...

Food Junkie:

Make your little roly-poly a healthy (albeit tasty) snack. Don't feed them a Tchea Fruit gruel if you know that they won't eat it! Give them something yummy and good for them, like Eyrie Pancakes, or a Plain Omelette.

Usuki:

Easy-as-pie: DON'T BUY THEM ANY MORE USUKIS! Also, you could rotate which Usuki they play with every week, and which clothes they use, so they do not become bored with what they have. See, if they don't have all of the toys at once, the ones they haven't played with will become a novelty. Also, try to paint them back to a "non-Usuki" color, such as pink or white.

Clothes-Uni:

Don't buy them clothes unless they need new ones. Teach them that some neopets only wear potato sacks—and threaten them! Tell them that if they feel the need to buy an outfit or shoes or a background, they first need to wear a potato sack everywhere for a week. If they go one month without purchasing something, they get rewarded—as long as the prize isn't clothes!

The Star:

Rule of thumb (or, er, paw): never, ever tell the Star that he isn't as special as you think he is—this will result in low self esteem. This one is a subtle approach. Just gush about him/her less and less, until all "specialness" is forgotten. Buy him/her a little less each day, and talk about something other than how wondrous your pet is. People will begin to like you and your pal a lot more! Note: if you are really proud of your pet, and want to talk about him/her a lot, then ignore that message. Be happy about their accomplishments—just don't go overboard!

The Limited Edition:

Try and use all of the methods above. Or, just try to act like your LE pet is just a regular edition pet. When you first adopt or create them, try not to let them know just how special they really are. If it is too late, then just explain to them that they are still to be treated as if they were always available—remember, there is no real difference between an LE pet and a not LE pet—just that one you can always create, while others you can create at certain times.

Now that all of these problems are explained, do remember that none of them are actually your pets' fault! If you ARE a spoiler, just remember: neopets are amazingly adorable and quite easy to spoil. Just follow these simple, but extremely affective steps, and everything should work out just fine!

This is my first submission! I hope y'all like it!