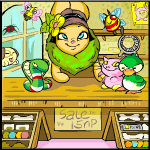 Seven Great Holiday Gifts

by djawo

--------

It seemed like only yesterday we were all lounging on the beaches of Mystery Island, but once again, the holidays have come upon us! Snow has begun to fall in Terror Mountain and it's even getting chilly in Tyrannia. Brr! You can hear Neopets singing carols on every street corner, and this year, they sound so much better. (Maybe it's because they finally got their paws on some musical instruments?) And, like every good Neopian, you're well prepared, right? You've bundled up your Neopets so they won't catch their death, or well, as close to death as Neopets can get. You've been getting ready to visit the Advent Calendar every morning, and you've even picked out some fabulous presents for your pets!

Wait, what's this? You've forgotten the presents? But those are the most important part of the holidays! Now, now, don't fret. After much research by top Neopian scientists, we've found the best presents that money can buy just in time for the holidays. Even if you're light on Neopoints, we've still got some gifts you can afford. Now, let's begin!

1. A Vacation

Let's face the facts here: It's been a long year, and all you really want to do is curl up with a Cup of Borovan and hibernate until winter is over. But your pets don't really have the same idea. They want to travel and enjoy life and be daring and crazy! Well, now you can have the best of both worlds with one simple solution: a much-needed vacation! Whether you go to Faerieland or Krawk Island, you can both do exactly what you want: Your pets can enjoy the cloud racing or the training schools, while you can enjoy the nice, fluffy clouds or the nice, grimy beaches.

2. A New Coat of Paint

Don't tell me you didn't see this one coming, but it is the season. When's the last time you painted your pet? Two years ago? Five months ago? Never? Well, then it's high-time for a new coat of paint. Even if you don't have a lot of money, your pets can still get a fabulous new paint job. Invisible Paint Brushes are only about 90,000 Neopoints, and Silver Paint Brushes are only about 135,000 Neopoints. But if you have the money, why not splurge? Paint your pet Faerie or Grey!

3. A Little Buddy

Have your pets been clingy or needy lately? Do they constantly want to play when you're trying to answer Neomail or talk on the Neoboards? Well, now your Neopet can have their own pet to follow them around and drive them nuts too! These little guys are called Petpets, and the cheapest ones (like an Abominable Snowball) are only around 1k. Does your pet already have a little friend? Then treat their little guy to a new coat of paint or even, if your bank account can afford it, their own pet – a Petpetpet!

4. New Ninja-like or Pirate-like Moves

Yes, the ultimate battle – Ninjas vs. Pirates! Pick a side and take your pet down to that training school, where they can learn how to fight with the best of them. Even if your pet is a lover, not a fighter, better agility is always nice when they have to carry a stack of books home from the bookstore. Is your pet already a super-awesome battle master? Then treat them to a shiny new weapon! It doesn't have to be from the Hidden Tower – there are lots of inexpensive weapons that can deal a lot of damage. Or you could even give your pet a blessing from a bottled faerie. Just make sure they're the correct level, or your holiday gift will be a total bust.

5. Get Cultured

So you and your pets don't know the Catacombs from a Blue Gnorbu Comb? Then make it an event by heading down underground to check out some art, poetry and to sip the Ice Blended Mocha Coffees. Delicious! You can pick up the latest issue of the Neopian Times, and you and your pets can try your hand at drawing something. (Don't worry if it comes out horrible the first few times!) Then, head on over to the fireplace to get warm and hear some storytelling. Once your day has ended, why not make a stop at the Bookstore before heading home? Your pets will get smarter and you might just be able to snag a really rare book.

6. New Clothes!

Maybe you and your pets don't have a lot a style? That's all right, and it's the perfect weather for some fashionable new coats. New clothes are being released almost every day, so your pets can look stylish and stay warm. Even if you're not very rich in Neopoints, you can get yourself some Neocash and treat your pets to the latest and greatest stuff the NC Mall has to offer!

7. Fun Family Memories

Yes, cue the cheesy music and the black-and-white flashbacks: Family memories can be the best holiday present of them all! Bond with your pets while making a Gingerbread House, or read your young pets a sweet story like A Warm Christmas. You can even share some laughs while stringing lights across your Neohome or while setting up your Gigantic Decorated Christmas Tree. Then, curl up by the Roaring Log Fire and roast marshmallows together.

So, whatever holiday you celebrate, make it a special one with your Neopets. Just remember, it's not about how much money you have. It's about how much fun you have. So what if the person who owns a Neohome next door to you just painted their pet Faerie? Their pet is still probably sad because their owner never spends quality time with them. Spending quality time with your pets is what can really make the holidays great. And when you and your family go off on vacation? Treat your pets to a fabulous stay in the AstroVilla... or at the very least, the Mountain Lodge, where your pet will most likely get a gorgeously snowy view. Have a happy holiday, everyone, and remember to stay warm and get your free gift from the Advent Calendar every day!