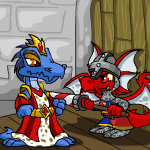 The Ghost of Meridell: Prelude to War - Part Six

by kt_fox

--------

"Your Highness," the Draik said shoving Krystal forward, "we caught this girl in open defiance. She was telling the people that you were not the true ruler of Meridell."

The royal Krawk glared down at the Lupess as she stood up from her throne. "My Grandfather tolerated such acts of treason and insubordination. But I will not." Hadassah turned to the Draik guard. "Have you found the Lupe squire?"

"Well, no," he stammered, a little puzzled by the question. "But we're keeping an eye out for him, just as you ordered."

"You idiot!" she snapped. "This Lupess was a distraction! The squire is here, inside the castle!"

The guard jumped back slightly. "Please forgive me, my Queen. I'll go and—"

"No," Hadassah said in a more relaxed tone. "I have another job for you." Pointing to Krystal, she said, "Take this Lupess downstairs and order her execution... along with yours."

"What? But Your Highness—"

His words were choked off by the sudden appearance of the Krawk's hand around his throat. "Am I speaking in an unknown tongue?" she hissed. "Do you need a translator? I want you to go downstairs and order your own execution, and believe me when I tell you that the executioner will be far more merciful than I would ever be. Now go!" she said shoving him back.

The Draik knew how true those words were. Scrambling to his feet he took Krystal by the arm and led her away, with every intention of carrying out his orders to the letter.

Meanwhile, high above their heads, another figure was scrambling. Jeran had felt his heart stop for at least a full minute when he heard the word "execution".

He knew he had to hurry or it would be Krystal's life. With Hadassah forgotten for the moment, Jeran made his way across the support beam as quickly as he dared. But if he'd stuck around for just a few seconds longer, he would've heard what was said next.

"He'll try to save her?" Danner asked the royal Krawk.

"But of course," she replied, her eyes locked on the rafters above. "Now will be your chance. Go."

*****

Well, this certainly wasn't in the plan, Krystal thought to herself grumpily as the guard led her down the corridor. How in Meridell was she going to get out of this one? "Jeran just had to break that necklace," she muttered.

Just as they were turning a corner Jeran leapt out of the shadows and slammed into the Draik. The guard hit the floor, stunned.

"Nice," Krystal said dryly.

"Thanks," he replied in an equally dry tone as he untied her.

"Well, now that plan A has failed, do we have a plan B?"

"We have no other choices. We have to try and get to Brightvale. Think we can do that?"

"After all of this? It'll be a piece of cake."

"Good, because I really wasn't asking anyway. Let's go."

The two Lupes made their way down the side corridors where traffic would be at a minimum. Or so they thought. Just as Jeran began to think that they might have a chance something darted out of the shadows and slammed Krystal into the wall, knocking her unconscious.

Before Jeran could do anything, he was also slammed into and knocked to the ground, the breath driven from his lungs. The Lupe looked up to see Danner, sword in hand, glaring down at him. Jeran cautiously stood up and looked the Wocky straight in the eye. "Danner," he said sharply, "you don't want to do this."

"Yes I do, Jeran," he hissed back. "I'm tired of you getting all the attention just because you lost your knight master."

"Danner, I'm not getting any more attention than anyone else. The knights don't play favorites, you know that."

"You're lying!"

The Lupe could now see how serious his friend was. All along he'd kept a hope that Danner had only been playing along with Hadassah to throw her off, but it was painfully clear now that he wasn't. With this knowledge, Jeran decided to try a new approach. "I'm sorry, Danner."

For a split second Jeran swore he had seen a glimpse of his friend as he lowered his sword. "What did you say?"

"I said... I'm sorry. And, you're right. I was getting more attention, and I should have stopped it... but I didn't. And for that, I'm sorry."

It seemed to be working. The burning hatred in his eyes had died down and he looked as though he was ready to drop his weapon. But that's when everything went wrong. For the briefest of moments the Lupe saw three cloaked figures standing behind Danner. And that's when he realized his friend was not standing in front of him anymore.

The Wocky's eyes once again blazed with hatred as he held his sword close to Jeran's throat. "It's too late for 'sorry'."

Even as Danner swung his weapon Jeran was already diving to the floor. The sword just barely missed the tips of his ears. But Danner was fast and was already preparing for another strike.

The only thing that saved the Lupe's life was the sound of Krystal moaning. Startled, Danner had turned around to look. Taking advantage of the opportunity, Jeran rolled over and over, knocking Danner's feet right out from under him.

The Wocky had lost his grip on his sword as he tumbled to the floor. He reached to grab it but Jeran kicked it out of the way. Enraged, he sprang to his feet and the two squires engaged in a weaponless battle.

Jeran knew he had the upper hand in this fight. He was better at this sort of thing than Danner was, and it certainly didn't hurt that he was bigger than the Wocky too. But this wasn't his old friend anymore. Somehow he had changed, and the Lupe knew he had a certain royal Krawk to thank for that.

Danner managed to shove Jeran back against the wall. Before the Lupe could even blink, Danner was there, pinning him to the wall with strength Jeran never knew he had.

"What has she done to you?"

The Wocky didn't answer. Instead, he brought his arm up and held it against Jeran's throat, cutting off the Lupe's supply of air.

The Lupe struggled against Danner's grip but the Wocky had become too strong, and he knew it had something to do with those three figures he'd seen.

Somewhere behind them, Krystal had made it back to her feet and was advancing on Danner with her dagger in hand. Jeran saw her coming and tried to warn the Wocky, but that's pretty impossible when you can't even breathe.

The Lupe finally managed to get a foot up and kick Danner off of him. Moving quickly he grabbed Krystal's wrist before she could strike the now stunned Wocky. "No," he said sharply, "he's my friend."

"Some friend," the Lupess hissed back. "He just tried to kill both of us. Remember?"

"Forget it; if we don't leave now, we'll never get out of here."

The two Lupes ran down the halls this time. Time was running out for Meridell and both of them knew it. They had to make it to Brightvale or the kingdom would be lost.

Making it outside the castle they ran to the stable to find Jeran's Uni, Carla.

Jeran ran to her stall where he found her tied to a wooden post. "Carla?"

The white Uni practically jumped at the sound of his voice. "Jeran! I'm so glad to see you!"

Jeran opened the stall door and began to untie her. "What did they do to you; why are you tied up like this?"

"I tried to escape; obviously I failed."

The Lupe managed to get the ropes loose. "Are you up for trying again?"

"Absolutely! Get on, both of you."

After Jeran climbed on he helped Krystal up. As soon as they were seated Carla took off as fast as she could. After getting outside she took off into the sky. Flapping her wings, she flew faster than she ever had before.

Jeran didn't want to hope that they might make it this time. Every time today when he'd thought something would go well it ended up going sour. But his optimistic nature defied him yet again and he secretly told himself that they would make it.

That's when (you guessed it) something went wrong.

An arrow suddenly shot passed Carla's head. Startled, the Uni veered sharply upward and to the right. Unfortunately, Krystal hadn't been hanging on like she should've been and was sent tumbling to the right, falling right off the Uni's back.

"KRYSTAL!" Jeran yelled as he tried in vain to grab her hand.

Carla dove toward the falling Lupess. She had made it far enough for Jeran to reach her, but just as their finger tips touched another arrow clipped the Uni's wing.

Jeran, already off balance was also sent tumbling off Carla's back. Now he joined Krystal in a freefall to the ground far below...

To be continued...