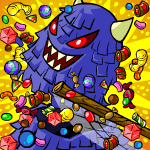 31 Neopian Ways To Celebrate Halloween

by imsleepingbeauty

--------

With Halloween approaching, many Neopets and their families may be looking for a unique way to celebrate the holiday in true Neopian style. If you are one of those who is not content with idle chatter when excitement is accessible, here are some fun suggestions for spending October 31st -- something for everyone:

1. Enter The Witch's Tower and complete an Edna quest. She dispenses warts and love potions. What do you need today? *cackle, cackle*

2. Whip Edna soundly and mercilessly in the Stone Battledome for not giving you the Edna - Cackle avatar! Grr!

3. Make a Neopet Halloween mask (Werelupe is especially frightening. *boo*) and use your imagination to decorate it with paint, markers, glitter -- whatever sparks your creativity! Afterwards, have a photo taken to immortalize your masterpiece.

4. If treats are simply not your style, show Neopia how entertaining your tricks can be by entering the Neovision Holiday Contest: "Tricks, Not Treats". For once, be rewarded instead of punished for your pranks!

5. Send a You Light Up My Halloween NeoGreeting to your close friends or family members. Special people deserve to be remembered with love.

6. Gift less beloved people with a dozen freshly-baked Pumpkin Cookies. *gag*

7. Visit Count Von Roo all Halloween, day and night... if you are willing to risk losing or gaining pet levels.

8. Has your favorite game gone on to a better place; do you miss it terribly? Play a few games of remembrance and pay your deepest respects at the Game Graveyard. Rest In Peace, Ultimate Bullseye. *sniffle*

9. Plant Mini Pumpkins throughout the Garden of your NeoHome to obtain your very own Pumpkin Patch. Do not forget the addition of a Scareblu to daunt any would-be predators.

10. Watch out for the Icy Skeleton and Ghost thieves! If you are victimized, let out your frustration with a few satisfying games of Whack-a-Ghost.

11. Reminisce on the The Tale of Woe plot by spending a few remaining plot points you may have earned at Sophie's Shack or by visiting the quaint town of Neovia. Supposing you missed the plot, do not despair; the entire comic story is still available to discover as well as the game Bruno's Backwoods Breakaway.

12. Do you consider yourself a Top Gamer? See if you can brave Magax Destroyer II, Korbat's Lab, or Carnival of Terror. Perhaps you are more intellectual? Chemistry for Beginners or The Castle of Eliv Thade might be of interest. Proficient players may even earn a coveted trophy to grace their User Lookups.

13. Enjoy Spooky food all Halloween! For Breakfast: Spiced Pumpkin Coffee and Spooky Doughnuts. For Lunch: Cheese Ghostkersandwich, Scary Soup, and Spooky Shake. For Dinner: A Beast Burger and Pumpkin Pie; eat the Burger quickly, though! Snack: Toffee Classics and Candy Corn Classics, of course! Halloween would be nothing without candy! :P

14. Peruse The Gallery of Evil to read about villains such as the Pant Devil and The Darkest Faerie, in addition to lesser known criminals like Bringer of Night and Masila. If you would rather cheer for the other side, The Gallery of Heroes awaits your exploration.

15. Go on a Scavenger Hunt finding the Spooky Trick or Treat Bags and Ghosty Trick or Treat Bags hidden throughout the different worlds of Neopia.

16. Whether you are courageous and clever is proved by escaping The Haunted House. Do you dare to enter?

17. Read your pet a few nail-biting thrillers. Ghost Lupe Spooky Stories and Spooky Korbat Stories are certain to send chills down your spine!

18. Break open a Pinata in celebration and discover what goodies filled your inventory!

19. Dedicate an entire room or floor in your NeoHome to showcasing Spooky furniture. Watch out for that Spooky Toilet, though! *Eeeek*

20. Read the cautionary Neopedia article: A Halloween Tale. Young hooligans, before you act, take heed!

21. Complete a Brain Tree Quest.

22. Print out the Haunted Woods Colouring Pages and color away!

23. Try your hand at drawing some of the most cruel Neopians in history, such as Vira, The Ghost Lupe, and Lord Kass, through Pet Central's in-depth How to Draw section.

24. Collect all 9 pieces to the Spooky Treasure Map; if you are fortunate, a groaning zombie may even hand you a piece. Will you receive junk or treasure as a reward? Only one way to know!

25. Calling all Shopaholics!! Head over to the NC Mall and have a blast trying various items on your pets: Wings of Darkness, Haunted Graveyard Background, Bubbling Cauldron, and numerous other eerie objects.

26. If you would rather spend Neopoints than NeoCash on Pet Customization, the Pumpkin Lid Hat, Edna Costume Hat, Dark Faerie Wings, and Purse of Despair can be obtained at Uni's Clothing or the Shop Wizard/Trading Post.

27. Don an especially fitting avatar; Mynci - Halloween, Lenny - Wicked, and Uni - Nightsteed are just a few choices. A matching font would complete your appearance on the NeoBoards.

28. Try your fortune with an Undead Jackpot of Doom Scratchcard sold by Sidney in the Deserted Fairgrounds.

29. Refresh in the Haunted Woods just before midnight NST; you never can tell what will happen. ;)

30. Gift your pet with a creepy petpet. A few suggestions are: Halloween Meowclops, Candy Vampire, or Ghost Huggy.

31. And, finally, buy a Halloween Paint Brush and/or Ghost Paint Brush and transform your pet's demeanor! No need to mourn about Halloween's end; you can enjoy the holiday all year long this way! :D

Wherever you reside and however you celebrate the occasion...

May You Have a Safe and Happy Halloween!

Warning and Disclaimer to All: With many of these activities taking place in the Haunted Woods, note that one should use extreme caution when entering the domain of Ghosts, Goblins, Witches, and other chilling creatures. *cough* Meepits. *cough* Visit in groups, hold desperately tight to your wallet, do not even think of exploring any dark corners, and you should be fine... let us hope.