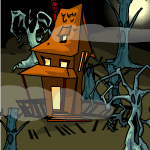 How To Make Your Neohome Haunted Woods Resistant

by the_undead_marshall

--------

Those of us who live in the Haunted Woods know how dangerous it is out there. There are ghosts and zombies trying to scare the living as much as possible. There are vampires and Werelupes who keep on trying to turn as much pets as possible into more vampires and Werelupes. And don't even get me started on all the meepits or the Malevolent Sentient Plushie Poogles. Luckily for you, I have dedicated all my time to finding the perfect defenses to make your home Haunted Woods resistant. I have made it into an easy to read Q&A form.

What should I make my rooms out of?

Do not make your rooms out of anything less than wood or brick, but to be safe, I recommend stone for your room materials, since it's stronger than a wooden room and cheaper than a brick room. You can also go for marble or gold, but it's a well known fact that most creatures in the woods don't like shiny stuff. Also don't go for anything edible, like chocolate or asparagus, for obvious reasons. And please don't go for sand or tatami, since both are really expensive, yet really easy to break through.

How many doorways can I have?

You can have as many doorways as you want; just try to have as few as possible that are connected to the outside world. I have one, but two are also acceptable. Also try to have some furniture like closets and stuff near it so you can barricade the door that leads outside easily. Just make sure they aren't too heavy; otherwise you can't even push them over.

How about windows?

I suggest using windows that are boarded up for the ground floor rooms. This will make sure that most things can't see where you're hiding from the outside. For the other two floors you can use whatever windows you want, since zombies and Werelupes can't reach that high and vampires can only enter when invited, so you should be theoretically safe. Except for the ghosts, of course, but we'll get back to them later.

How can I protect my gardens?

The best way to protect your gardens is to have them in the centre of your home, you know, like a courtyard. Also it's best to fill several gardens with fruit and vegetables. That way you can stay inside for days without having to do groceries in case of an attack.

What kind of furniture should I get?

This is completely up to you. Although I don't recommend the heaviest furniture for the barricading reasons I explained earlier. What I do recommend are meepit lamps. I will explain this later on as it's pretty important.

Which extensions should I use?

I suggest upgrading your security system and insurance to the highest upgrade possible. For light I suggest torches. This will scare several ghouls away. All the rest is up to you.

How do I fight off those creatures in particular?

To keep away hostile Ghosts, it usually is enough to have a strong ghost pet who can defend your home since only ghosts can defeat other ghosts without weapons. Although you should be aware that they could also invite all their ghost buddies for a visit so make sure you have enough haunted milk in the fridge since it's even harder to get friendly ghosts to leave.

Zombies can be chased away with fire, hence the torches and healing potions. You better stock up on those. It can also help to dig a moat around your home and fill it with healing potions and medicines. This could even bring back some zombies back to life.

To keep Vampires away, I suggest using garlic. In the worst case you can also paint your house with some sort of garlic based paint although this will make a lot of your neighbours move away. It also works to have pets without blood in your house. These include: plushie pets, ghost pets, robot pets and sponge pets.

To keep Werelupes away, a lot of people will say you have to build your house out of silver. This is will not work. The best way to keep a Werelupe away is to have some large mirrors in your neohome. This should make the dumb ones believe there's an entire pack of other Werelupes already in your house which would scare them off. The smarter ones can be scared away by having torches for lights and by wielding some sort of silver weapon.

For the MSPP, I suggest you better get a pet that's mentally unstable and has a lot of fangs and claws. These are too crazy to fear the foul beast and hopefully wild enough to send it crying to Donny's toy repair shop. The trip alone should keep it away for a long time so you won't have to deal with it again for a very long time.

And last but not least, we come to the Meepits. Now these little guys, and girls of course, can't be scared away easily. You can't allow one in your home either or otherwise you'll have a entire army in your home in about 5 minutes. This will not be fun since they'll use your pets' own weapons to keep you and your pet at their mercy. There are three ways to get rid of them. The first requires that you invite everyone you know that has a feepit. The second way requires you to put down a sign that says "free meepits inside" and then wait for about 15 minutes. However, you should make sure that some people don't take off with your pets, their petpets and your furniture as well as anything else. The third and most expensive way requires that you put several meepit lamps in every room you have. This will make the meepits believe you are some sort of fierce meepit hunter which will make them leave your house in about 3 seconds.

Well, that was it for today. I hope you'll follow my instructions and have a safe life. Hopefully this info has reached you in time. Now, I'm off to buy lots of meepit lamps, mirrors, and garlic paint. If you've taken me seriously, I guess you'll be doing the same thing.