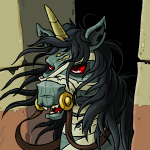 An Interview With The Nightsteed

by ghostwolf18

--------

The wind seems to curl over the desert sands of Qasala. Few people know about this interview, but we are lucky enough to have found him. The real Nightsteed! We have had a lot of poser Halloween Unis, trying to claim his fame. But finally, the truth about the Nightsteed will be revealed, thanks to a few strings pulled from our friends in the Lost Desert. But first, some introductions.

Hello, my name is Ghost. You may have already read my article "The Beginner's Guide to Nightsteed Care". Since that was such a big hit, I thought, "Why not try and interview the real Nightsteed?" And so here we are; my crew and I are here to get the inside story on the real Nightsteed.

Ghost: Hello, Nightsteed. How are you doing?

Nightsteed: Well, Ghost. Doing well.

Ghost: So what is life like for you after this Lost Desert plot took place?

Nightsteed: Actually, it is quite annoying. The fame was a little more than I could handle at first, but now I have gotten used to it.

Ghost: How do you feel about all of the legends that Neopets have made up to scare the little ones. Does that insult you at all?

Nightsteed: Only when I let it bother me. You see, I am not really all that bad, as you can hopefully tell. Still, being cursed for hundreds of years can make you a bit cranky. Forgive me if I don't look child friendly.

Ghost: How old are you, might I ask?

Nightsteed: After I turned 200, I lost count. It makes me feel old, you know?

Ghost: And how do you feel about the term "Mummy"?

Nightsteed: Well, I am definitely mummified, but I am no mummy, I can assure you.

Ghost: And how did you feel when the Halloween Uni trend came out? Did you like the fact that any Halloween Uni could claim to be you?

Nightsteed: At first I wasn't sure. I was flattered, after all. I mean, not every Neopian can say they have a paint brush color made after them. And it has helped me when I go out in public. I don't have to worry about the paparazzi as much anymore, because of the color. I just blend in like a normal Halloween Uni. So you see, the privacy is kind of nice. Still, I really wish the paint brush was Desert instead of Halloween. That would have made more sense, you know?

Ghost: So where do you prefer to be? The Haunted Woods or the Lost Desert.

Nightsteed: I really do enjoy the Haunted Woods. Honestly, it is nice to get out of this tremendous heat. Still, I belong in Qasala with my best friend Jazan.

Ghost: And how is Jazan? I know the loss of his father must have been devastating.

Nightsteed: Jazan is doing fine. He likes the fact that he somewhat rules over all of Qasala. The loss of his father was devastating, but after the destruction that Razul... a candle flickers at the sound of the name.

Ghost: That was weird.

Nightsteed: I shouldn't have. The name is cursed.

Ghost: I see. Please go on.

Nightsteed: Well, after the destruction that He made, Jazan has never really forgiven his father. I mean, he doesn't want anything to do with him.

Ghost: I see. Well, if my father were a monster that tried to destroy all of mankind, I wouldn't want anything to do with him either. Now then, how do you feel about being cursed? I know that you were never cured after the end of the plot. How does that make you feel?

Nightsteed: Honestly, I am fine with it. It is an eerie curse, but I am used to it by now. It is a part of me, you know? Besides, without the curse, I wouldn't be known as "The Nightsteed".

Ghost: I see, so you take pride in your title. May I ask, what is your real name?"

Nightsteed: I do not really have a real name. I am only known as the Nightsteed.

Ghost: And what form do you prefer? Your dormant blue color, or your true identity as "The Nightsteed"?

Nightsteed: I do like my blue form every once and a while, only because it is more comfortable than the rotting of my skin.

Ghost: And are Neopets often afraid of you?

Nightsteed: Why of course. After all, I am the Nightsteed.

Ghost: Alright. I know you are a large celebrity and have even been featured in the caption contest a few times. Tell me, what were you thinking in caption number 705, when you were covered in all of those Tchea fruits?

Nightsteed: Don't even get me started on that one! It was so embarrassing. But believe me, the payback was so fulfilling!

Ghost: What about in caption 621? That one was released on your own special day.

Nightsteed: I knew Tomos and Nabile were hiding. Lucky for them, that Scarabug told me to ignore them. They were a waste of my time and energy anyhow. Fortunately for them, that day I had a horrible headache.

Ghost: And what do you think of Tomos and Nabile now that the plot is over?

Nightsteed: I don't think of them at all really. I don't mind them, of course, but they know better than to bug me. That's for sure.

Ghost: What did you think of "Nightsteed Day," released on September 23, 2005?

Nightsteed: Is that why everyone was so nice to me on that day? I never knew. Jazan brought me flowers and everything. They were so delicious!

Ghost: And where do you live now? Still in Qasala, or somewhere else?

Nightsteed: I live in the ruins of Qasala. I love the musty feeling there. It fits my character well. Besides, I never have to worry about the little Neopians bothering me while I am sleeping.

Ghost: Well, that's all the time we have for today. Thank you so much for the interview.

Nightsteed: You are very welcome, but if I ever get asked another question about caption number 705, that Neopet will have another thing coming.

Ghost: Well, folks, that all I have. Finally, the real feelings of the Nightsteed are revealed to all of Neopia! I hope you enjoyed yourself and don't forget to read up on "The Beginner's Guide to Nightsteed Care" for more information on the Nightsteed. Thank you all for reading and remember that the Nightsteed does not like to be bothered, so please stop neomailing him fan mail! Thank you all and good night.