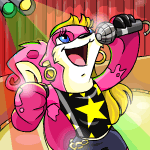 Three Hundred Seconds

by reggieman721

--------

8:55 p.m. – Claire stared gloomily at the face of the pink Lutari in the mirror. Little bulbs of light lined the glassy surface, and she could see the reflections of many Neopets scurrying around in the semi-darkness behind her. Her clear blue eyes looked back at her, taking in every detail of her beautiful, sad complexion. "Close your eyes, dear." Claire's stylist leaned over her shoulder in the mirror. "We need to put your eyelashes on," said the Peophin. Glad to shut out the image of her own frown, Claire obediently let her eyelids slide down over her blue eyes, plunging her into darkness.

As her stylist hurried to apply the rest of Claire's makeup, the Lutari heard the director call out, "Less than five minutes to show time!" The backstage hubbub increased as the crew hurried to attend to last minute details for the concert. In her midnight world, Claire could picture them, frantically rushing to complete their jobs and put on a good show for the masses of Neopets waiting in the crowded auditorium. She had been one of them, a young Lutari eager to purchase a ticket to see her favorite singer perform live. Claire had always wondered what it was like backstage at a big production, with the light and sound crews, the directors, the set constructors, and, most of all, the performers, all preparing for the big event. She wouldn't have imagined what it was really like: sitting in a chair while being made beautiful and wishing with her whole heart that she could be back in the audience where she had once been so happy.

8:55 p.m. & 15 seconds – "All right, open." Claire's eyelids lifted once more, although this time they were adorned in long black lashes studded with tiny, sparkling gems. "Oh please, darling," said her stylist, peering over her shoulder, "give me a smile at least. I need to put on your lipstick, and you're onstage in just a few minutes." Claire hadn't remembered how hard it was to force her lips into a smile. The Lutari could remember when it was so easy, effortless, even unintended to break into fits of laughter at a moment's notice. Now, however, she was beginning to realize that the Claire she had once been was fading away, being replaced by someone new, someone who could never be happy enough to find herself giggling. What did she have to smile about anymore? Record sales? Concerts? Fans? Claire knew very well that she would be greeted by thunderous applause as soon as she stepped onstage, but she also knew that those starry-eyed Neopets in the crowd would not be cheering for her. They would be cheering for Clarity, the hottest new singing star in Neopia. Nobody would be cheering for Claire.

8:55 p.m. & 30 seconds – The Peophin had all but painted a smile onto Claire's face, and was admiring her creation from over the Lutari's shoulder once more. "You look beautiful tonight," she said kindly. "Now, go put on a show for all of those Neopets out there." Claire remained sitting for a moment, gazing sadly into the mirror. What had she become? Claire had been born a blue Lutari – pink had never been her favorite color. But her manager had insisted that painted Neopets were far more appealing, and who was she to refuse? It was every young Neopet's dream to be painted, to be popular, to be famous. Little did they know that it was not as spectacular as they imagined. Sitting there in the chair, Claire reflected on her life as a singer. What had she really done to make herself proud? She had written and performed songs, she had sold out concert halls, she had toured Neopia, but had she helped anyone? Had she made a difference, as she had wanted to when she was young, staring up at the stars? Reflecting on these thoughts, Claire felt suddenly very far away from everything. Her mind strayed to memories of her childhood, and she remembered all of the things she had done back then, all that she had enjoyed, and all that she had dreamed to do. Had she done any of it? Had Claire climbed Terror Mountain, or counted the craters on Kreludor, or sailed from Shenkuu to Lutari Island? She hadn't, and although she had become perhaps the most famous Neopet in all of Neopia, Claire found herself feeling very, very alone.

8:56 p.m. – "You're going to be late!" Claire's manager, a green Aisha, hurried up to her. "Are you done with makeup yet?"

"Yes, we just finished," said the stylist, glancing at Claire, who was still sitting down.

"Well, let's move then!" said the manager, stomping his foot and glancing at his watch. "You're supposed to be onstage in two minutes!"

Claire took one last glance at the nearly unrecognizable face in the mirror before sliding out of the chair to follow her manager out of the dressing room. The Aisha hurried through the busy rooms, pushing aside several Neopets who were frantically rushing in all directions making final preparations for the concert. As she watched her manager grumble under his breath and check his watch every few seconds, Claire wondered how she had put herself into a position where she would have to obey this Neopet's every word. He was in charge of everything, from her songs to her image, from what she said in public to what she wore onstage, and she had no say in it at all. Claire realized that she had become this Neopet's creation, Clarity, and as Clarity thrived, Claire waned. The Lutari sometimes did not know who she was. Would Claire bow down to the authority of an Aisha who was barely half her height and always spat when he yelled at her? Would Claire sacrifice her own happiness just to make herself and her manager more Neopoints? Clarity did these things, and she seemed to be growing stronger every day.

8:56 p.m. & 45 seconds – Clarity smiled happily from a poster advertising the concert in the dark backstage hallway. Claire caught a fleeting glance of the picture and almost didn't recognize that it was her. The Clarity on the poster had been retouched so that she had higher cheekbones and dazzling green eyes. Claire preferred her crystal blue ones, one of the only physical traits that remained from her childhood, but her manager had decided that green eyes were more appealing. As the Aisha led Claire through another door, she could begin to hear the distant sound of the audience, who was now quite close. Thousands of Neopets were waiting in the concert hall to see Clarity perform. Once again, Claire could imagine the thunderous applause that would echo throughout the room as soon as she stepped onstage, but this only made her feel heavier inside, because in her heart she knew that they loved and cheered for Clarity, not Claire.

8:57 p.m. & 30 seconds – "You've got less than three minutes before the music starts," said the Aisha as he ushered Claire through the crowd of workers behind the stage. The curtain was down, but the Lutari could now clearly hear the drone of the audience as they waited for the concert to begin. It was quite dark, and Claire could see several Neopets holding flashlights over panels and buttons that controlled the stage lights and microphone. There were a few pets hurriedly sweeping off the large stage, which was lifted off the ground but still easily visible to Claire, and still other pets were laying down glowing tape behind the platform to direct the set crew. A Lupe hurried past her carrying the microphone stand onto the stage, where he placed it front and center. "Wait here until the curtain is lifted," said the Aisha, as if Claire had never performed live before. This was certainly not her first concert, although each successive performance made Claire feel less and less like the Neopet she had once been, and more like some kind of machine.

8:58 p.m. & 15 seconds – The lights that had been shining on the audience now dimmed, and a hush fell as they hurried to find their seats and wait for the concert to begin. The flashlights continued to bob around backstage, and Claire noticed that small pieces of glowing tape marked the stairs leading up to the platform. It seemed a long walk to that microphone stand, although she had made the journey many times before. This time, however, walking up those stairs and across that stage seemed like passing the point of no return. This time, if Claire stepped onstage, it would be Clarity who stepped offstage. This time, Claire had to choose. Did she want a life of fame and glory, or did she want to go home?

Claire knew the answer, but she also knew that it would be very difficult to leave this life behind. Not because she enjoyed it, but because the Lutari wondered if there was even a home to go back to. Claire had left her family and her friends to pursue a career in music, and she had succeeded, but had she lost those Neopets in the process? She hadn't spoken with any of them in so long. She had been so busy, traveling Neopia, singing, making appearances. What if they had decided that she was lost to them? Claire stood silently next to the stage, waiting for the curtain to rise and the concert to begin, but inside she was torn. Could she really leave all of this and go back to the life that she once knew? Or was that life gone forever?

8:58 p.m. & 45 seconds – The heavy curtain slowly began to rise. The Neopets in the audience fell silent as they waited for Clarity to appear. The few seconds seemed like an eternity, but as the curtain rose into the air, Claire found herself ascending the steps onto the stage. The crowd erupted into thunderous applause, as Claire had known that they would. She could only see their silhouettes, because the lights were all directed towards her onstage, but Claire knew that thousands of Neopets were on their feet, clapping and screaming with all of their might. Claire also knew that they were not screaming for her. They were screaming for Clarity, and Clarity was smiling and waving back.

8:59 p.m. & 15 seconds – Claire stopped at center stage, where the microphone stand awaited her. The crowd continued to cheer wildly, and Clarity blew a kiss out to the audience. It was several seconds before they finally calmed down, and when the silence fell, it was complete.

8:59 p.m. & 45 seconds – On the outside, no one would have noticed that Claire felt worse than she had in her entire life. On the outside, Clarity gave one last smile to the waiting audience. On the outside, Clarity reached for the microphone, closed her crystal blue eyes, and took a deep breath.

8:59 p.m. & 50 seconds – On the inside, Claire felt herself wasting away. On the inside, Claire realized that she had gone farther than she had ever envisioned, and it seemed that there was no going back. On the inside, Claire felt the memories of her childhood rush back to her, but they seemed so distant now that they were almost like a dream, a final wish that she knew would never come true. On the inside, Claire felt desperately, absolutely, hopelessly alone.

9:00 p.m. – Clarity sang. Claire faded away.
Search the Neopian Times


---
Great stories!
---------
---------
---------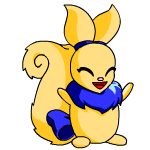 Take the Field
"Haha, no way! You're no good at Yooyuball; go home and draw or something. Make the teacher proud, teacher's pet!"

by samschelfhout2
---------
---