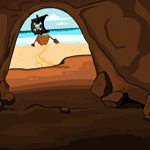 Neopia's Guide for Death-Defying Vacations

by monarch217

--------

It's the summer, and that means you and your Neopet must have one thing on the mind: Vacations! It's that time of year where everyone just can't wait to spend those extra neopoints to visit the hot spots all around Neopia and enjoy the fine cuisine, sites, and shopping that the worlds of Neopia have to offer. Now, I could go on and on and tell you how Mystery Island is fantastic for tanning this time of year, or how the oases of the Lost Desert are perfect for some much needed rest and relaxation. But where is the fun in that? Everyone already knows where the best sun and fun places are at. The purpose of this little travel guide is to offer you the top four vacation spots for those Neopians seeking a little more... thrill. You want adventure, risks, and jaw dropping excitement? Well, then you have come to the right place, because I have the perfect guide for any death defying Neopian out there. So without further ado, let's get this show started. We'll start from bottom to top, but please pay no attention to the rankings! All of these unique (to put it mildly) places are worth your consideration!*

4. The Smugglers Cove

If you say the word dodgy to the average Neopian, Krawk Island is sure to be one of the first places that springs to their minds. Even in the best of times Krawk Island is not a place for the weak of heart to visit. Being the home of some of the most notorious Neopians (Captain Scarblade doesn't like visitors in case you're wondering...) ever has definitely made this a not so desirable vacation spot for those in need of some peace and quiet. But for our purposes, Krawk Island is absolutely perfect. The Smugglers Cove has been rumored to be the best place in all of Neopia to get your hands on rare and exclusive antiquities... as long as you have the nerve to brave the pirates that barter in these goods. They trade in the cold metal of dubloons only, and I pity any neopet that tries to double cross the Cove pirates, for it may be the last thing you ever do in this world. However, if you are brave enough to venture into the risky rocks and waters of the cove, then when you return from your vacation you may just have a prize that will be the envy of all of Neopia.

3. Kreludan Mining Corporation and Neocola Machine

Let's face it; tours are often one of the best ways for a vacationer to learn more about the place they are visiting. Whether it is a museum or an ancient battleground Neopians love tours just as much as anyone else. On the moon of Neopia, Kreludor, there is one place that may be the most educational of them all, if you're looking to take a crash course in danger and excitement! What exactly happens in the mines owned by the mysterious Kreludan Mining Corporation? Who works there? What are they mining and for what purpose? Perhaps you can be the famous Neopian to finally uncover those truths for us! That is if you manage to get by the S750 Kreludan Defender Robot that will be there to "greet" you by turning you into a lovely pile of sludge! However; if you do manage to get by this unorthodox tour guide you are definitely going to be thirsty. You are in luck, since nearby you can also get some of the finest Neocola in all of Neopia at Kreludor's own Neocola Machine. Pay no attention to all those sludge piles at your feet. Just put a Neocola token in the machine and see what happens!

2. The Ruins of Maraqua

Bring your Battledome and underwater gear for this one, because it will take a very brave soul indeed to explore the ruins of Maraqua. Rumored to be hidden in the dark depths of the waters of Old Maraqua are a few of the most dangerous sites to be seen in Neopia. Touring the ruins of an ancient civilization is never what one would consider safe, but not too many worlds can boast that their ruins are inhabited by a monster feared throughout Neopia! Be prepared to come face to face with an oversized slug prepared to make you his next meal should you try to see what the ruins of Maraqua have in their depths. Should you tame this beast, one of the more interesting things to see in Maraqua is the mysterious and beautiful statue of one of Neopia's most notorious villains. Rumored to be a likeness of the Darkest Faerie, legend has it her punishment was imprisonment in this very statue located in the ruins. Now that will make a story worth taking back to your neighbors after you've spent some time diving in this once great city.

1. The Deserted Fairground

One of the more well known dangerous spots in Neopia resides in the surprisingly popular Haunted Woods. What is it about these Woods that lures tourists? Maybe it's the well known "celebrity" inhabitants there such as Edna, Sophie, Eliv Thade, and others. Maybe people like the intense amount of shade there since the sun rarely shines... or maybe it's because it has one of the most addictive places to visit in all of Neopia, and it makes for our number one dangerous vacation spot on this list: the Deserted Fairgrounds! Be sure to bring plenty of neopoints for this one folks, because in these parts nothing comes for free. Spend some time sampling some of the more... interesting... spooky foods (just make sure to eat it before it eats you!). Take a ride on the Carnival of Terror (pay no attention to those robots that seem to be coming after you.). Play some of the many games and win some fabulous prizes (If you can even lift the mallet, that is...). All in all, the Deserted Fairgrounds is what every carnival/fair strives to be. Just don't wander too far off the beaten path... You may have some trouble finding your way back again.

There you have it, folks. The top four best vacation spots for adventure and danger! There is still plenty of summer left so be sure to get out there and enjoy them while you still can for this season.

*Writer takes no responsibility for loss of neopet, limb, neopoints, happiness, or other item in pursuit of these vacation spots.