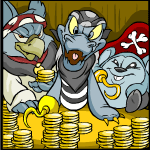 Is Gambling Worth the Risks?

by nyvarras

--------

GAMES ROOM - Are you a gambling addict? Do you love the thrill of wagering your precious Neopoints in games of chance like Bilge Dice, Double or Nothing and Dice-A-Roo? Do you know someone who does? I know I certainly do! But lately I have noticed an alarming trend in the balance of my bank account and it got me to thinking... What are your chances of really winning big at these games?

Well, I intend to tell you!

I have set myself on a mission to observe these patterns of wins and losses in some of Neopia's most popular gambling games. With my pet Ruki, Nymdarra, along to help record the results, we set out. In all of these games, our strategy was to play until we lost, not quit and take the money on any game. This way, we get statistics as to how far the game would go on its own. It is a loss of Neopoints on my part, but it will benefit us all.

First, Nymdarra and I turned our sights and luck towards Bilge Dice, which does require a little bit of skill to go along with your luck. This game, by far, had the best rating, despite only having a seventeen percent win ratio. With this game, it's all about how much you risk. If you bet high, you run the risk of losing a couple thousand Neopoints before finally starting to win them back, but it also means that you have a much higher payout on each win.

My opinion on Bilge Dice: If you have the funds to risk a few losses, go for it! The payout is worth the risks. (You can win up to two thousand Neopoints a game!) The owners of Bilge Dice will allow you to win up to five thousand Neopoints a day and they will let you play until you reach that maximum. This means that you can win thirty five thousand Neopoints a week!

Nymdarra's opinion on Bilge Dice: Definitely get your owner to try it... It means more Neopoints for them to spend on toys and concerts and that white chocolate bedroom that you have been begging for! (Hint hint.)

Next, we went to play a few rounds of Double or Nothing. I set aside two hundred and fifty Neopoints, which allowed me to play twenty-five games. Out of those games, fifteen were lost on the first flip of the coin. That's a massive sixty percent of the time that I didn't stand a chance of winning even my money back! Six of those games made it as far as the second coin, which would have won me my ten Neopoints back. And the farthest I was able to go was four flips, which would have tripled my money, had I taken it and not moved on.

My opinion on Double or Nothing: Though I am sure that there are people who do very well at this game, with only a fifty percent chance of winning the first toss and your chances decreasing from there, it doesn't quite make my list of games everyone should play regularly.

Nymdarra's opinion on Double or Nothing: There was a big difference in the number of Neopoints we could have won and the number we had lost. Not to mention that that Snargan guy looks a little shady...

Finally, I wrap this article up with one of my favorite games: Dice-A-Roo.

Now, Nymdarra, knows how much I love this game. She has had to drag me away from those dice on a great many occasions, so it was actually her idea to start with this game. Like with Double or Nothing, I used two hundred and fifty Neopoints to play fifty games, while Nymdarra recorded the results. You may be as shocked as I was to hear them.

Out of the fifty games I played, I lost forty-one of them on the first dice (Red). That means that eighty-two percent of the time I didn't even make it past the first dice! Six of my games, I was able to make it as far as the second (Blue) dice, before facing a Game Over dice. I made it to the third (Green) dice only once, winning a few food items, and I was lucky enough to make it as far as the fifth (Silver) dice once, though I did not get the jackpot. Instead, the Pant Devil stole some omelette from me.

Now, here come the really startling statistics! I mentioned that eighty-two percent of the time, I rolled a Game Over while still on the first dice, but can you believe that eighteen percent of my games were lost on the first roll? That's nine out of my fifty games. Add another seventeen games to that and you will find that fifty-two percent of my games were lost within the first three rolls of the game.

My opinion on Dice-A-Roo: Despite the terrible statistics on this game, it's low risk (only five Neopoints per game) and it's chances of a pay out in the thousands keep me coming back. Even after realizing how many Neopoints I must have lost to King Roo over the past month, I am inclined to say that it is still one of my favorites.

Nymdarra's opinion on Dice-A-Roo: This game is SO boring! Can we play something else?

(Now, I am not one to point fingers, but I think someone should check out Snargan's coin and King Roo's Dice.)

I hope that this article was able to help you make an informed decision as to whether or not you want to risk your savings by playing one of these games. I will continue to keep my eye out for games where the odds may be stacked against you and report my findings here. (Neopia deserves to be informed!) If you would like more information on my progress or a copy of Nymdarra's raw statistics on these games, please feel free to Neomail me.

As always, may you and your Neopets be happy, safe and, most of all, LUCKY!