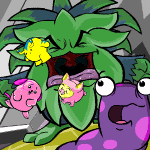 Slorg Rescue Team

by flowerpower446

--------



"Hey, Taltiana!"

"Look out!"

The yellow hasee dived wildly to her right and flew off the silver table. She had once again, narrowly missed the purple tongue that would consume her, the tongue of Florg. She waited at the side of the table for the purple slorg who had saved her life. Taltiana didn't have to wait long.

Seconds later, Taltiana's friend Del, slid off the table and landed with a plop beside her. "Guess we both live to see another day, right, Taltiana?"

The yellow hasee nodded with relief. Petpets who participated in Feed Florg only had to go through one near-death experience a day, so Del and Taltiana headed back to a small nook in the Virtupets Station, the closest thing they had for a home. As both she and Del settled in for the night, Taltiana again wondered why she didn't choose a different job. She could have painted herself purple or orange and gone to work at Hasee Bounce, but she didn't have an owner that could provide her with enough neopoints for a paint brush. Now, with her considerable salary at Feed Florg, she could have easily bought herself any paint brush she desired, but once you joined the FFF (Feed Florg Food), there was no turning back.

Clang!

Again, Taltiana was in the lowering cage, and being dropped upon the dreaded silver table. This time, Del was already in the game, playfully dodging Florg's tongue. "Hey Taltiana!" he said with a grin. "Ready to once again, narrowly escape death?"

Taltiana smiled wanly. How Del could remain so carefree in a life and death situation, Taltiana never understood. For her, Taltiana felt the same fear every time she was placed on the table, no matter how many times she had survived.

"Whoa!" Del yelped in surprise. The metallic hand had just sent him zooming across the silver table. In one quick moment, Florg's tongue flicked out for a snack and wrapped around Del. Taltiana could only watch in horror as she watched her friend become Florg food; his cheery smile turned into a gasp of fear. Taltiana's inattention to herself sent her sliding off the table.

"NOOOOOO!!!!" she screamed. She just couldn't believe Del was gone.

Plop!

Startled, Taltiana looked to her right. A pink warf had slid off the table and landed next to her. It smiled at her nervously. "You okay?" it asked. Taltiana shook her head. "My friend... my friend Del was eaten!" she sobbed. The pink warf looked at her sympathetically. "Oh, I'm really sorry about your friend. Umm, my name is Mian. I'm new here. Just wondering, what kind of petpet was your friend?"

"A slorg. A purple one," Taltiana replied.

"Oh. Did you really care about him?" Gosh, this warf asked too many questions! Couldn't she see that Taltiana was grieving for her best friend? The warf seemed to see the sadness in Taltiana's eyes. "Oops, sorry, that was very impolite question. I meant to say, how far would you go to save Del?" Taltiana looked at the warf. She suddenly didn't seem so annoying anymore.

The pair of petpets decided to continue their conversation in the nook in the Virtupets Station, a place where they were less likely to be overheard. "To tell you how we could save your friend," Mian said, "I need to tell you some things about myself. Like I said to you before, this is my first day in the FFF. Before that, I was on the Warf Rescue Training Team. To make it on the real team, a warf must pass several tests. Although I didn't pass the practical, I did excellently on the written portion. The written portion was on my knowledge of petpets. And I happen to know a lot about the anatomy of slorgs. Do you know why Florg doesn't like slorgs?"

"They taste horrible?" Taltiana guessed.

Mian laughed softly, reminding Taltiana of the happy-go-lucky Del. "Well, since I have never tasted slorgs, I wouldn't know about that." Mian smiled for a moment, and then grew serious. "The real reason Florg doesn't like slorgs is because he can't digest them correctly. Slorgs are basically made of the same substance that Florg's stomach acid is made of, and stomach acid won't corrode stomach acid. In that case, your friend Del is probably still alive, at least until he starves."

"Still alive?!" Taltiana echoed. "In that case, we can still save him!"

Mian gave her a sad smile. "Taltiana, remember, we're not made of the same substance that Florg's stomach acid is made of. We can't just go into Florg and save Del."

Taltiana frowned for a second and thought hard. "That gives me an idea! Now, just how badly did you do on that practical?"

The next morning, Taltiana woke up with a nervous feeling in her stomach. Although she was the brains behind this plan, she wasn't putting herself in much danger. Taltiana would have to rely on the teaching skills of Mian and the bravery of five purple slorgs who could possibly, just possibly, save Del.

Mian awoke as well and saw the fear in Taltiana's eyes. "Taltiana, don't worry. I trained those slorgs well! They're better rescuers than I am!" Mian exclaimed. "Everything will go smoothly! I promise."

Clang!

This time, Taltiana's fear of the silver table was not for herself; it was for the slorgs being lowered on the silver table and, of course, Del. She watched closely as the slorgs and Mian were lowered onto the table with her.

"Remember, guys!" Mian yelled out to the slorgs. "Don't fall off the table and more importantly, don't get eaten!"

The slorgs all concentrated hard, each silently giving themselves pep talks for this dangerous task. Suddenly, the thing the group had been waiting for happened. Florg's tongue shot out, but it was not one of the five slorgs he aimed for, but Mian. Mian's eyes grew wide, but thanks to her training on the Warf Rescue Team, she reacted quickly and dived off the table. Now the slorgs looked even more nervous than they did before. Taltiana was nervous too. She hoped the slorgs remembered what to do, even though their instructor was unable to see what happening and direct the slorgs on their mission. Again, Florg's tongue lashed out, this time at a slorg. The slorg reacted and bit down on the flailing tongue. Florg cried out in pain, but still, the slorg did not let go. The other slorgs quickly scurried over and in a line, bit on the tail of the slorg in front of them. Florg was now thrashing on the floor, doing everything they could to try to loosen up the slorgs' grip. Taltiana suddenly saw a defect in her wonderful plan. Five slorgs was not enough to reach Florg's stomach and rescue Del. Having more slorgs wouldn't have helped either, Florg was thrashing so hard, Taltiana doubted that Del could have latched onto the flailing slorgs. Like the day before, Taltiana screamed in horror as Florg finally won, and as one, the slorgs went sliding down Florg's throat.

Taltiana slid off the table and landed next to the pink warf. "It didn't work, Mian; we just destroyed more petpets." Taltiana burst into tears.

Mian gave her a look of sorrow. "I'm so sorry, Taltiana; I failed the practical, the slorgs, Del, and you. I'm nothing but a failure!" Then, after this dramatic statement, Mian probably would have started crying too, if not for what happened next. Florg suddenly started coughing. He pounded his fists on his back, trying to get whatever was causing him this pain to pop out. Taltiana suddenly remembered how the slorgs slid down Florg's throat as one; of course they would get stuck! Florg continued to cough and soon he had coughed up not only the five slorgs, but Del himself. All the other slorgs Florg had eaten the day before had been coughed up too, but Taltiana only had eyes for Del.

"It worked, it worked!" Taltiana cried out in happiness and relief. She started to race toward Del, but then she remembered Mian. "Hey, Mian!" she called. "There's someone here you gotta meet!"

So if you play Feed Florg one day, you might see Taltiana, Mian, and Del. They are still in the FFF, saving petpets from becoming Florg food every day. You will know it's them because they don't look frightened like all the other petpets. And if the three petpets laugh at you as they slide off the table, and land on the floor, you know it's them, and you will probably lose the game.

The End

Yay! My first entry to the Neopian Times! I'm only a beginning writer, so comments will be much appreciated!