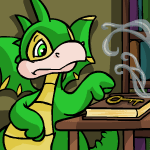 The Shadows: Part Five

by jelleyfrosting

--------

Red eyes flickered as they recognized me and I swear I could see the shadow smile evilly.

Give it to usss...

*

I closed my eyes to the redness, not wishing to be influenced in any way. I was sure that they would soon crowd around me and try to get me to give the key to them. But I wouldn't; I would never do it.

I turned, opening my eyes so that I wouldn't run into a wall as I went to go get Sophie, hoping that she could chase the shadows away. Of course my expectations wouldn't be fulfilled. As soon as I opened my eyes I was staring into the eyes of the shadow, red and cruel.

I stopped moving and continued to stare, feeling my exhausted brain slowly being invaded by the shadows.

Give it to usss.

"No," I murmured breathlessly. "No. You can't have it."

I saw myself twirling in the eyes; my Eyrie form was becoming distorted in the red pools. I tried to fight it, tried to turn away, but I was too tired and I didn't have strength at all. My body was aching as it attempted to change, my muscles in my wings felt like they were tearing apart repeatedly.

Finally it was all over. I closed my eyes and the pain drifted out of my body. I stood there for a few moments, sweating and shaking with my eyes closed to the world. I had to wait until I was sure they were gone or else they'd try and hurt me again. They were done asking; they wanted to torture the key out of me.

I opened one eye and was greeted with the emptiness, no shadows. I opened the other and found the same thing to be true. They were gone, for now. I looked down at myself and sighed. I had been changed once again, much to my distaste. No more wings, no more Eyrie beak or strong eyes that could see for a long way. Instead I had a great nose, a less cumbersome body, and long ears that seemed to whip around. Now, I was a shadow Gelert.

I walked into the main room where Sophie was poring over a very large book. She looked up as I approached, eyes already glaring at me before she could even see who I was. I was trembling with every step. I could feel blood dripping down from my muzzle and a few places around my back that had been cut during my transformation. Tears fell down my face freely, falling to the ground below. "They're here, Sophie, they're here," was all I could whisper pitifully. I took one last attempt at a step before falling to the ground below. I was unconscious before I hit the ground.

*

The shadows swirled around me, beckoning with me while laughing at my weakness. I could see my owner far away, looking around as if confused. I called to her, reaching forward in an attempt to remind her. "It's Cabe!" I cried, realizing that I was in the shape of a shadow Gelert.

The shadows held me back, pulling me away from her. "Give it to us," they hissed, pulling at me, clawing at me.

I cried out in frustration and pain, reaching out my paw and stretching it as far as it would go. I called her name, her username, everything I did. It fell away; she walked off and left me at the mercy of the shadows.

I was being drowned in cold blackness. It was all around me, suffocating me and taking the life out of my body. I tried to breathe, but the shadows prevented that as well. I couldn't breathe or even think; everything was filled with blackness. Everything was shadows.

I woke up suddenly, shaking off my dreams of shadows. It took me a second to realize where I was, but then I remembered. I wasn't in my Neohome; this hadn't been just a dream. I was lying on the ground in a messy shack. Sophie's shack, to be precise.

I sat up and looked around, but the room didn't have Sophie in it. Light was pouring in through the holes in the roof, spilling its warmth onto the floor below.

I stood up and rubbed my head with one paw. It felt like I had gotten hit in the head, hard. I grumbled and stretched, feeling a lot better after having a nice rest. It wasn't nice, but it sure was a rest.

Sophie walked through the front door carrying an armful of items. She looked up at me and scowled, "So you decided to wake up, did you?"

I nodded, smiling slightly and rubbing my head. "Yeah, I guess so. How long have I been out?"

"About ten hours," Sophie muttered, dropping the items on one of the many tables. "And you have some questions to answer for me."

I nodded, completely understanding why she may have questions. After all, I told her that 'they' were there before passing out. That's pretty odd. I unclenched one paw just to make sure and yes, the key was still there. I looked a little closer and noticed a simple piece of string running through a hole in the key and around again. Deciding that I didn't want to risk losing it, I slipped the string around my neck and let the cold metal rest on my chest. "Shoot," I said, sitting down on a rickety chair.

"Who are you and why were you in my house in the first place?" Sophie asked, looking annoyed as I sat down.

That was to be expected. After all, I was now a shadow Gelert instead of a green Eyrie. I smiled and nodded. "I'm the one with the key. Remember that I came to visit you yesterday? You told me about the shadows I've been seeing and then sent me to bed. They changed me as soon as I stepped into the room."

Instead of looking enlightened, Sophie looked even more confused and annoyed. She shook her head, "You can't be."

"Why not?" I scoffed. "The shadows change things, you told me that."

"I couldn't have," Sophie growled, getting angrier and angrier as I continued with my explanation.

I was exasperated. Sophie was being stubborn; how could she not remember me. As soon as I thought of that I stopped, my mouth gaping and my eyes wide. I looked over at Sophie and asked hesitantly, "Did anyone visit you yesterday?"

Sophie scowled and placed her hands on her hips. "That's what I've been trying to say. No. Only you when you charged in so rudely. I've been trying to make this potion forever and you almost ruined it, thank you."

I nodded sadly and lowered my head. "Yeah. Sorry," I murmured. "Do you even remember anything about the Earth Faeries and Dark Faeries and the monster the Dark Faeries let loose?"

Sophie laughed mockingly, "What are you talking about? You know you sound crazy, right?" She laughed as she turned her back to cook a potion. "Now if you'd kindly leave."

I sighed and stood up, heading towards the door. Something caught my eyes as I left, however. It was a scroll, half opened. The scroll had some items written on it, the items that would help make the potion to defeat the shadows. I bent over and picked it up. "Can I borrow this?" I asked, shaking it in Sophie's direction.

Sophie turned and looked at the scroll, scrunching her nose up in disgust. She shrugged. "Sure. I don't even remember what that was for anymore."

"Could you also make a potion for me in a few hours from now?" I asked Sophie, hanging in the doorway to her shack. "I can't pay you, but..."

Sophie looked me up and down as if studying me. Her face was hesitant and almost soft for a moment. "You do look a little familiar actually..." she muttered to herself. She shrugged her shoulders and turned around again. "I guess so. Whatever. As long as you don't bug me again."

I smiled and walked out of the door and into the swamp. It would be a long walk to where I wanted to go, with a list this long I would need help as well. If Sophie hadn't remembered me maybe, just maybe. I shook my head, not daring to dream. Still...

I headed towards Neopia Central.

*

The starry Chomby was sitting in the park, watching the people walk past in the Sunday crowd. The weekends were always the most crowded for these markets. There were always a lot of people pouring in and out of shop fronts.

Someone tapped on the Chomby's shoulder and she turned around, startled. The pet that had tapped her looked timid and almost apologetic. It was a thin shadow Gelert with cuts all along its lean body and a key on a string around its neck.

"Can I help you?" Ari asked politely, smiling reassuringly at the Gelert.

I sighed and sat down to Ari, all of my insides crawling with nervousness. I didn't want to mess this up; I needed her. "I hope so," I said, smiling softly at her. "Can I ask a favor of you?"

Ari looked confused but continued to smile. "Depends what it is."

I nodded. "Fair enough. All I ask right now is that you hear me out, alright?" She hesitated before nodding to my agreements and looking at me intently. Don't mess this up, Cabe, I thought to myself. "I have lost my owner and one of my good friends. The only way I can find them again is by a potion. Sophie can make it, but she needs these ingredients." I held out the scroll to show Ari. "I can't get the items in time without help. Will you help me get them?"

Ari seemed to ponder over this for a moment and I couldn't help but hope that her sweet disposition and pity would take over at this point in time. She smiled. "Sure. I have nothing else to do. What kind of items do you need?"

I handed Ari the list and quietly whispered, "Thank you, so much."

As we got up to start our quest for the five or so items she seemed to hesitate again. "Can I ask you something?" she asked, looking around uncomfortably.

"Sure," I said, shrugging my shoulders.

"Why did you ask me?" The question was simple and asked timidly, her eyes looking at the ground as she asked it.

I smiled wistfully. "You just remind me of a friend I lost." To be continued...