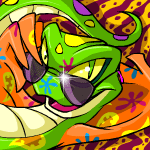 Top-Ten Must Have Fashions for the Spring

by super_star_08034

--------



Hey, all you fashion divas out there! This is super_star_08034 with the latest spring fashion report. Your neopets can dress in style, if you just take a minute to read about upcoming trends. This year, everything from floral-prints to gothic T-shirts are gonna be fashionable. So, my fellow fashionistas, take a moment and read my top-ten must-have items this spring. (We've picked items that are fashionable and affordable, so those of you feeling thrifty won't be left out).

10. This year, "My Sister's Frilly Skirt" is gonna be a big fashion DO. I hoped you saved it from the Advent Calendar. *wink, wink* Otherwise, it's pretty reasonably priced on the shop wizard, and you can take it from there. "My Sister's Frilly Skirt" is big for your neopets, 'cause not only can they wear it as a skirt, but also over leggings, tights, or pants. This is a great look for the neopet striving to add a feminine touch to their ensemble.

9. For those sunny spring days when the sun is blazing down, this "Pink and Green Sun Hat" is the perfect thing to wear. Not only will it keep the sun out of your eyes, but also it'll get compliments from everyone! This adorable, multi-colored hat is a must-have for any neopet looking for a cute way to protect themselves from ultraviolet rays. So, feel free to go outside during a heat-wave; with your "Pink and Green Sun Hat," you can! :-)

8. Don't worry. Not everything in this spring collection is pink and frilly. Even though the Gormball Championships aren't until September, now would be a good time to get yourself a "Gormball Jersey." This affordable look is for those neopets who want to look sporty. It's a light, comfortable look and perfect for springtime sports and activities.

7. What's trendy, affordable, and a good piece to wear with everything? A "Peophin Tank Top" of course! This cute piece is going to be a huge hit with the fashion divas of the neopets world. This is also a good thing to keep for the summer too. Tank tops are big, and this cute addition will make your wardrobe shine!

6. With the Usuki Convention (Usukicon) coming up in August, now would be a great time to stock up on Usuki gear, like a "Usukicon Souvenier Bow." Although this accessory might be hard to get a hold of (you can only get it in a Usukicon Y7 Gift Bag), it's trendy and glamorous, and you can wear it with whatever! This cute little bow will have your neopet walking the streets feeling fabulous.

5. Have you ever wanted to take a trip to Brightvale or Meridell, without leaving Neopia Central? Well, with the "Medieval Shirt" you can at least FEEL like you're in Brightvale or Meridell. This bohemian-chic look is great for the neopet that loves adventure, the neopet that's a daydreamer. And, it works for both male and female pets. So, if your neopet enjoys dreaming of sword fights or playing pirates, this is a great piece for them!

4. Since floral prints are SO hot right now, a "Disco Aisha Cap" is perfect for the pet that wants to make a strong fashion statement. Bring back the 70s with this quirky hat. It goes great with a tie-dye T-shirt and platform heels! ;-) Take this hat out on the town, and you'll feel "groovy." Your hat will be the cause of compliments all over the place!

3. Attend a concert or buy from a friend to obtain the much sought after "Twisted Roses Shirt." This shirt has a bit of a Gothic flair, which will suit the rockers of Neopia. With fishnet trim, this edgy look is great for those of you who want to tell the world, "Who cares?" With the band's logo across the front, everyone will know you're a fan of the rock group. Rock out this spring!

2. Let everyone know your love for the Neopian Times by purchasing an "I love the Neopian Times T-shirt." For all the creative writers and reporters out there, this is the perfect look for spring. A simple white T-shirt with the simple phrase, "I Love the NT," shows that the wearer is simple and classy, with a deep understanding of literature. Feel smart this spring and show off your writing skills!

1. And finally, the number-one must-have item for this upcoming spring is…*drum roll* "PLAIN BLACK SUNGLASSES!" At first glance, they may seem normal and unexciting, but this simple pair of glasses is the ULTIMATE accessory this spring. Wear them with everything, and look as glamorous as a famous movie star! Walk the red carpet every day (at least in your imagination) with these stylin' specs!
There you have it. Ten must-have items for this season. Keep in mind, items can be mixed and matched, and what do you know? Maybe you'll start a new trend on neopets! You can find a lot of items that are cute and affordable if you just keep your eyes open! Plus (hint, hint) this summer, Hawaiian-print will be SUPER hot, so hold on to those souvenir T-shirts! And, remember, fashionistas, if you spot any hot trends in the Neopets market, be sure to neomail me right away! These ten items are favorites of mine and other fashionistas, but don't be afraid to get out there and start your own trend. And it doesn't take a lot of neopoints to be a style expert either! So have fun and go shopping with your pets. They'll love these items! They are all fairly priced and ultimately trendy. The only thing left to do? SHOPPING SPREE! So, get out there, have fun, and stay stylin'! Remember, this spring, think floral and "old-school" and vintage. Before you know it, YOU could be the envy of everyone in your neighborhood (your neopet too). Be sure to have fun. Fashion is about fun, NOT competition!
That's all for now! Look out for my upcoming "Top Ten Swimwear" article! xoxo, super_star_08034