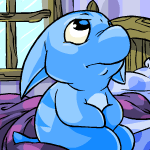 Family, Fire Faeries, and Faded Gold Pyjamas

by pkmncat

--------

Pamela Poogle came from an old-fashioned family. You know the sort: no marriages between different Neopet species; names beginning with the same letter as the pet species; Faeries don't exist and shouldn't be mentioned.

Yes, that's what I said. Faeries don't exist.

Actually, that's not true, strictly speaking. Pamela's mother Priscilla's sister Philippa believed in them. But Priscilla herself didn't, and nor did Pamela's father Peter, while her father Peter's brother Patrick thought they were interesting myths but still didn't exist. In fact, Pamela would not have known Faeries existed at all, even in little children's stories, if it had not been for her mother Priscilla's dead sister Pandora's son Paul, who lived with Priscilla unless she went away, when he stayed with Philippa.

Perhaps all these names are confusing you? Well, that's how it goes when everyone in the family is named for the same letter of the alphabet.

"Your family's weird, Pam." That was what Paul said almost every time he came to stay with her and her parents. He would then go on to give the reasons: "Your dad's a Poogle Racer, but he'll only do cross-country races." Or, "Your mum makes you call her Mother instead of Mum." Or, "Your mum's a dentist, but she's painted Jelly."

The only one Pam had been able to answer was the last one. "Philippa's a dentist too," she had retorted. "She's Strawberry, but I don't see you complaining about her."

This was true. Priscilla was Jelly and Philippa was Strawberry. Peter and Patrick were identical twin yellow Poogles. Paul and Pam were both blue, and both longed for the day when they could be painted.

But most of the time, when Paul said, "Your family's weird, Pam," there was no conceivable reply, because when Pam thought about it she realised that it was perfectly true. Pam became used to Paul's uncovering of odd truths about her family, and came to the point when she simply ignored those statements.

"Your family's weird, Pam," he began one evening early in the month of Gathering.

Pam didn't even look up. "Yes, why?" she asked in a bored tone of voice.

"I've been thinking about it for a long time, and I think I've finally realised what makes your family so different from Aunty Philippa..."

"Hurry up, won't you?" asked Pam. "I'm waiting."

"You see, they never mention Faeries."

"Mention what?" Pam asked, having never even heard the word before.

Priscilla called up the stairs, "Are you getting ready for bed, children?"

Paul sighed and started rooting in his bag for the gold pyjamas he always wore. He had had them for a long time; they were so faded they looked pale yellow and far too short in the ankles and sleeves, but he didn't mind. He also pulled out a book that he must have brought from Philippa's house. The cover was a pale purple and the title read: `Faerie Folk`. "Read this," he said.

So Pamela found out about Faeries. However, she treated them as just stories and nothing else. Paul didn't press her, remembering that Priscilla would not like it if Pam began to believe in them. He simply left it at that.

So Pam and Paul's life went on, until it came to the day when Paul was offered a paintbrush of his choice. He stepped forwards and whispered his choice of colour in Priscilla's ear. Whatever it was, it enraged Priscilla. She shouted at him – no, screamed at him – and when she told Peter what Paul had said he joined in. Paul kept his dignity. He collected his few possessions (he usually borrowed Pam's things) and left. Later that day Pam discovered Paul's old pyjamas lying on his bed. She had no way of knowing where he was (Priscilla had discovered that he had not gone to Philippa's house) so she simply threw them into one of the drawers in her bedroom, told no one about them, and forgot about them.

Time passed, life went on, and Pamela forgot she had even had a cousin who had lived with them, or that she had ever known anything about Faeries. But one evening, years after Paul had left the family, Pam reached into a drawer and pulled out a pair of yellow pyjamas she didn't remember seeing before. They were much too small, but they were the only pair she could find, so she pulled them on.

Just before she fell asleep, a name drifted into her head, though she did not know why.

Paul...

* * * * *

Thunder rumbled and lightning flashed, but no rain fell. Pam made her way through the storm. She walked on clouds: red clouds, and orange and yellow, suspended in the sky. She wore pyjamas: faded pyjamas that might once have been yellow or gold. All around her were other people fleeing the storm. The frequent bright flashes of lightning made them seem little more than blurred shapes of humans and pets.

Humans and pets with wings.

Humans with wings... She had known something about humans with wings, a long time ago. They were called fairies... no, Faeries. Somehow they were connected to that someone called Paul that she had somehow lost. The pyjamas were connected too. They had led her here, to these hovering clouds where everything had wings.

Everything had wings... Did she have wings? She looked at her body. It was purple. Why was it purple? It had been blue when she had set out. Pam felt very muddled. She twisted round to see if she had wings on her back. She did: pale pink ones with little swirly bits on the end and white cloud shapes in the middle. She flapped them once... twice... she rose up into the air. Or was she already in the air? She had been walking on clouds hanging in mid-air. Pam was confused.

One of the Faeries flew up to her: a tall Faerie, with auburn hair and orange wings. "I don't recognize you," she said, smiling. "You must be new here. Welcome to the Fire Faerie Dreamland."

This Faerie was a Fire Faerie, Pam realised. "Dreamland?" she asked. "Am I dreaming?"

The Faerie laughed. "Of course you're dreaming," she said. "Surely the person who gave you the dream-item told you that? The pyjamas," she added, seeing the question on Pam's lips.

"They're not mine," Pam admitted. "They belonged to my cousin Paul." Before she said this, she had had no idea what relation Paul was to her, or where the pyjamas fit in, but she had said it without thinking.

The Fire Faerie must have noticed her surprise, for she explained, "Here you will remember many things you have forgotten. This place was created by magic, so Neopets could learn about Fire Magic in their dreams, and so there is a great deal of magic floating around. This can trigger forgotten memories."

"Oh," Pam said, not having paid much attention to the Faerie's words.

"Come with me, Pamela Poogle, and you will learn. Come with me."

So she did. You don't refuse a Faerie: even Pam knew that, and she had forgotten almost all she knew about Faeries.

The rest of the dream was confused, blurred. She heard weird chanting, and the clouds spiralled around her in a vortex of red, orange and yellow, and the Fire Faerie was there too, at the centre with her, doing the chanting. Lightning struck the vortex on all sides, coming more and more often. The Fire Faerie's chanting increased in speed, as did the swirling of the vortex, until it seemed to be made entirely of flame, and than Pam realised that she was chanting too, though she did not understand the words she was saying. Lightning flickered all around her, and fire swirled around her, and Fire Faeries danced all around her, and the chant was louder and faster than she had ever imagined possible, and then a fireball came down from the sky, not into the fiery vortex like all the lightning bolts, but straight down the centre. The Fire Faeries all shouted one single word, and Pam found herself shouting it too, though she had not expected the shout or known the word, and the fireball came down, into the centre of the vortex, and she was right underneath it, and it came down towards her, down, down, down...

* * * * *

Pam sat bolt upright in bed, gasping with panic. The fireball had come down onto her, and soaked into her, and filled her with fire, and she had survived. She felt energised, strengthened, as if the fireball's power had gone into her. She knew about Faeries, and about what Paul had done, and about her mother's stupidity in denying that Faeries existed.

A phrase came into her head: one of the chants from her dream. She whispered it: "Jvari qaned, jvari qanedi", then waited to see what happened.

Fire streamed from her hands, scorching her room. It lasted a full minute before she mentally called it off, bringing the fire back into herself. Pam put her hands on her hips and smiled.

She knew what she had to do. She sat down at her desk and wrote a note.

Gone to find Paul. That seemed like a good place to start. Then what? ...The essential things to say, she supposed. Please don't look for me or report me missing. I have everything I need with me. Don't worry. She sat and looked at this for a long time, then decided to add something to wind her parents up. I've gone for the same reason he did. Her mother would pick up on the Faeries reference. If you ever think of us, think of fire. This would mystify her parents, and make them wonder what she had done, especially when they found the scorch marks. Now she knew what to look for, she spotted another charred patch of wall behind the bookcase, smaller than the one she had left, presumably from Paul. She grinned and ended her letter.

Faeries bless you,

Pam

Then she was gone, out of the window on a rope made of her sheets. Once she was down, she muttered "Jvari qaned" again to incinerate them.

Burning the evidence.

Her pillow was still on her bed. The note was still on the pillow. Her mother would come into the room in a few minutes. She would find the wall by the bed scorched, the bookcase pulled back to reveal more burnt wall, the sheets missing from the bed, the window open, scraps of burnt cloth and ash below it, a note on the pillow, and her daughter missing.

Pam wondered which Priscilla would mourn more: the loss of her daughter or the destruction of the room. She wondered if Peter would think they were threatening him: 'Some day we'll come back and get you, scorch you like this wall.' She wondered if she would miss her parents.

And she knew, deep down, that the real answer was... no.

* * * * *

Thunder rumbled and lightning flashed, but no rain fell. Pam made her way through the storm. She walked on clouds: red clouds, and orange and yellow, suspended in the sky. She wore pyjamas: Paul's faded gold pyjamas, the ones he seemed to have left to her. All around her were other people fleeing the storm. The frequent bright flashes of lightning made them seem little more than blurred shapes of Faeries and pets.

A Fire Faerie walked up to her, not the one she had met last night but another one. "Hello," she said cheerily. "I saw you last night. Are you going to become a regular?"

Before Pam could answer, the Fire Faerie spotted her pyjamas. "Oh!" she exclaimed. "You're Paul's cousin! I can just tell you're going to be good at this."

This was a place where Pam could feel at home, a place where she was good at something, somewhere where she was accepted.

"So are you going to become a regular?" asked the Fire Faerie. "Are you in?"

"I'm in."

The End

Pam and the Dreamlands will return in the sequel, 'Wockies, Water Faeries and Window Stickers', and in several other stories after that. Comments and criticism much appreciated!