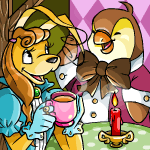 Afternoon Tea: Part One

by reggieman721

--------

When Afton woke up on the third day of Hunting, Y3, life was good. She had just been promoted to Assistant Finance Manager at the National Neopian Bank, and she had invited her best friends to tea that very morning to tell them about it. The yellow Gelert lived in a small house on Bracknell Road in Neopia Central. Afton's home was just a short walk away from the Morning Sun Coffee Shop, where she was planning to meet her friends Sadie and Gloria for tea.

Afton stepped outside just as the sun rose. It was a beautiful Sunday morning, and the warm breeze blew against Afton's face as she made her way down Bracknell Road. She glanced at the house next to hers: a small cottage, the home of a brown Bruce named Darren. Afton and Darren were the best of friends, but she hadn't invited him to her morning event. The Gelert and Bruce shared their own special tea every afternoon; she would tell Darren the news then.

Afton passed several Neopets on the way to the coffee shop; it was a fine day. She at last arrived at Morning Sun and saw Sadie and Gloria, an Acara and a Xweetok, awaiting her. She sat down at their table.

"So..." chided Gloria after a pause. "What's the big news?"

"You'll never believe it," said Afton.

"Well, we'll certainly never guess it," replied Sadie, "so you'd better tell us."

Afton grinned. "I've been promoted! I'm the new Assistant Finance Manager at the National Neopian!"

Gloria gasped. "Congratulations!"

"It's about time you get a better job," winked Sadie. "You've been a bank teller ever since you could count."

"So what exactly will you be doing?" asked Gloria. The blue Xweetok was an artist; she had absolutely no knowledge of banking.

"Well, I start tomorrow," said Afton. "I'll be in charge of most of the bank's funding. You know, stocks and such."

"Well, that's wonderful," said Sadie with a smile. The yellow Acara leaned across the table to pat her friend's hand. "But will you still have time for two poor Neopets such as ourselves?"

Afton blinked and gave her friend a confused look. "Of course," she began, when Sadie interrupted with a laugh.

"I was just kidding!" She giggled. "I know you'll never forget your two best friends!"

Gloria grinned. "You couldn't avoid us if you tried."

***

Afton knocked on the old wooden door. The morning sun had passed its zenith and now was making its journey back down towards the horizon. The door swung open to reveal a brown Bruce with a big smile. "Afton!" cried Darren. "Do come in!"

The Gelert stepped inside and followed her friend into the parlor. "I have some good news," she began.

"Not yet! Not yet!" hushed Darren, hurriedly dashing into the kitchen. "Tea first! Always tea first!" He reappeared with a tray piled with tea and pastries, which he set down on the table. Afton's eyes widened with anticipation of the tea and cakes that he carefully laid out for the two to share. Darren poured the steaming tea and sat down. "All right," he said. "Spill." He lifted his teacup to his lips and added, "But not literally!"

Afton laughed. "I got a promotion at work," she said, blowing on her tea. "I'm now the Assistant Finance Manager."

"Assistant Finance Manager!" gasped Darren. "That's fantastic!" He took a bite of muffin. "So what does that mean?"

"Well, I'll be in charge of the company's funds. It's a very important job," said Afton. "It pays very well."

"Yes, of course, of course," said Darren. "Well, congratulations!"

"With a new job, obviously, comes new commitments," continued Afton slowly.

"Yes, a very important job," replied Darren, pouring himself some more tea.

"Which means," said Afton, watching her friend pop a small biscuit into his mouth, "that I'll be working longer hours."

"Much longer, I imagine," said Darren, putting down his cup. "In fact, I'm sure you'll be working so hard that you won't be able to find time for a humble Bruce such as myself."

Why does everyone assume that? wondered Afton, but she said, "Of course not! However, we will have to move our afternoon tea to evening tea, if that's all right with you."

"All right?" asked Darren. "Why, of course it's all right! Nothing could be better. Evening tea it will be, and it will be a spectacular evening tea." He grinned. "Don't you worry about a thing, Afton. I'll always be here for you. Always."

***

Afton rose early the next day. She was a bit nervous about starting her new job, but she was excited as well. Assistant Finance Manager! It was a title to be proud of. With her chin up and her head high, Afton walked to the National Neopian Bank, confident and prepared.

The Gelert knew the bank well. She had worked there, as Sadie had said, almost ever since she could count. Afton loved numbers. She was as comfortable in the language of numerals as she was in the language of words, and she felt that this new opportunity would fit her like a glove.

As Afton walked through the big front doors, she passed by her old workplace. Bank station number five. She smiled at it as she walked by, knowing that she was moving on to bigger and better things. Namely, her own office. Afton looked down at the memo she had received. Room Number Thirty-Four was hers now. A few steps up from station number five.

Before she could check out her new office, however, Afton had to stop in at her boss's room. The large blue Skeith was the cousin of the bank's famous president, and Afton had to report for briefing. She followed the directions in the memo to Room Fifty-Five, where a sign read, "Hubert Hodge, Finance Manager." Afton knocked.

"Go away, unless you're my secretary or the new assistant!" boomed a voice from inside. Afton timidly opened the door. Hubert Hodge's office was quite large, but it did not appear so, because of all of the clutter that it was filled with. Filing cabinets were stuffed to the gills; stray folders littered the room. Old charts and papers were piled on the desk, and stock graphs were tacked to the walls. A large winter coat lay on the floor, seemingly untouched for many months, as it was nearly summer. All of these details were lost on Afton, however, because her attention was drawn to the large blue Skeith sitting at the desk.

There were really only two words to describe Hubert Hodge's physical appearance, and those were, in fact, "large" and "blue." There were plenty of words to describe his personality, however, and several of these crept into Afton's mind as he introduced himself.

"My name is Hubert Hodge, and I am the Finance Manager at the National Neopian Bank," he announced. "But to you, I will simply be 'Boss.' You are the new assistant, I assume."

"Yes sir," replied Afton. "My name is—"

"I don't care about your name," said Hubert with a wave of his chubby arm. "Quite frankly, I don't care much about you at all. Our interaction will chiefly be on paper; today is an exception." Afton blinked, but said nothing for fear of incurring another reprimand. "I will show you one time everything that you are supposed to do. The rest is up to you." The large blue Skeith picked up a stack of papers from the floor and put them on the desk. "Every morning, when you come in at eight-thirty sharp, you will find a stack of the latest finance reports on your desk. It is your job to go through our stocks, salaries, and expense reports and cut costs wherever possible. For example," he took a paper out of the folder, "you can see that this bank teller is costing us more than we're making. Obviously, we have one too many tellers." Afton could see that the paper had a picture of a smiling blue Chia on it, as well as many words and numbers. Hubert took a stamp from one of the many drawers of his desk, rubbed it on an inkpad, and stamped the paper. Afton could see the word "terminated" in red ink over the Chia's face.

"Did you just fire him?" asked Afton, her eyes widening as she realized what had just happened.

"No," said Hubert, tossing the paper into a basket that said "Outgoing." He put the stamp away. "I just saved the bank ten thousand Neopoints."

"So that's my job?" asked Afton nervously. "To fire pets?"

"No. Of course not," said Hubert. "That's not all you'll be doing. You also have to manage our stocks. You make the calls for when to buy and sell, which companies to invest in, and which companies to cut funding for. It's quite important." He showed Afton another paper. "See, the Neopian Art Department isn't making us much profit anymore. If this graph keeps going down, we'll have to cut their funding." He handed Afton a graph that was steadily declining.

"But what about all the workers in the Art Department?" she asked.

"Is that all you can ever think about?" asked Hubert, snatching the graph back and putting it in the folder. "They're just artists; who cares?" Afton blinked and tried to take in all of the information she had just received, but Hubert had already moved on. "You also control the salaries of most of our employees. Not mine, of course, but all of our lower staff. The goal here," he said, "is to pay them as little as possible without upsetting them. It's very delicate, and I hope I can trust you to be wise with the bank's money." He stared at her intently.

Afton wilted under his gaze. "So what will I be paid?" she asked weakly.

"I wouldn't worry about that," said Hubert, placing the folder on its stack on the floor. "If you do well for us, your salary will go up. If we lose money, it goes down. That's the way things work around here, so you'd better get used to it. Neopoints are the currency in this world, so it's make or break. Got it?"

"Got it," said Afton quietly, although she wasn't quite sure. Did she really get it? Would she be able to fire hard-working Neopets just to save money? Would she be able to handle the pressure of the bank's finances resting on her decisions? Did she have the drive to do what was best for the company, and for her?

"That's it, then," said Hubert, but Afton couldn't help wondering if it could really be that simple.

To be continued...