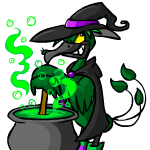 Adjusting for the Average Holiday Pet

by firehazzard

--------

Everyone loves holiday pets. And why shouldn't they? They're festive! They're fun and adorable! Most of them even come with cute outfits. They're almost contagious too. How can you ever look at a Christmas Chia and not start singing carols even if it's in the Month of Hunting?

And that, my readers, is where we have have a problem.

Christmas and Halloween pets are facing a dilemma. Neopia is in its eight year and its sixth month. We are in a time that is a practical drought of Holidays... Okay, so there was Mother's Day but can you even picture a Mother's Day paintbrush? Can you? I thought not.

Exactly what are Christmas and Halloween pets supposed to do in these hot spring days melting into summer ones when their holiday is months and months away? How do they adapt? Their holidays is only one day out of 365 of the year. What can they do about those other 364 days?

Here are a few things that may help your holiday pet, but before I present them, please note: this is not an article meant for changing your pet. It's merely to help it adjust to the changing weather and season.

Walking into the Merry Outfits Shop anyone can quickly notice a theme. Green and red and the occasional brown is what most of the pets are decked in. Very festive in the Month of Celebrating, but now? Unless you want to buy a new paintbrush, paint your pet and then paint him Christmas again next year you might want to alter his look a little. Say he's a Uni. Take off his wreath and hang it in the closet. Do the same with a Christmas Shoyru's heavy winter coat. Assure your pet that he will get these things back when the correct season comes. This will most likely leave your pet the color brown,white, green or red or any combinations of these colors. Still delightful looking. If your pet is spoiled enough to complain about his adorning being hung in the closet then simply remind him that all Christmas pets have a friendly allure to them with or without a scarf.

Halloween pets are a bit different. If you live in the Haunted Woods (or Terror Mountain) then you do not need to alter your pet's appearance. But if you live in Neopia Central, seeing a Sloth look-alike Moehog might be, er, unsettling. I have no problems with Halloween pets (I have one myself) but here are a few tips to help your pets look less "Head for the hills, it's a zombie"-ish around this time of year. Your neighbors might even thank you.

It must be tiresome to lug around a black cloak all day, but I wouldn't know. A Halloween Peophin might, though. It's much more difficult to simply tell your Halloween Gelert time to put away the cape when it's the only things stopping him from melting when he comes into the sun. Instead you might want to wrestle your Halloween Lupe down and comb his fur, patch up his clothes and brush his fangs. Maybe give your zombie pet some new clean wrappings. You should also consider extinguishing your Halloween Uni's hooves. Jack-o'-lantern pets don't need to be bothered. Set them out in the garden near the asparagus; they will blend in perfectly. You may want to supply them with a couple of good books because when one sits with the veggies one tends to get bored. But no offense to vegetables. If your pet is inclined to be the vampirish type, try giving him or her a two way ticket to Mystery or Krawk Island for tanning. Make sure to send them with suntan lotion. If they do not apply the lotion, your pale white pet may become red, scaly and irritable. Believe me, it will not look pretty.

And now for an brief interview with my Halloween Lenny, Cadlazer.

Hazzard (me) : How do you do, Cadlazer?

Cadlazer *nods*: I'm-

Hazzard: Next question. Cadlazer, would you consider altering your appearance to adjust to the warm season?

Cadlazer: Um... Sure, I guess I could leave my hat home. It's always falling off. Very distracting. It's hot and itchy too... I get hat head all the time.

Hazzard: Do you find your cape-

Cadlazer: It's more of a cloak.

Hazzard: Do you find your cloak, hat and such more attractive around your holiday?

Cadlazer: Not really. I like them just the same. It's just that since we do live on Mystery Island and it's always hot there sometimes it's necessary to leave the cloak behind. I like my... look but many people find it... different when it's not the Month of Collecting... I get a lot of mobs chasing me, you know.

Hazzard: Exactly my point. Kind of. I guess. I mean I wouldn't wear a winter coat now. Would I?

Cadlazer: Well, we are talking about you here and you are prone to-

Hazzard *cough*: Next question. What kind of reputation do you get as a Halloween pet?

Cadlazer: Oh, you must know. I'm usually avoided. *laughing wickedly* Can you imagine me, friendly old Cadlazer being avoided? I mean seriously, am I really that scary! Hah! Okay, yeah, I appear... menacing. But what Halloween pet doesn't? But I'm not scary. Scary. Me? No.

Hazzard: Uh... No comment. Thanks so very much, Cad, for letting me borrow a little of your time to discuss this. I have just one more question... Do all witches have warts?

Cadlazer: NO! AND I DO NOT HAVE A WART!

Hazzard: Alrighty then. Thanks for coming, Cadlazer... Moving on then.

If your pet's seasonal outfit is causing your pet discomfort then you should act immediately. I am not telling you to completely redo his or her look. No, not at all. But as I mentioned before what would you think if I started wearing a winter coat right now? Hm? Your holiday pet can never lose its appeal but maybe it can lose a few extra layers. It's okay to help your pet adjust. I wish my pets would tell me to stop wearing the winter coat...

Author's Note: First but not last! Comments and Questions are craved!