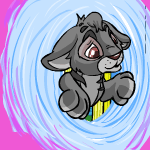 Getting Rid of the Grey: Part One

by lili483

--------

As Mellie sat on her favorite blue bean bag chair, she sighed. Again. The word again following a sad word or phrase had been coming up a lot in the life of Mellie, a now-grey Kougra. Wistfully, she again remembered what it was like to be a beautiful faerie, without a care in the world. Now, all Mellie wanted was to once again fly through the skies for an hour. Why can't my life be better? Mellie thought drearily. Again.

Even curling up in the warm sun couldn't seem to cheer her up, now. As Mellie contemplated her now-wretched life, she wondered once again why Sandi would do something as horrid as this. In general, Sandi was the kindest owner a pet could wish for. Before the grey paint brush came, Mellie's life was full of laughter and smiles, beautiful furniture and fine clothes, extraordinary vacations and fine dining. Sure, she still had all of the material possessions a girl could ever dream of, but as for the smiles, they had disappeared with the striped purple wings. Despite the fact that her life was still her life, she was no longer able to enjoy it. She'd lost her "happy," all because of the grey paint brush.

Mellie wished she was a model. Currently, there was a very hot new trend for grey pets. With their big, soulful eyes, and pitiful looks, the Neopian fashion industry had found their next big sell in those tortured souls. After all, that was why Sandi had bought the paint brush. Just one more fine thing for her only darling little Mellie. Unlike Mellie, however, the models got to be painted every day, and didn't have to endure months without joy like Mellie did.

While the warm rays of the sun warmed Mellie's fur, she wondered why grey pets were like this. There was a rumor that every pet color was linked to a faerie in some way. Of course, there weren't enough faeries to go around, but the major types of faeries deserved more than one color.

Special colors, like faerie, and snow, were linked to special faeries. Fyora watched over the faerie pets, and Taelia watched over all of the snow pets.

Mellie also knew of a different type of special faerie, one who was always depressed. Sort of like the way Mellie was now. However, this faerie had a different type of depression. This faerie was sad because her wings had been taken away (Just like me! thought Mellie, the first time she had been excited about anything in days). She traveled Neopia, trying desperately to find a way to replace her wings.

As Mellie began to doze, she pondered this strange faerie. Could it possibly be that this faerie was linked to Mellie's new color? And if so, could helping this faerie change all grey pets, so that they had the ability to be happy? After her nap, Mellie resolved to go ask the Lenny at the Altadorian Archives, which happened to be a few blocks from her mansion-like Neohome.

* * *

When the last rays of sunlight had begun to fade from the sky, Mellie stretched and yawned. She got up, rubbed her eyes, and set out for the Archives.

Because of the recent goings-on, Mellie had become fairly friendly with the members of the Astronomy Club, and the Lenny who was the Head Archivist (well, she was also chummy with the Janitor who worked in the Hall of Heroes, but he didn't seem very well educated). Considering her question was really a matter of history, she decided to go talk to Finneus.

As she entered the archives, Finneus smiled. He always enjoyed seeing Mellie, unlike some of the other less sophisticated pets he had to help out, due to the magic that was wreaking havoc with Altador.

"Ah, hello my dear!" greeted Finneus. "What brings you here on this fine evening?"

"Well, Finny, I have a faerie-related question to ask you," replied Mellie.

"Go on, then. Not to play my own pan pipes, but I do love the faeries. All that magic!"

"Okay, here's my question: I've heard rumors that each color is linked to a faerie type. Is this true? And if so, does that mean that my current color," she grimaced, "is linked to, say, a grey faerie?"

"Hmm... That's certainly a tough one. Let me see... Let me see..."

As Finneus muttered, he looked around on one of his shelves for a book that would have the answer to Mellie's question. The subject she was investigating was very old, and had practically been forgotten. The answer lay in the beginning of Neopia, and that was Finneus's specialty.

"Here we go!" the Lenny shouted suddenly. "This book will have the answer."

He flipped to a page with a picture of Fyora, the Space Faerie, Taelia, the Negg Faerie, and Jhuidah, apparently in deep conversation. Then Finneus started to read.

"Long ago, at the beginning of Neopia, the five most powerful faeries, called the High Faeries, were discussing important issues of the part that magic would play in the world. Certain things, they agreed upon, such as the importance of skilled pets being able to wield magical power. Other things, they didn't really agree upon.

"'I am the faerie of the island, and food!' snapped Jhuidah, 'I deserve to have power over all the magical potions and foods that pets eat and drink that change their color! Therefore, I should have control of the actual colors of the pets, as well!'

"'But my entire line of work involves beauty! I should be the one in charge of the colors of pets,' countered the Negg Faerie.

"'Nay, I am the one who shall nurse sick pets back to health! I am the only one who would be able to tell how their color has changed when they are ill. Therefore I should be in charge of their color when they are well!' reasoned Taelia.

"'Yet I am in charge of protecting all of the beauty that is Neopia. Surely I deserve a say in what beauty I am protecting?' interjected the Space Faerie.

"'My fellow faeries, PLEASE!' Fyora yelled, over the noise of the other faeries bickering. 'Since we all cannot seem to agree on who should be in charge of the magic that will change and create the color of a pet, we must find some way to compromise. Let's see... Jhuidah, you shall be in charge of colors pertaining to the Island which is your domain. All island pets, and some others that have features linking them to Mystery Island shall be under Jhuidah. You, Mistress of Neggs, shall deal in all the special colors, such as sponge and alien. You will not however, deal with the fruit Chias, because that comes under Jhuidah's jurisdiction. Taelia, since you decided to make a land of ice and snow your home, you shall be in charge of Christmas and Snow pets. Robot pets, and Orange pets-'

"'Why Orange?!' cut in Jhuidah.

"'For those living on Kreludor, of course! Now, as I was saying, the Space Faerie shall be in charge of Robot and Orange pets. I shall be in charge of both those pets born to Royalty, and the pets gifted with brilliant faerie wings. Now, is everyone satisfied?'

"'But what about the other colors, Fyora?' questioned the Negg Faerie.

"'Those shall be divided up amongst our more basic-typed sisters. As new colors come out, we shall have a meeting deciding who will be in charge of the new color.'

"And so it was, for a while. Everything went smoothly, until the day that one very evil dark faerie tore the wings off of an innocent earth faerie, stripping her of her powers, and her connection to the earth. Without that important connection that all earth faeries value so dearly, she felt lost. She turned grey and wandered the land, desperately looking for a way to get her wings back. Of course, this counted as a new basic faerie type, and so Fyora, unsure of what to do, called a meeting of the High Faeries.

"'Sisters, it has come to my attention that there is a new basic faerie type.' Fyora started out the meeting. 'The grey faerie, stripped of her powers and her wings, must be given a color to rule over. If this is not done, the balance of magic will be upset, and who knows what horrible things could happen then!'

"The High Faeries discussed long and hard what to do about this situation. All the other colors had been given to the faeries because of some sort of link. That was how the magic of the paint brushes was kept strong. Without that link, then the faerie could not bring the paintbrush the magic it needed. Since the grey faeries had no powers, they would be unable to bring magic to the paint brush. However, there weren't any colors to link to, considering that no one in Neopia would want to inflict that type of sadness upon their pet.

"'There's nothing for it!' cried Fyora. 'We must do something that has never been done before. We shall pool our power to create a new type of paint brush, that does not simply color the pet with the use of faerie magic, but that creates a link to the faerie. The pet becomes, to some extent, an extension of the faerie, instead of the other way around. It shall keep the balance of magic stable for now, and who knows, if we are ever able to find a way to restore the grey faeries, we will be able to get rid of this horrid paint brush.'

"That was the only known time in history that this sort of thing happened. There are many debates among historians as to how the actual arrangement affected the balance of magic. The current theories involve....

"Well," said Finneus, "it goes on to talk about the current views on this bit of history. However, I think the information I provided answers your question."

Mellie was speechless. If what Finneus said was true, that would mean that the key to keeping her sleek looks, but regaining her joy, would be finding one of these rare grey faeries, and helping her to somehow restore her magic, or at the very least cheer her up.

Seeing that Mellie was quite shocked by what the book had said, Finneus was worried. He had come to like Mellie so much, he almost felt like a foster-father to the dear little wealthy Kougra. "Mellie, I know that this may seem incredible. Remember, though, that I don't want you getting any dangerous ideas in your head! Among other things, we need you to help save Altador!" he said, trying to comfort her.

As she started to shake her head, Finneus preempted her by saying, "And don't give me that, 'The masses can save Altador.' The masses don't live in Altador. Besides, what would Sandi say if something happened to you? She loves you very much, Mellie, and that's why she got you the paint brush. I know you've been feeling horrible, but that's just what happens when a pet is painted with that brush. I don't want to crush your spirits, because it is true that occasionally pets get over it. I just don't want you to do something stupid in a desperate attempt to take the easy way out. Sandi loves you, and she's just a girl who wants to make her one darling pet happy."

Unfortunately, Mellie wasn't listening to any of it. Her only desire was to know where she could find a grey faerie. And Finneus just might have the answer.

"Finneus," she asked, much more calmly than she felt, "where might I find a grey faerie?"

Finneus's reply wouldn't make her very happy, but it would tell her where to go next. "I don't know. I think only the high faeries know about the whereabouts of grey faeries, considering that they must be kept under strict supervision. Fyora would know, and now you can get to Faerieland through that portal. Even though I've told you this, Mellie, I don't want you to do anything stupid. Do you promise me that you will keep your head?"

Again, Mellie wasn't listening. As soon as Finneus had said "Faerieland," she stopped paying attention. As soon as he finished speaking, she was out the door faster than a race-winning Poogle.

***

While Mellie walked home, she thought about what Finneus had said. She now knew that she needed to talk to Fyora. She'd never visited the rest of Neopia, considering that the portal had only opened up a few months ago, and Sandi hadn't had time yet to plan a vacation. She did know, however, that Fyora was the Queen of Faerieland.

When Mellie first walked through the door, she could tell that Sandi had a surprise for her.

"Look what I got today, Mellie!" Sandi said, brightly.

Now Mellie knew that it was something marvelous for her. Sandi made her fortune by Shop Wizard sniping and Restocking. Sometimes, if she got a really nice thing, she would give it to Mellie. Now, Mellie hoped for a beautiful paint brush to bring her joy back.

"A grey faellie!" finished Sandi. "Actually, you know, I got the faellie at Faerie Petpets, but then I just thought, 'Won't it go so much better with Mellie if I paint it grey?' So anyway, I spent the rest of the day working hard to snipe a grey petpet paint brush, and I did it! Here she is! Isn't she so cute?"

Well, thought Mellie, it could be worse. "Thanks, Sandi." she said out loud. "I think I'll name her Adelaide."

"Wonderful!" exclaimed Sandi.

As Sandi chatted on about her day, Mellie mustered her courage. She was going to Faerieland, tonight, and no one, not even Sandi, was going to stop her.

"Sandi," she interrupted, "I need to talk to you. Well, you know how I've been much gloomier than I used to be? It's because of this color. I love how it makes me look, it's just that I miss being faerie. And I know that you paid a lot of money for this paint brush, and you can't just paint me faerie again, but that's alright. Because I learned from a book at the Archives that if I find a grey faerie and cheer her up, I'll be happy again. I don't know where to find a grey faerie, though, and neither does Finneus, so I'm going to Faerieland to see Fyora. I'm going alone, and you can't stop me."

Sandi was speechless. As she sat there, mouth open wide, Mellie got up, and went to her room. She would need certain things if she were to embark on this mission, and she was resolute that she wasn't coming home until she was happy again, no matter how long it took. She packed her grey traveling cloak, her favorite faerie cadro plushie, and her simple, but all important green lined notebook. For some reason, she never went anywhere important without the notebook. Whenever she had no idea what to do, she would write in it, and it always seemed to calm her and show her the way to go. After packing everything in her brand new black meowclops back pack, she went back downstairs to say goodbye to Sandi before leaving.

By the time Mellie had descended the last step, Sandi had gotten her mind in order. She knew Mellie very well, and knew that Mellie wouldn't budge if she wanted something enough. So, unlike most owners, Sandi wasn't going to have a fit and forcibly prevent Mellie from going to Faerieland. Mellie had graduated the Mystery Island Training School long ago, and had been taking courses in the Ninja Training School. She was one of the best battlers in all of Neopia, and could rival one of that mysterious Borovan's pets. If Mellie wanted to find a grey faerie, Sandi wasn't going to stop her.

Tearfully, they said their goodbyes, and Mellie was off. After about a half an hour of walking, Mellie came to the portal. This was the first time she had ever left Altador, and while she was a little scared, she was also determined. No fear was going to stop her from getting her joy back. So she stepped through the portal.

To be continued...