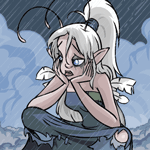 10 Ways to Celebrate Gloominess

by lassie_nikki

--------

*sigh* Grey Day has once again made its way to Neopia and it hasn't failed to bring all its miserable feelings with it. Glowering Neopets followed by gloomy rain clouds wander Neopia simply spreading their feelings of depression. Some may wonder if it is possible to honor and celebrate a holiday so disheartening. Well, it is quite possible; you just have to celebrate it differently than you would say the Faerie Festival. This brings me to the point of the article, to share with you different ways for Neopians to show their love and respect towards Grey pets.

1. Do you have a Grey pet that is especially cheerless on Grey Day? This is typical for Grey pets, sadly. One way to cheer up your Grey pet on Grey Day is to reward him/her with a Grey food item. There are many Grey foods in Neopia, one of which is the Grey Pizza Slice. This yummy, dejected slice of pizza is quite tasty! It somehow avoids becoming soggy from the rain cloud that rests over it. Oh the wonders of Neopia! To follow up this glum gift to your pet, offer them a cup of Grey Ice Cream to complete the effect and it will surely make them smile, although it may not be evident.

2. One sure way to make a Grey pet giggle is to play with them! A few quite appropriate and amusing items to play with are the Grey sets of facial hair, such as Bushy Grey Eyebrows and Swirly Thin Grey Beard! Dress your unhappy pet up in these silly hairs and watch them run around with a mustache and beard! Not only does it assist in cheering up your Grey pet but it is quite amusing from the owner's standpoint and is just one enjoyable way to celebrate this depressing holiday.

3. Are you an avid Gardener? Then maybe you should look into making your garden more Grey-based. One addition to your garden that would certainly add dreariness is the Grey Sea Fern that can be obtained by fishing. They are quite cheap in shops also. Buy as many as may please you and your pet and then have your pet help you plant them! Stand back and admire your murky work.

4. It's possible that you are about as much of a gardener as Adam is an asparagus-hater. Perhaps you prefer to celebrate Grey Day by adding an expensive, low-spirited toy to your collection. If so, the Grey Nova is the perfect item for you! Show how Grey you truly are by adding this expensive artifact into your set. What is this Grey Nova, you ask? Well… it is just like any other Nova! Beside the fact that it has no powers for the Battledome. The question of how exactly it lost its magical powers is full of rumored answers and guesses but that's a different subject. This ominous toy will bring joy to any Grey pet (to a certain extent).

5. Maybe you aren't a Gardener or Toy collector! Try adding a feeling of distress to your Neohome by inserting a Grey Coral Table. This melancholy table will certainly add an overcast mood to your Neohome. This is sure to make any Grey pet feel at home and appreciated!

6. Another furniture item that would leave your home with a poignant air is the Caylis Lamp. The sad and unfortunate tale of Caylis is known all through Neopia. Thus, this would be a perfectly discouraging addition to your Neohome furniture! However, to cheer you up in times of dire need, the depressed Caylis sculpture at the bottom of the lamp perks up when the lamp is lit!

7. Looking for an artsy yet expressible way to show how much you truly value Grey pets on their special day? Then #7 is the number for you! Grab a couple hundred Greycorns (the perfect saddening item) and sculpt them into a tribute for Grey pets everywhere! Arrange them any way you would like! For example, you could display them in the shape of a huge, miserable Grey Jubjub and then present it to your Grey pet for them to show off in their room.

8. When one hears the word Faeries, they immediately think of cheery, fluttering creatures that live to please and help Neopia! However, one of the most depressing characters in the history of Neopets is the Grey Faerie. This infamous Faerie is too down in the dumps to even issue quests to fellow Neopians! What a terribly sad tale. One way to show the utmost respect and admiration towards the species of Grey is to write a simple, encouraging letter to the Grey Faerie. Wish her a happy Grey Day and let her know that she has millions of dedicated fans in Neopia wishing and yearning for her to cheer up!

9. The tale of the Grey Faerie is not the only depressing tale of doomed and gloomy Neopians. One sure way to commemorate the Grey pets that inhabit Neopia is to read the tales to your pets! These heartbreaking tales of pets suddenly turning Grey and gloomy will make any Neopian sympathize for these pitiable creatures. Examples of these anecdotes include Tell Me Why, A Krawks Grey Day, and Grey Tonu Tales.

10. Lastly, the best way to rejoice and show delight on Grey Day is to create a Grey pet yourself! There are many different species of them: Mynci, Lupe, Ixi, Jubjub and even Grarrl! There are also numerous ways to create them. There are morphing potions which immediately transform your pet into a glum and murky creature or you could simply paint you pet Grey! The paint brush itself has a certain depressed look to it, how sad! Once you have created your Grey pet, buy it a matching Grey, melancholy petpet to go along with it and make its days especially ominous. Nothing could make a Grey Neopet more happy and proud than to see fellow Grey darlings popping up all over Neopia!

Those are all my tips on how you can personally enjoy your Grey Day and make it the best ever. Disregard the desolate stereotype that comes along with Grey Day and enjoy it with all your might, for it only comes once a year!