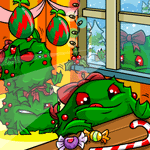 Neohome for the Holidays

by summerschilde

--------

In many parts of the world, as the year turns from summer to fall, people young and old prepare for the coming holiday season. This excitement and anticipation are evident in how we enjoy playing Neopets. Spooky costumes adorn many a colorful Beauty contest entry. Galleries of Holiday foods and gifts get put on display and snow frosted lookups show off the Christmas painted pets of proud owners. With this in mind it's time to turn to one arena where the creative Neopets player can really show off for the holidays. Decorating your Neohome for the season is a real blast, especially when it comes to the latter half of the year. Both indoors and outdoors, your Neohome can be the perfect canvas for showing off your Seasonal Style.

Gardens can get a new look for fall by altering the basic colors of the grounds. At the bottom of each garden page is a little white arrow; if you hold your mouse button over that it will bring up the save option as well as the option to change the basic colors of your garden. Try boosting the reds to give your grounds a golden autumnal glow or dropping the level of green and red to cast your grounds in a snowy blue hue. Adding autumnal colors in your choice of plants, like the Furry Autumn Bushes, Fire Bush and Blazing Frooble Shrub provide brilliant spots of color to your garden, while the Pile of Autumn Leaves and Mini Pumpkin add the perfect seasonal accent. For a spooky touch, look for the carved pumpkins featuring Dr Sloth, Lord Kass, Meuka or the Pant Devil to place alongside a cheerfully devilish Halloween Aisha Gnome or your own personal Von Roo Halloween Blumaroo Gnome. In December, consider decorating a few gardens for winter by adjusting the colors of the grounds and setting out some snowy Shoyru or Mynci Gnomes amidst a display of Snow Covered Trees and Snow Bruce Sculptures, or even an elegant Ice Skating Rink. Try staging a snowball fight between garden gnomes using careful placement of white paving stones and any of the raised arm gnomes like the Yellow Scorchio Gnome against the Cheeky Blue Acara Gnome.

The interior of your Neohome will really benefit from taking advantage of the seasonal decorations. While sometimes pricy, a few well placed pieces of spooky furniture can definitely enhance a room. Glowing eyed Silly Pumpkins or Oozing Candles can cast a room with an eerie light, while a Crystal Ball Table surrounded by Bone Chairs can set the scene for a creepy séance. Don't be afraid to experiment with ideas, get creative with design and positioning of your items. One of the more interesting tricks I saw once was the quite simple use of Round Table Lamps, with the glow function turned on, scattered randomly about a room. The effect was eerie, designed to look like ghostly will-o-the-wisps floating through the air and it succeeded admirably.

Family get-togethers and feasting is a big part of many holidays, so don't forget to trim that dining room set. Desert pottery provides for many interesting table displays. Layering furniture items can give you really interesting effects, so don't hesitate to experiment. Placing a solid color dresser on top of a table can simulate the look of a decorative table runner, then just add a few Black Osiris Plates and a floral display made from several Hanging House Plants layered together for a festive holiday table. You can change the layers and levels of furniture by adjusting the depth of an item. Use lower depth for rugs, couches and things like that, higher depth for decorations on top of those items.

When December rolls around you can really go crazy with the decorations. Everything from the relatively inexpensive Holly Wreath, in deluxe or plain version to hang on your Neohome walls, to the expensive Sprig of Mistletoe to hang above a doorway can really add a festive look. Bring a bit of the outdoors inside by creating an indoor ice skating rink. Use Snow Rugs around the edges of a room and Icy Desks or Tables fitted across the floor surface to simulate the look of an icy field. Add a few Snow Chia Sculptures and a robot pet whirring across the ice in circles and you have a truly spiffy playground for your pets. You might like it so much you'll want to keep it up all year! One of my favorite decorations during the winter months is the Christmas Tree. There are several different styles to fit all manner of décor. The traditional Decorated Tree, the flashy Disco Decorated Tree, even the chilly Icy Decorated Tree may suit your favored style. Pop one of these into a room, layer a round rug beneath it for a tree skirt and pack in the presents! Presents, you ask? Yes, all sorts of things work for cute and interesting gifts under the tree. Pillows of all colors work nicely, as do many of the Petpet Supplies like balls, beds and cages. Sometimes item images aren't synched correctly and will show up as a plain yellow box; try using these as presents under the tree for decoration. Experiment with different shapes and sizes to find the look that suits you best.

Don't forget to brighten the walls with beautiful Brightvale windows. Bone, Broken, or Boarded Up windows will help add to that mysterious manor feel of a Halloween room, while a Holly or Snowager pane shows nicely in a Winter themed room. The Triangular Acorn and Tree Pattern Stained Glass windows are lovely for Fall décor, although a creative designer could find inspiration for seasonal looks in most of the windows available.

It's possible to decorate on a budget by watching for special Holiday sales that some players hold, or buying the items you know you'll want early in the year so you're all set for that special themed room. Each year the Neopets Advent Calendar generously donates at least a couple of new winter items for Neohomes, so take advantage of them to decorate for the season.

Once you've started decorating for the Seasons it's hard to stop. While this article focuses specifically on the Halloween/Fall/Yuletide décor, you might find inspiration for a Valentines or Summer picnic room; the possibilities are limitless. Design a Calendar of rooms to enter in the Neohome contest. Play a scavenger hunt game with your Neofriends, searching for specific hidden items in the Neohome for laughs. A fun guild game might be a Decorated Neoroom display, the prize of course being the owner of a brilliant room fit for the Season, and the admiration of your guild mates.