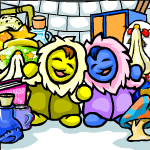 Igloo Garage Sale - Watch Out for those Pianos!

by flippy_85

--------

TERROR MOUNTAIN - So you've been playing Igloo Garage Sale for a while thinking, why can't I get a high score in this game? Or you get up to a certain level and find that you still haven't gotten a very high score and the items are dropping down way too fast! This guide is designed to give you a few handy tips about how to score at least over 1000 in the game. Note that the figures I have posted about where you should be at after each level are just a guide and are not definitive figures. They may vary and depend on how well you do on each level.

Just a few tips before I go into each level in detail. The pink bags are worth 1 point. The black and white sticks are worth 2 points, the umbrellas are worth 3 points, the red potions are worth 5 points, the rainbow mirrors are worth 10 and the coins are worth 50. If you drop 5 items in one level it's game over. If you are able to pick up all the items without dropping any on the ground, you will have your end of round score doubled. Pianos are also game over!

Another thing to note is if you drop an item on the ground you will lose your doubled bonus for that round but if you do not drop anything in the next round you will receive that bonus as well as the bonus from the previous round/s.

All right, let's get started:

Level 1: In the first level everything is dropping down pretty slowly so you shouldn't have too much trouble picking up all the items. If you collect all the items without one dropping on the floor you get your score doubled. I wouldn't recommend passing level 1 without getting a score of about 90-100 with your score doubled. With any luck a coin will drop down (worth 50 points). It's pretty difficult to get a high score in the first round (unless you pick up a coin) since the items are dropping so slowly, so 100 is a good start.

Level 2: In the second level things are still dropping pretty slowly but things speed up slightly. It should be fairly easy to get a score of over 100 (doubled) by picking up a few rainbow mirrors, red potions and a coin if you are lucky. I wouldn't recommend going any further unless you have a score of about 180-250 after level 2.

Level 3-4: Levels 3 and 4 things start to pick up. The levels are still fairly easy to get through without dropping any items but sometimes an item can be dropped down and then another will drop down faster than the first. After some practice of the game you will come to get a feel of which item to go for first. I would recommend finishing level 4 with a score of about 280-400 mark.

Level 5-6: Things are starting to get faster now. You will need to start making decisions on which items to go for as they will now start dropping down at different speeds. These levels are not too difficult with a bit of practice and I wouldn't recommend going any further if you do not get the doubled bonus at level 6. (Unless you are feeling confident you can do it in Level 7!) Hopefully by this time you are around 450-600 points.

Just a tip: I would recommend restarting if you have not gotten a coin by now. The coins are very useful in the lower rounds as it is much easier not to drop items at these levels so you will get the doubled bonus. If you pick up a coin and don't drop any items on the ground for that round you are guaranteed a 50 point bonus.

Level 7: By now things are starting to get really crazy! If you are finding that you can no longer keep up with the speed of the items, my best advice is to go for the items that are worth the most points. If you see a coin in one corner and a bag in the other corner, of course it makes more sense to go for the coin. Just try and get through the level. I would recommend however once you are better at the game to try and get the doubled bonus as this is probably the last level you will be able to get the bonus at. It will be pretty difficult to get over 1000 if you do not get the doubled bonus in this round unless you get lucky with coins in Levels 8-9. Be careful of the pianos because by now things are going very fast. It is easy to get hit in the head with the piano which will mean game over. By this time you should be around 700-800 points.

Levels 8-9: If you have made it this far then you are well on your way to a good score. Hopefully by now you will have picked up a few coins along the way and will be somewhere close to the 900-1000 mark, if not more, depending on your luck throughout the game. By now the game is at a very difficult stage and my best advice would be to just keep going for the high-point items and to try and get through as many levels as you can. By the end of level 9 you should be well over 1000 points. See how far you can go!

Hopefully these tips will help you get started on the Igloo Garage Sale game. The game is all about making the right choices of which items to go for at the higher levels and a bit of luck in getting the higher point items. Most of all it is about practice. Practice in making the right decisions and just for getting a general feel for how the game works. After a while, who knows, you might even be getting in the high 1000s which could be enough for a trophy.

Just remember: Watch out for those pianos!