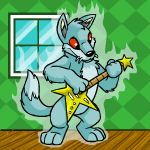 Inferno: Part Three

by arula100

--------

We were eating dinner. My pets chatted happily about the music they were now able to perform. They paused for a moment. "So, it's official, right? We're forming a band?" Nagru roved his eyes over his siblings expectantly.

Too polite to open their mouths while chewing, the others nodded eagerly. Nagru spoke again. "So what will we be called?"

Everyone swallowed. I sipped my soup silently, watching them as they thought.

"How about 'The Hyper Hyper Candy Band'?" Kyriio chimed happily. Everyone shook their head in disapproval.

"What about 'The Inferences?" asked Zarath, sticking to scientific terms as usual.

Kyriio disapproved. "No Infer… no Infer….what was that word again?"

Ledra looked up from her meal. "Great idea, Kyriio! How about 'Inferno'?" Everyone smiled, looking at each other eagerly.

"Well, Inferno it is. When shall we begin practice? How does right after dinner sound?" Nagru rubbed his paws together excitedly.

Everyone, even me, gulped down the remainder of their food. I washed the dishes and put them up quickly. I headed to Kyriio's room. Practice was being held there because Kyriio's drums would be too difficult to relocate.

The first practice of Inferno started with some difficulty. Ledra was still trying to figure out the bass, and everyone else was trying to stay at the same tempo. By the end, however, they were playing well together.

I decided to leave everyone some privacy during practice from then on. After a few days, though, I could hear Ledra singing the lyrics whenever I walked by. Practice went by uninterrupted for about a week.

Pretty soon, however, Ledra came running up to me while I was reading our thoroughly worn copy of Moehawk's History. She seemed close to tears, but she was fighting to keep them back.

"What's wrong?" I asked, scooting over on the couch to make room. Ledra fell into the couch, clutching a piece of paper.

She sniffed once. "They don't like them and they're making fun of them." She turned her head away and sniffed again.

"What don't they like, Ledra?" I asked, but no answer came. I left the room and got some Neopkins, which I placed on the coffee table in front of us. They sat, ignored, and Ledra answered.

"My lyrics. I guess they really are awful. I can't do anything right."

We sat in silence for a few more moments. "May I see them?"

Ledra nearly threw the lyrics at me, seeming glad to be rid of that hateful little piece of paper. Before looking at them, I asked if she would like some help with revising. She sniffed again and nodded. The movement was so slight it was hard to detect, but she repositioned herself to face me. I went over the lyrics line by line with her, laboring hard to work out the awkward parts that didn't seem to fit with the overall rhythm. I didn't hear any arguing about lyrics after that.

The end of summer guild party was coming up, and Inferno volunteered to play. All of our friends were excited that they would get to hear my pets perform. My pets' best friends couldn't wait, and had created a countdown poster, counting down the days until Inferno would perform.

A month after the band had formed, as I was walking by, I didn't hear any music. I stopped and stood by the door listening. All of my pets seemed to be arguing about something. I shrugged it off, knowing all bands must have a fight at one time or another.

But the next day it was the same. And the next day. And the next.

I was lying on the couch, slightly distraught, when Kyriio came up to me and asked me to come help settle something. Curious, I followed. I opened the door to hear full out yelling. As soon as I entered, everyone was silent.

Nagru, clearly upset, spoke. "Arula, who should be the leader of the band? It should be me, shouldn't it? I started music first!"

This statement was greeted by more heated arguing. I watched helplessly as everyone fought. I had never seen this before. I had never seen my pets fight. I tried to silence them, but to no avail. I finally gave in to my anger. "Shut up! Everyone, just shut up! You've been arguing the past week, not playing! What is wrong with you? Why did I have to introduce you to music? It's corrupted you, and it's all my fault!"

I walked away as calmly as I could manage. As soon as I was out of sight, I ran up to that room where everything had started. Crying, I picked up my guitar. I played the heaviest, loudest, most angst-ridden song I knew as tears fell around me, decorating the floor with small, separate water droplets. As the song concluded, I looked down at my tears. They were so disconnected, so apart, just like my pets were. Not able to bear any reminder of what had just happened, I fell to the ground and tried to fall asleep.

The next day, as I walked through the double doors of the guild, I expected to see the Inferno flyer taken down, along with the countdown poster. But they were still there, the countdown showing a mere seven days until the party. I continued to the meeting room, where the five guild leaders were planning the party.

All that week I had to go to the meetings, which were scheduled at the same time Inferno was scheduled to practice, so if they were doing anything or not, I didn't know. All I knew was that everyday when I walked through those double doors, the flyer and countdown were still hanging there, tormenting me. One more day.

That night, while eating dinner, I casually asked if the band would still be playing at the guild party. I saw everyone flinch at being reminded of the previous week, but Zarath managed to respond quickly. "Yeah, we still are. We've been working hard."

I tried to smile and nod convincingly, but couldn't help but worry about the following day. I was hoping so desperately that they wouldn't sound awful. If a band can't work together as characters, the music is bound to clash.

After a fitful sleep full of nightmares about Inferno, I got dressed, picking out my favorite shirt and pair of shorts. I ate breakfast quickly, wondering why no one else was here to partake in the pancakes. As I grabbed my shoes from beside the front door, I heard footsteps behind me.

I turned to see my pets dressed in a uniform of sorts. Nagru was wearing black shorts with an emerald green shirt on which black fire inched up toward his face. Ledra was wearing a black v-neck shirt with green shorts. A green pendant was draped on her neck with the aid of a silver chain. Zarath was wearing a green shirt with green shorts. He was wearing a black and gray Hawaiian-style top to go with it. Kyriio had gone all out with dressing up. She had changed her blue top for a black one and she had black shorts on. Her hair had been spiked with what must have been seven bottles of hair gel, and the end of each spike was tipped with green. Everyone was holding their instrument with them and Kyriio's drums were split up among the pets.

I finished tying my shoes. My pets were all smiling at me. "Ready to go?" I asked, somewhat nervously. At least they would look good, if nothing else.

We arrived at the guild after the most agonizing five minutes of my life. We had arrived early so Inferno could set up the stage while I put up decorations with Falcon and Devin. Other guild members were putting out the food tables and displaying the food festively. The members of Inferno were tuning their instruments as other guild members began to pour in. My pets put their instruments down and walked offstage, obviously waiting for an introduction. Once everyone had arrived Falcon, our guild leader, walked onstage and picked up the microphone.

"Ladies and gentlemen, lupes and gelerts, pets and people alike, if we could have your attention at the stage." Everyone ran up to the stage eagerly. "Please, put your paws together for…Inferno!"

Falcon put the microphone back and my pets walked onstage. I could feel my stomach twisting around, trying to return my pancakes to the open air. Kyriio sat down, and I watched as the drumsticks came crashing down in slow motion onto the first beat.

"One, two, three…"

Nagru's guitar came in on the fourth count. He played a few chords, with Ledra underlining him on the bass. Zarath played a couple of notes at a time on his harmonica at measured intervals. After four measures of introduction music, Ledra began to sing.

What did I tell you

Things will never be the same.

What are you thinking

As you turn your head in shame?

Some things just aren't meant to be.

But we can change that,

Or forever disagree.

Nagru executed the accompanying chords perfectly. Kyriio was playing her drums with a fevered passion while Zarath blew into the harmonica. He had set up some device in front of his microphone to change the sound it gave. Ledra continued to multitask playing the bass and singing. She stopped for a moment and they all played for a moment before Ledra began to speak rhythmically into the microphone, her voice down in volume but up in emotion.

Why are you so determined to hate me?

Am I destined to hate you too?

Why can't we just work together,

And maybe see this through?

For a moment the music stopped, picking up quickly after a moment's rest. The sound grew, the adrenaline pumping through the veins of the players and the audience. After a minute of playing, Zarath dropped out, followed by Kyriio and then Ledra. Only Nagru was left, playing the last measure solo, and letting the final note ring off his guitar.

Everyone was roaring with applause. The small number of guild members created noise suitable to have been given off by hundreds of grarrls combining efforts. I found myself clapping with them, smiling broadly and cheering on the ones that were dearest to me. In my happiness, a single tear found its way down my face.

The End

Author's Note: This story is dedicated to my guild and all of the wonderful, giving, caring, and special people in it.