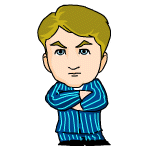 110 Reasons Why We Love Adam

by blubblub317

--------



Also by Ridergirl333

Rider: Adam. Borovan. Number Six. That dude on the avatar. We know him by many names. But there's only one Adam, co-founder of Neopets and the only person more insane than my dear friend Blubby. He's funny, creative, mega-rich, punctual, and he comes in 3 fantastic flavors! So hold on to your hats while we explore the 100 Reasons Why We Love Adam!

Blub: [munches on cheese loudly]

Rider: Erm… riiiiiiight. Moving on…

1) He loves asparagus.

2) He's obsessed with asparagus.

3) His favorite vegetable is asparagus.

4) His favorite plant is asparagus.

5) His favorite ice cream flavor is asparagus.

6) Did I mention he loves asparagus?

7) HE LOVES ASPARAGUS?! HOLY CHEESE, NO WAY!

8) He looks funny!

9) Uh… I mean, he sounds funny!

10) AHHH! I mean he smells funny!

11) OH MY GOSH, PLEASE DON'T FREEZE ME!

12) He steals Donna's position as editorial writer and says that he's doing it because she's "cooking". Riiight…

13) He isn't afraid to speak his mind!

14) And eat it as well.

15) DUH, HE HAS FIVE PETS! That's like, so totally whacked out, dude!

16) He knows when to limit his sugar intake, unlike Blubby.

17) His Neocam pictures make the girls swoon.

18) Oh wait… they're fainting. Oh, and look, one's vomiting on the floor…

19) He allows himself to be abused by bored Times writers like us.

20) Without freezing us.

21) *Rider suddenly finds herself in a freezer, next to a carton of ice cream and some meatballs*

22) Oh look, he enjoys asparagus meatballs too…

23) He likes goats too. In fact, a lot of staff members like goats.

24) [Rider watches Blubby dress himself up as a goat and try to sneak into the Neopets office]

25) ... That was intelligent. (sarcasm.)

26) He eats linguini too. *Rider rummages around some more through the freezer*

27) I do not like goats, Rider!

28) Uh… should I, Adam?

29) Something is going on between him and Donna…

30) A banana is dancing in between them!

31) Do you like bananas, Adam?

32) I luuuve them!

33) If you love them, then I love you!

34) Wait, you said you love asparagus…

35) And we already said we loved you.

35) We mean it in a friend-sort-of-way!

36) Am I rambling on?

37) He's uninteresting, which is why I am rambling on!

38) No, that doesn't work. Um… he's a marshmallow hugger!

39) Yes, marshmallow-hugger! Splendid!

40) [Rider groans at the amateur rambler]

41) Blubby, you ramble like this:

42) Wanna know why Brightvale is the root of all sinister-ness? Well, when Kass was a hatchling…

43) [Blub gags Rider]

44) [Rider eats the gag]

45) (Hey, it tasted like asparagus!)

46) (And bananas!)

47) He fears mice.

48) And spiders.

49) And mice-spiders.

50) He's one of the people who created this spiffylicious site called Neopets! And for that, we applaud you!

51) Yes, it took us half the article to make that one obvious point.

52) He's eeeevil!

53) But not as eeevil as cheese!

54) Or Psychopathic Cheese Girl!

55) That's a very good thing.

56) Or is it? =shifty eyes=

57) She's gonna eat you for that, Blubby.

58) He knows what's best for the other staff members.

59) And no matter what Blubby says, I know that cheese is not evil.

60) Asparagus is.

60.1) They're both eeeevil!

61) He has an Asparagus "Bleh" avatar that he won't release!

62) WAAAAAAAH! =starts sobbing hysterically=

63) He speaks before thinking.

64) Which is most likely how Neopets was created.

65) Adam: [to friends] MWUHAHAHAHA! ONE DAY, I'M GONNA' CREATE ONE OF THE MOST POPULAR WEBSITES ON THE INTERNET, AND CREATE A GAJILLION DOLLAR INDUSTRY WITH MY GOOD PAL, DONNA! YOU KNOW WHAT? I'LL GO UP TO MY DORM AND CREATE IT NOW! MWUHAHAHAHAHA! OH, DOOOOONNA…

66) "So-Called" Friends: Who the cheese is this freak?

67) He does, uh…freaky things on the Neocam

68) He has the option to completely shut down Neopets

69) EEP, PLEASE DON'T DO IT!

70) Back to you Rider (yes, that's one of the reasons why we love Adam)!

71) See Blubby, you're learning to ramble! [wipes away a tear] I'm so proud!

72) Adam has 11,069,541 Neopoints, more than you- haha!

73) He had Neopet's first account.

74) He has a Chia named Usul63.

75) He owns five asparagus Chias.

76) Most of which have insane stats.

77) Which he used to fight for Darigan. [glares at the evil black shield]

78) His Neohome scares me…

79) He's just spiffy like that!

80) He's Bri'ish, love. [enjoys the crumpets and tea]

81) [Blubby gags Rider for her terrible British accent]

82) Yes, I'm an insult to the British.

83) He's a blond…

84) Though most modern girls go for brunettes anyway.

85) I wonder if Blubby's a blond…

86) Yes, in fact, I am a blond. More of a dirty blond then blond, but still, blond…

87) Borovan, BOROVAN!

88) BOROVAN!!!!!!!!!!!!

89) He's a…[gasps]…NEOPETS MONITOR!

90) He eats cheese all the time!

91) And chocolate!

92) And brussel sprouts!

93) EWWWWW! He doesn't have any taste buds!

94) He has fewer avatars then me (HAHA)!

95) He dumps asparagus soup on all the Virtupets machines!

96) He's reading this article (you so are, Adam)!

97) We know you're reading it. MUAHAHAHAHA!

98) He'd win a "Spiffiest Staff Member" contest

99) By giving all of the judges raises!

100) He wears glasses!

101) No he doesn't, Blub!

102) Well then he wears contacts!

103) [Rider sighs] I seriously want to quit this job…

104) He works hard and each and every day!

105) [Rider snorts at Blub's prior comment]

106) He's equipped with a spiffy snowball cannon just for my dear friend Rider…

107) He knows that –blocked- exists!

108) Yet, he still won't admit that the durn place DOES exist!

109) And for this, we luuuuve him!

110) And here I am (Blubby), with 8 words to fill the word count:

110.1) WE

110.2) LOVE

110.3) YOU

110.4) ADAM!

110.7 and a half!)…IN A FRIEND WAY!

Blubbeh: [sobs] Alas, this is the end of me and Rider's continuous rambling! Oh, what a fun ride we had. We screamed, we taught, we yelled, we cried, and we barfed out asparagus! Hopefully, you all enjoyed this article, and will quickly develop an appreciation for Adam, just like we have. Have a wonderful day folks, and may the borovan be with you!

[runs off to steal Adam's Neopoints]

Adam: Ahhh, get back here you twit!

Blubbeh: [runs around in circles] HIHIHIHIHIHI!