Your questions answered!


Read the answers to the most commonly asked Neopets questions this week in the Editorial section. Each week the most popular questions will be answered by one of the creators of Neopets, so keep checking back to stay updated.


---
Quote of the Week
"He's in my third period Math class!" Eps piped up. "He sits in front of me! He's so HUGE, like, twenty feet tall!" Suddenly, a loud, ear-piercing shriek burst through the air. There was a ripping noise, and within an instant there was a monstrously sized Eventide Lenny's head and torso visible over by the library.
---
| | |
| --- | --- |
| You have wild dreams of a Gallery Spotlight Trophy, gleaming on your user lookup. Luckily, you have taken the first step towards making that dream a reality. After weeks (or months) of deliberation, you've decided on a gallery theme, one that will surely lead to your success as a gallery master. The hard part is over, right? Wrong. There is so much more to think about when pursuing the... | Most people start frequenting the Kadoatery when they decide they want the adorable pink avatar, or even just a shiny new trophy for their userlookup. However, once they begin, some people realize that they're unable to stop. They've become addicted to feeding those spoiled little Kadoaties. Thus, I present to you: 26 ways to recognize your kaddiction... |
Top 10 "Forgotten" Links




Since the beginning of Neopia there have been revamps, redraws, and the dreaded meepit interferences. We're coming to the end of Y15 and there are some places you may have neglected this year for various reasons. Don't worry, it's not too late! I'm going to refresh your memory and encourage you to visit some of the places many of us don't think of that often...
---
Other Stories
"Deeper" by kristykimmy
"I'm not joking, Garoo," Buzz said. "Her obvious ridiculousness is part of why she's a good agent. She's the one person you can't bring yourself to suspect. She has done deep undercover work and pulled it off perfectly. She's not always as dumb as she looks." From Buzz, that was the highest praise I could ever reasonably hope to get...
"How I Met Liberty_Capulet, My Time-Travelling Pteri" by qwertydaisy9
Gasping, Liberty_Capulet threw herself behind a statue in the deserted courtyard. It was coming for her, and if she didn't manage to slay it, well, she just wasn't going to think about that. She heard a heavy thud, and then a slithering noise. She realized it was do or die. Literally...
"Friend Indeed" by bubblepop721
Neopets walked from stalls to buy and bargain. Among them was a female Zafara with blue hair and sharp sapphire eyes. Her hoodie hid most of her face however as she passed through the shouting crowds who screamed for the best prices. Today, she wouldn't be stealing little things from pockets like bronze items and...
---
Petpets For Peril!


This week's issue is brought to you by: Grave Danger
Search the Neopian Times


---
Great stories!
---------
---------
---------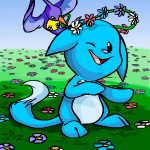 Which Petpet Is Best For You?
Hello and welcome to Solanza's School of Petpet Care and Training! I'm Solanza, manager and expert Petpet caretaker. I'm guessing you want a Petpet, am I right? Well, then you've come to the right place!

by ellienib
---------
---------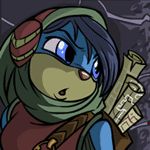 Friend Indeed
The Zafara Double Agent takes a break from her sneaking around to find Jeran among the common people of all places!

by bubblepop721
---