Your questions answered!


Read the answers to the most commonly asked Neopets questions this week in the Editorial section. Each week the most popular questions will be answered by one of the creators of Neopets, so keep checking back to stay updated.


---
Quote of the Week
Attach the comb to your upper lip. Congratulations, you are now the owner of a very bizarre green mustache! Use your new disguise to get into restricted areas. Guards will be too baffled by the comb on your face to question why you're there. Neopia is your oyster!
---
| | |
| --- | --- |
| Illusen (pronounced ill-oo-sen) is an ageless faerie of Neopia. She is an Earth Faerie, to be exact, and loves plants, nature, and helping Neopians. She lives in Meridell at her glade, and is very famous for her quests she gives to Neopians. She loves peace, but dislikes her bitter enemy Jhudora for all the things she has done to try to make Neopia a horrible place. Anyway, it's not her day, it's Illusen's. She is one of Neopia's favorite faeries and today is the day we celebrate, party, and boogie! | In the Maraquan seabed, there is treasure everywhere. Hidden from sight, it has not been found until now. The brave Skeith, Sir Pompadour, thinks he can get it and become as rich as he could ever imagine. Too bad the sunken goods are under water, but what would you expect from a treasure in the depths of Maraqua? Sir Pompadour does not want to get his neat hair wet, or else he will have to comb it all over again... Boohoo. His solution is to get Maraquan Petpets to collect the treasure... |
The Joys of a Robotic Neopet




There are many theories surging throughout Neopia, many of them telling us that Robot pets need special care, and need to be watched extra closely. Before gaining one myself, I passed these theories along too. But now that I have my own Robot to care for and love, I realised just how incorrect these theories are. I've made it my mission to educate the population of Neopia on the real qualities of Robot Neopets, to prove that they are pets worth owning...
---
Other Stories
"Friends Forever" by paperhippo
My friend Sooty told a big lie. She said that we would be Friends Forever and that we would never be parted, and we even made a fancy wiggly handshake that nobody else knew, just to show that we were Friends Forever. It felt like we were in a special secret club for just us two. She would come around to my neohome to play after school even though it wasn't properly finished because only one half had carpet, but she didn't...
"Replacing Illusen" by a_greenparrot
After much biting on her long green nails and tugging on her brown and green hair, Illusen came to the conclusion that she would have to find someone to replace her for the day. The Earth Faerie stood up and paced around her glade. She still had a bit of a dilemma; not just anyone could replace her. It had to be a faerie; and Earth Faerie would be best. This person had to be someone that Illusen could trust and was good at magic...
"Green With Envy" by dragonlover8560
At first, Reggie hadn't minded being painted White. Well... it hadn't been his first choice of pet colors, but it was the only choice that his owner could afford at the time. Being painted pure white had been okay for a month or so. But then it began to seem pretty dull. What pet ever wanted to be stuck permanently wearing a basic color like White? Nobody--- Reggie had decided this long ago---they just wouldn't admit it...
---
Sink Or Swim


This week's issue is brought to you by: Petpet Plunge
Search the Neopian Times


---
Great stories!
---------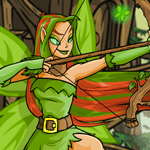 Article Spies - Illusen
I've been to Illusen's Glade dozens of times, and only about eight of them involved me getting chased off by an angry earth faerie...

Also by water_park1993



by birdinggal
---------
---------
---------
---------
---