Your questions answered!


Read the answers to the most commonly asked Neopets questions this week in the Editorial section. Each week the most popular questions will be answered by one of the creators of Neopets, so keep checking back to stay updated.


---
Quote of the Week
That was when a large door opened across the room, revealing Commander Garoo. And yes, he had giant robots.
---
| | |
| --- | --- |
| Many Neopians have written stories about the pound, but none have been too accurate. There have been stories told of awful food and cruel treatment, of harsh guards and drafty cages. I am Leven (a beautifully gorgeous Christmas Pteri) and I'm here today to open your eyes to the fiction in most stories about the pound. Today, you'll see just how it really is in the pound, directly from someone who's been in the place! So, we begin here, with one of the most widespread rumors... | When you or someone else activates a mini game, read the instructions quickly. Read the screen with suggestions of what to do while waiting for the other players, and realize you haven't actually twiddled your thumbs in a long time. Twiddle them until the mini game starts. When it does, try to remember what the instructions said, but mostly just click around. Realize that you lost the mini game, and make an attempt to thoroughly read the instructions next time... |
A Guidingly Guiding Guide to Writing Guidable Guides




You've probably seen the most useful and relevant common and boring topics done time and time again: earning Neopoints, collecting trophies, making your Neopet happy, and other pointless gibberish like that. In order to avoid stale topics like these, I suggest you center your guide around things people would never in their right mind want to learn to do, thereby...
---
Other Stories
"Amy's Big Pyjama Problem" by 12345marissa
After a short walk into the heart of Neopia Central, Amy and her mom reached the much talked about NC Mall. Amy didn't know what to pick with all the wonderful clothes in the NC Mall! After a lot of contemplating and trying on, she finally picked some silky pink pyjamas. "These are so comfy, I'll forget I'm wearing them!"
"Shaye" by dianacat777
We'd beaten a few more of the easier teams. And then Roo Island came. They crushed us. In both game... and spirit. I don't exactly know what happened after that. It wasn't just me; it was all of us on team Darigan. There was no longer a spring to my step, a roguish grin on my face on the field. We faltered. We slowed down...
"A Shocking Surprise" by princesshjb
Hermione laughed loudly and squeezed Shelby's hand harder. "Of course I'm ready for this," she replied, grinning up at her owner. After three hours of waiting, Shelby and Hermione finally got to the front of the line. Shelby cleared her throat and cautiously took Hermione's coat as Hermione skipped up to the Lab Ray. Hermione, however, was...
---
Whatever Floats Your Lilypad


This week's issue is brought to you by: Nimmo's Pond
Search the Neopian Times


---
Great stories!
---------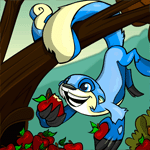 A Taste of Autumn
Apples come in a variety of species, are easy to eat and serve on their own, and are the base for hundreds of amazing dishes that Neopians can, and should, enjoy.

by giggilogalmewmew
---------
---------
---------
---------
---