Your questions answered!


Read the answers to the most commonly asked Neopets questions this week in the Editorial section. Each week the most popular questions will be answered by one of the creators of Neopets, so keep checking back to stay updated.


---
Quote of the Week
"But it was coffee!" the Hissi moaned miserably. "Why can't I just drink my coffee in peace? Why do people have to keep poisoning and stealing it?"
---
| | |
| --- | --- |
| So you feed them, play with them, maybe brush them once in a while. But your Neopet is not really going to thrive on a minimum amount of care and attention. Being an owner is like parenting a child, and if you want a strong, healthy pet you can be proud of, you have to be in for the long haul. Sure, faerie paintbrushes and winning the Gallery Spotlight Contest are great, but at the end of the day, it's... | Neopia itself is heated with debate over the Sloth war. Could the repercussions of this divide reach farther than this single war and tear our world apart? As all-out extraterrestrial warfare intensifies, it is apparent that Neopia is not united against Sloth. A poll taken this month shows that approximately 55% of Neopians support Sloth's invasion efforts. While the population is split in two, both sides are... |
That Piper is Distracting!




Piper Panic is a mixture of strategy and quick thinking. You must be able to solve the puzzle quickly and efficiently to obtain a high score. The first thing you need to know about the game is that the arrow keys will be guiding the cobrall through all the mazes. The cobrall is only allowed to move in a straight line from basket to basket. If your cobrall at any point runs into the wall...
---
Other Stories
"Edna's Crash Course in Broomstickery" by tallydepp
Unlike most witches, Edna hadn't really taken to flying particularly well. She had spent over two hundred moons just learning the basics of broomstick travel and still hadn't quite mastered the art of broomstickery, something to which the Brain Tree would testify, since he had suffered a number of broken branches after an unfortunate incident last full moon when Edna had been feeling unusually confident about being...
"Malin" by magicstephanie
Three young neopets climbed out of the Pool, each sparkling gold, to hug their owners. Malin watched them, then stared down at her drab green color. Cali knew her Acara longed to be painted. Now, Malin wasn't greedy. She loved Cali, and never asked to be painted, but Cali could tell. Each time they passed the Rainbow Pool, Malin was mesmerized. She hopefully waited for Boochi to come, and neared tears when she saw her friend...
"Chronicles of the Court Rogue: Ghost Town" by nimras23
Mareian shuddered; it was downright creepy. Sitting here didn't seem to be telling her anything, though; maybe there would be something farther in the town that would tell her where everyone went. Mareian was just stirring from her rocky perch when the door of one of the "abandoned" houses swung open, and a small dress came running out. The pirate Lupess stared. It was a bright red child's dress, floating across the mud...
---
Search the Neopian Times


---
Great stories!
---------
---------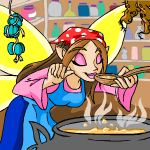 The Fallen Faerie
She slipped, falling down. She tried to take flight, but she didn't have the heart. As she fell through the sky...

by blackwell
---------
---------
---------
---