She was the most popular girl in Faerieland School, and had many boyfriends for her tender age of 100 days old....
by paw_print
"As soon as the moon rises tonight, we will take her to see the Faerie Queen. The sooner done, the better."
by acoustic_hathor
I was upon the grassy hill, playing with my sisters when I stopped to ponder a moment.
by Baloyarn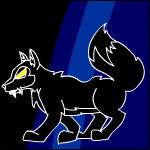 Between Wolves and Demons: Part One
It haunted the Western Woods when the fog wrapped its shroud around the trees, and it appeared like a vampire, from literally nowhere.
by Dragonsfang