Here is one person who is not so happy about the newly evolved Eyrie :)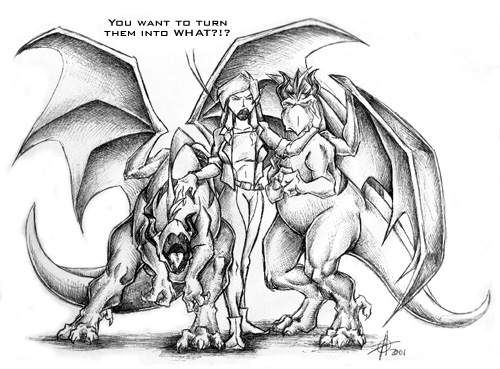 From left to right in the picture: Ormit, Raye, Murdok. By Kythera
---
1 - When will the employment agency open??
The Employment Agency is currently closed for refurbishment. They expect to be open for business within the next week.
2 - Neobadges and Buttons, what are they? where are they? and what do we do with them?
You can brighten up your shop, web page or noticeboard with a Neobadge or Button. They are basically small NeoPet images that link to NeoPets. If someone signs up with NeoPets after clicking on your Button or Neobadge, you will get a whole range of prizes from Neopoints to rare items. For more details see the Link to Us section.
3 - What kind of jobs will my NeoPets be able to get??
The type of job your NeoPet will have depends on its age, level and experience. There will be something to suit everyone from the strongest Lupe to the smallest Chia :)
4 - When will you add a link from the explore map to Faerieland?
The explore map will be updated today.
5 - What can you do with a PetPet besides talk to it?
At the moment a PetPet is just a little companion for your NeoPet. We will be adding more ways to interact with your PetPet in the near future.
6 - Once you have painted your NeoPet, how do you get it back to its original colour?
You have to find another paintbrush that will turn your NeoPet back to the way it was.
7 - How can I increase my NeoPets levels?
You can increase your NeoPets level, strength, agility and speed by enrolling him/her on a course at the Training School.
8 - Can I enroll my pet in a school to raise the intelligence?
A school is something we may be adding in the future, but for now you can raise your NeoPets intelligence by reading it books. You can normally find books on sale in the Marketplace for less than 30 NP each.
9 - I can't find the Uni's Beauty Salon or Roo Island?
The Neopian Central branch of Uni's Beauty Salon is on the main shop map. It is next to the Hospital. At the moment Roo Island is not open to the public but King Roo is considering permitting small, organised tours in the future.
10 - Will there ever be a larger variety of colours available when you create a NeoPet?
No, whenever you create a NeoPet you will have a choice of red, green, yellow, and blue. If you want to have a different coloured NeoPet you can either find a magical paintbrush, or search through the Adoption Centre.
11 - I have Netscape and the Battledome doesn't work on my computer!
If you have any problems with the NeoPets Battledome please e-mail exactly what happened to alphatest@neopets.com. We have just fixed the Battledome so that it will work in Netscape, but you could also try using Internet Explorer instead of Netscape, you can download Internet Explorer for free here.
12 - How do you use abilities like magic berries or alchemy?
We will be adding in all the magical items and abilities over the next few days. Soon they will all be usable in the NeoPets Battledome. If you can equip the item, it should be usable. Just click on the item once a fight has commenced.
13 - In the Battledome how do you know what number Attack Strength, and Defence Strength your pets have?
You can view your NeoPets stats at anytime by going to the Quick Ref page. You can get to this page by clicking on Pet Central and then Quick Ref, or by clicking on your NeoPet's name in the yellow side bar.
14 - Are there morphing potions for all types of pets??
At the moment Kauvara is rushed off her feet simply keeping up with the demand for all her potions. She will be adding more magical brews shortly, including many morphing potions.