There are so many ways to make NP, be creative (but be nice)!
The Coolest Advice Columnist Around!
Neopoints. Prices. Prejudice. Hackers. They all exist in Neopia.
by Sparkle_Qween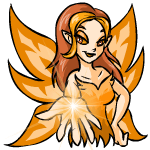 Interview With The Fire Faerie
There are rumours going around saying that you have a major crush on Adam???
by KiwiMyst
Well, here's some great advice on making money.
by Andenno
...I wish you and your NeoPet good luck for the Battledome!
by angelac8391
But then came what is being called "Black Thursday"...
by stereolab